Makkah's Grand Mosque has officially introduced an electronic Qur'an to help blind and visually-impaired Muslims worshippers.
The Haramain electronic Qur'an uses advanced braille-based technology. It is nearly six inches long and four inches wide, enabling users to move smoothly between pages using high-quality braille cells.
Special shelves are being prepared for the 100 electronic braille devices that had been designed for the visually impaired, Ghazi Al-Thubyani, a representative from the General Presidency for the Affairs of the Two Holy Mosques said.
📚 Read Also: 7 Ways to Enrich Your Life with the Quran
"Each cell can accommodate six dotted points, as well as 10 digital keys that allow the users to enter the page number for swift navigation, as well as rotation buttons. They can also scroll the lines on each side of the texts in braille," Al-Thubyani told Arab News.
"This service will be provided very soon. We are nearly finished with preparing shelves for these devices to be at the reach of the sightless worshippers who visit the holy mosque."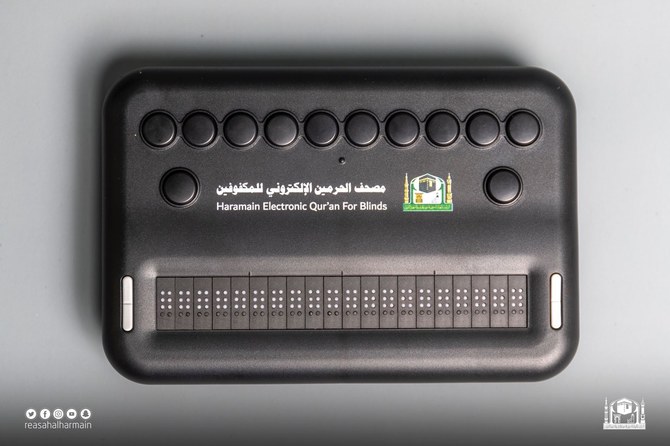 In addition to the new devices project, which took almost 10 months, the Grand Mosque has also offered paper copies of the Qur'an in Braille.
"Each mus'haf (Qur'an copy) consists of six volumes. We also have booklets in braille tailored for blind children to help them learn about monotheism and the basics of Islam," he added.
Easier Reading
Leading the team that created the new device, Misha'al Al-Harasani has previously described his invention as an electronic board with 28 characters. Each character had six braille letters, and the board page contained 28 rows.
"The visually impaired can read the Qur'an easily and navigate through the pages the same way as the entire Qur'an is registered on the board," Al-Harasani said.
The Qur'an is a revelation from God, the Creator of the worlds, so He is the original author.
There is only one Qur'an which is in Arabic and many translations of the Qur'an in several languages.
There could be multiple translations by different authors in the same language such as English.
The Qur'an was revealed to Prophet Muhammad (peace be upon him) through the archangel Gabriel who used to make the Prophet memorize the Qur'an and made him revise it every year in the month of Ramadan, the fasting month.
Memorizing the Holy Qur'an is one of the most important ways to preserve Allah's message.
The others are to publish and distribute the book, or the text on the Internet and to recite the parts that one knows to other people.