`Eid Al-Fitr is expected to start on Sunday, May 24, the European Council For Fatwa and Research (ECFR) has announced, citing astronomical calculations.
"The moon of Shawwal will be born on Friday, May 22, 2020 at 17:39 GMT (20:39 Makkah time)," the Dublin-based council said in an Arabic statement obtained by AboutIslam.net.
📚 Read Also: Don't Let the Last 10 Nights Slip Away!
Accordingly, it would be impossible to see the moon before sundown on Friday, May 22, either with naked eye or modern sets in Makkah.
Therefore, "Sunday, May 24, will be the first day of `Eid Al-Fitr," ECFR announced.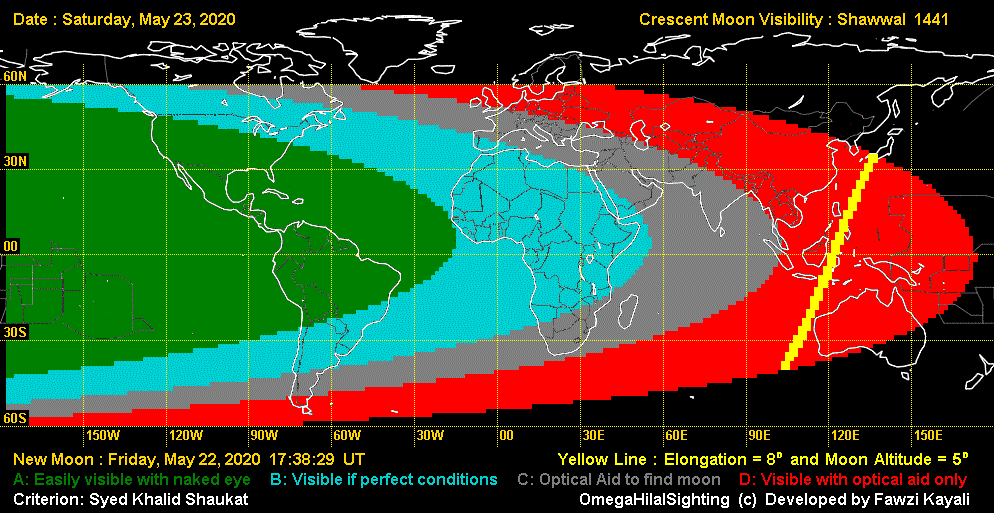 On the other hand, the Fiqh Council of North America (FQNA) announced earlier that `Eid Al-Fitr would be marked on May 24.
Marking the end of Ramadan fasting, `Eid Al-Fitr is one the two main Islamic religious festivals along with `Eid Al-Adha.
COVID-19 `Eid
As the COVID-19 threat remains, the FQNA urged Muslims to celebrate `Eid at home.
"The theme of celebration should be obvious in our homes and heart (decorate and express joy)," the statement said.
It added that Islamic centers can go online to share a live sermon.
"The Imam's of local Islamic Centers can give a live Khutbah that can be streamed at homes at a time that suits the local community's needs."
"People can pray 2 Rakat in their homes together and share gifts."