Giving young generation a special experience, the General Presidency for the Affairs of the Two Holy Mosques organized special tours for groups of children around the Grand Mosque on Saturday.
During the tour, the youngsters from Al-Fikr and Al-Mawaheb Center and Al-Abna Al-Nujabaa School Center were shown the Ka`bah and performed Tawaf.
"The sessions include etiquette for entering the Grand Mosque, stories about the prophets and interactive activities to enrich the children's knowledge and advance the educational system for females," Noof Housawi, from the presidency's media affairs agency, told Arab News.
📚 Read Also: Makkah's Grand Mosque Launches Recitation, Sermon Robots
"Children are being taught simplified lessons on the etiquette of entering all mosques in general and the Grand Mosque in particular, the stories of the prophets, how to take the sermon notes and the lesson behind each story," she added.
"They are also provided with information on Islamic ethics and how they were glorified by the Prophet and his companions. The students are also encouraged to take part in interactive activities designed to develop their skills."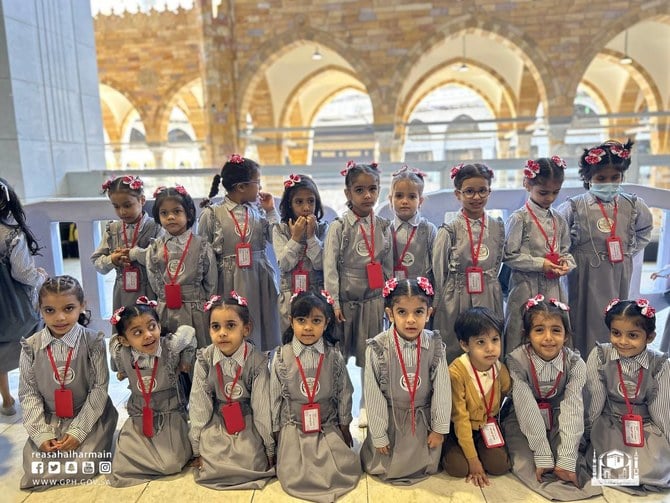 Ibrahim Obeidan, professor of student activities in Makkah education, said the community partnerships were a great way to educate young people.
"The General Presidency for the Affairs of the Two Holy Mosques provides valuable models in teaching male and female students diverse supreme Islamic morals and values," he said.
The Grand Mosque is a mosque that surrounds the Ka`bah in Makkah. The Great Mosque includes other important significant sites, including the Black Stone, the Zamzam Well, Maqam Ibrahim, and the hills of Safa and Marwa.
Muslims from around the world pour into Makkah every year to perform hajj, one of the five pillars of Islam.