British Muslim travel writer, journalist, and broadcaster Tharik Hussain has announced his new book "Minarets in Mountains", taking readers in a journey to the heart of Muslim Europe.
Tracing the roots of Europe's little-known native Muslim populations, Hussain sets off with his wife and young daughters around the Western Balkans and explores the regions of Eastern Europe where Islam has shaped places and people for more than half a millennium.
"I wanted to bring to the attention of the mainstream the idea that Europe has an indigenous Muslim heritage," Hussain told Arab News.
📚 Read Also: 10 Surprising Facts about Muslims in France
In his journey, he visited Serbia, Albania, North Macedonia, Montenegro, Bosnia and Kosovo, meeting locals and exploring the roots of Muslim populations that date back centuries.
"The common, accepted wisdom is that Europe is Judeo-Christian with pagan elements. That's a fallacy. Islam has been here in Europe since the very first century of Islam."
He said indigenous Muslims in the Balkans have been "kept at arm's length" by being labeled East European and thus excluded from the accepted European mainstream.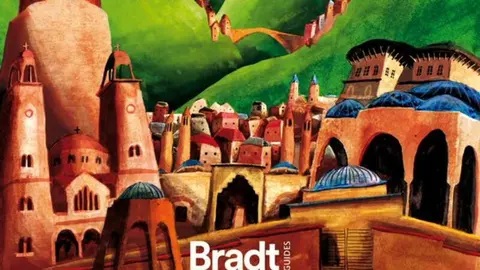 The Other Europe
His book dispels the myth that the continent does not have native and indigenous Muslim populations.
"As a British Muslim, I've had to listen to political opportunists in veiled and sometimes explicit ways saying that Muslims aren't a part of the European landscape and that there's an ongoing invasion of Muslim refugees. That's just utter nonsense. There have been Muslims in Europe since the seventh century," he said.
"Minarets in the Mountains" will be released on June 21. In pre-sales alone, it has already become a bestselling travel book on Amazon.
"I'm not denying that there's a Judeo-Christian heritage, nor that there's a pagan heritage. I'm saying this is also a history that needs to be brought forward and understood," he said.
"The book's success shows that people are responding to that."
Islam is the second-largest religion in Europe after Christianity.
Although the majority of Muslim communities in Western Europe formed recently, there are centuries-old Muslim societies in the Balkans, Caucasus, Crimea, and Volga region.
The term "Muslim Europe" refers to the Muslim-majority countries in the Balkans (Bosnia and Herzegovina, Albania, Kosovo) and Eastern Europe (Bulgaria, Russian Republics) that constitute of large populations of native White European Muslims.