In an unprecedented rebuke to Beijing, UN ambassadors from 22 states have joined together in a rare show of unity to write a letter calling on China to allow freedom of movement for Muslim minority and halt its mass detention of the Uyghur ethnic minority, CNN reported Thursday.
The letter to the United Nations High Commissioner for Human Rights, Michelle Bachelet, urged China to end its "mass arbitrary detentions and related violations" and called on Beijing to allow UN experts to access the region.
The letter expresses concern "about credible reports of arbitrary detention… as well as widespread surveillance and restrictions, particularly targeting Uyghurs and other minorities in Xinjiang."
It marks the first major collective international challenge to China's ongoing policy in the far western border region, where experts estimate up to 2 million people have been detained in vast camps.
Allegations of torture inside the camps are rampant, including in accounts given to CNN by former detainees describing forced education under the threat of violence.
Signatory countries include Australia, Britain, Canada, France, Germany, and Japan.
The authors, who include ambassadors from across the EU as well as Switzerland, requested that the letter become an official document of the Human Rights Council, which ends its 41st session in Geneva on Friday.
"The joint statement is important not only for Xinjiang's population but for people around the world who depend on the UN's leading rights body to hold even the most powerful countries to account," said John Fisher, Geneva director at Human Rights Watch.
"Governments are increasingly recognizing the suffering of millions of people in Xinjiang, with families torn apart and living in fear, and a Chinese state that believes it can commit mass violations uncontested," Fisher said.
"The joint statement demonstrates that Beijing is wrong to think it can escape international scrutiny for its abuses in Xinjiang, and the pressure will only increase until these appalling abuses end."
Earlier in February 2019, 130 American Muslim leaders signed an official statement to condemn the persecution of around three million Uyghur Muslims at the hands of Chinese authorities.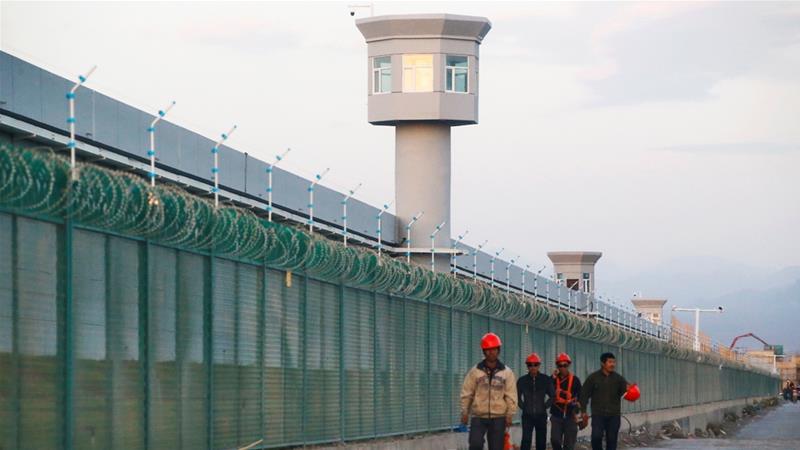 In its 117-page report, "'Eradicating Ideological Viruses': China's Campaign of Repression Against Xinjiang's Muslims," Human Rights Watch presented new evidence of the Chinese government's mass arbitrary detention, torture, and mistreatment, and the increasingly pervasive controls on daily life.
Chinese authorities impose restrictions on Uyghur Muslims in the northwestern region of Xinjiang, especially during Ramadan.
Rights groups accuse Chinese authorities of a heavy-handed rule in Xinjiang, including violent police raids on Uyghur households, restrictions on Islamic practices, and curbs on the culture and language of the Uyghur people.
In December 2015, China passed its controversial anti-terror law, which according to Human Rights Watch gave government agencies "enormous discretionary powers."
The government's April 2017 regulations to "prevent extremism" drew international condemnation, with critics saying they violated basic human rights and religious freedom.
Chinese Officials Force Uyghur Muslims to Eat Pork, Drink Alcohol