While many people consider the Olympics to be the ultimate platform for competition, some of the best moments happen when athletes work together with spirit of love and compassion.
One of these moments came Sunday, August 1, when Qatar's Mutaz Essa Barshim and Italy's Gianmarco Tamberi agreed to share a gold medal in the men's high jump.
During the long competition, both athletes executed the first six jumps up to 2.37 meters (7 feet 8 inches).
📚 Read Also: Olympics: Why Do Athletes Perform Prophetic Hijama?
As Barshim, a Muslim, ranked number 1, referees approached him to ask him if he opted not to take it to a tie-breaker. "Can we have two golds?" Barshim asked.
The official nodded affirmatively, prompting the overjoyed athletes to high five and Tamberi embraced Barshim in an elated display of celebration.
"It is unreal, it is crazy. I am so happy, man. It was the only thing missing (from his high jump career). Now, I am complete, I am so happy," Barshim said, CNN reported.
"It is amazing, man. To share it with Marco is an amazing feeling. It is a great feeling. I'm really happy."
"Sharing with a friend is even more beautiful," Tamberi said. "It was just magical."
Maksim Nedasekau of Belarus also cleared the 2.37 meter jump but took bronze having failed more attempts to clear the bar.
Special Moments
Barshim and Tamberi moment was not the only one catching attention in an extraordinary Olympic Games.
During the 800m semifinals, runners Isaiah Jewett of the US and Nijel Amos of Botswana got tangled and fell during the race.
Rather than get angry, they helped each other to their feet, put their arms around each other and finished together.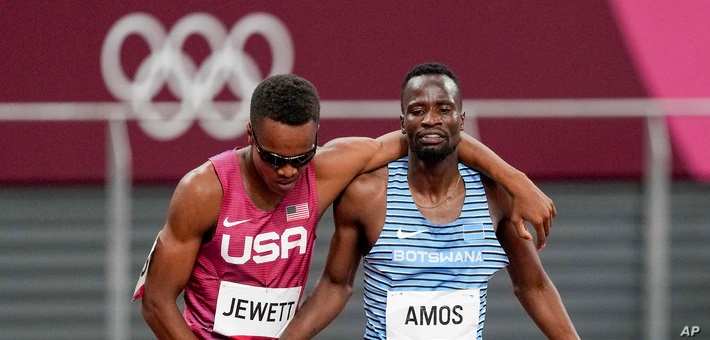 Tokyo 2020 summer Olympic Games runs from 23 July to 8 August 2021 in Tokyo, Japan.
Originally scheduled to take place from 24 July to 9 August last year, the event was postponed to 2021 in March 2020 as a result of the COVID-19 pandemic.