As the Tokyo's 2020 Olympic Games winds up, Muslim athletes continue making history by adding more medals to their plates.
Here is a latest update on Muslim athletes breaming with success:
For more, check: Tokyo 2020: Muslim Athletes Shine with Medals
Galal Yafai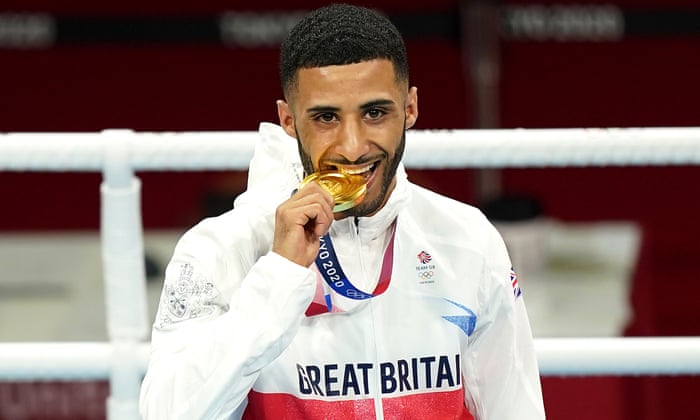 Galal Yafai won Britain's first boxing gold medal after beating Carlo Paalam of the Philippines 4:1 in the flyweight final.
Yafai, the 28-year-old younger brother of two professional boxers from Birmingham, is born to Yemeni parents who moved to the UK.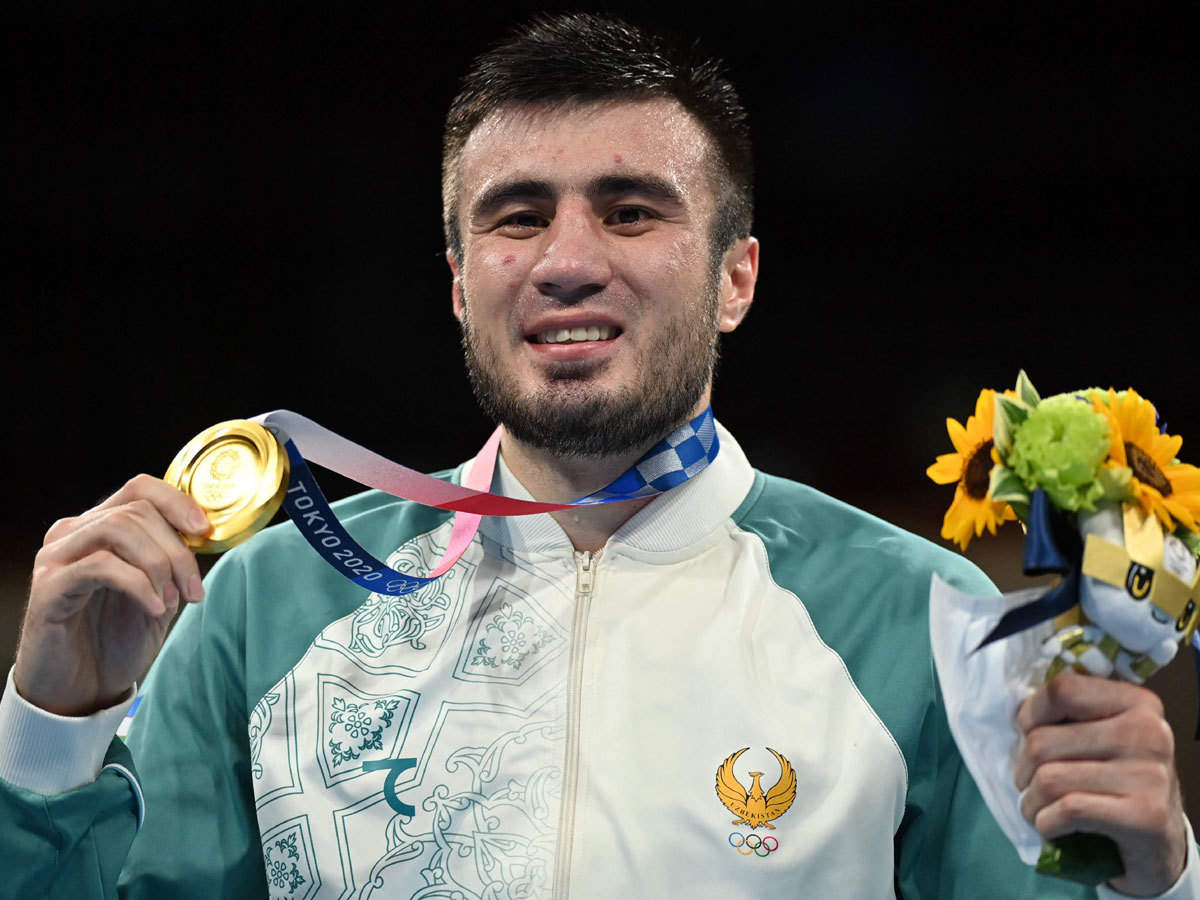 Bakhodir Jalolov
Uzbekistan's towering Bakhodir Jalolov won the Olympic super-heavyweight boxing title on Sunday with victory over Richard Torrez as Team USA's hopes of a first men's gold since 2004 evaporated in Tokyo.
Sifan Hassan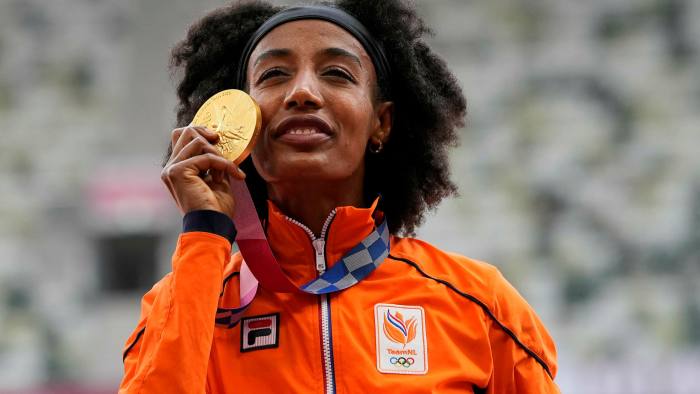 Sifan Hassan won the 10,000 meters for her second gold and third medal of the Tokyo Olympics after entering three long-distance races.
Hassan burst past world-record holder Letesenbet Gidey on the final turn and won in a time of 29 minutes, 55.32 seconds.
She also won a bronze in the 1,500 meters race and a gold in 5,000 meters. Her victory in the 10,000 was her sixth race in eight days in Tokyo.
Feryal Abdelaziz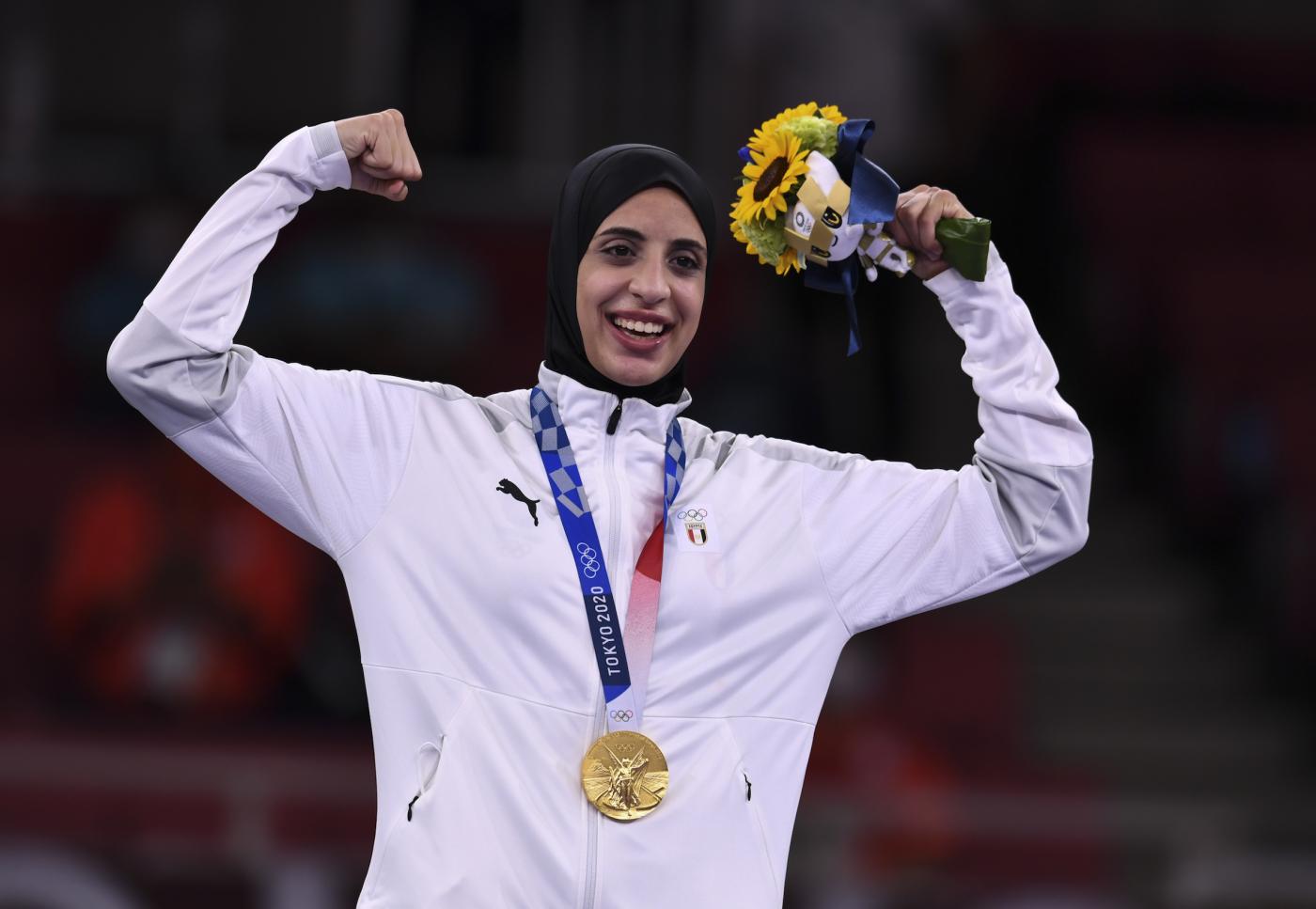 Feryal Abdelaziz of Egypt won the first Olympic gold medal in women's over-61 kilogram kumite, beating Azerbaijan's Iryna Zaretska.
The 22-year-old Abdelaziz went ahead on a yuko with 28 seconds left in a cagey final bout. She scored again three seconds later and hung on for a 2:0 victory.
Sajad Ganjzadeh & Tareg Hamedi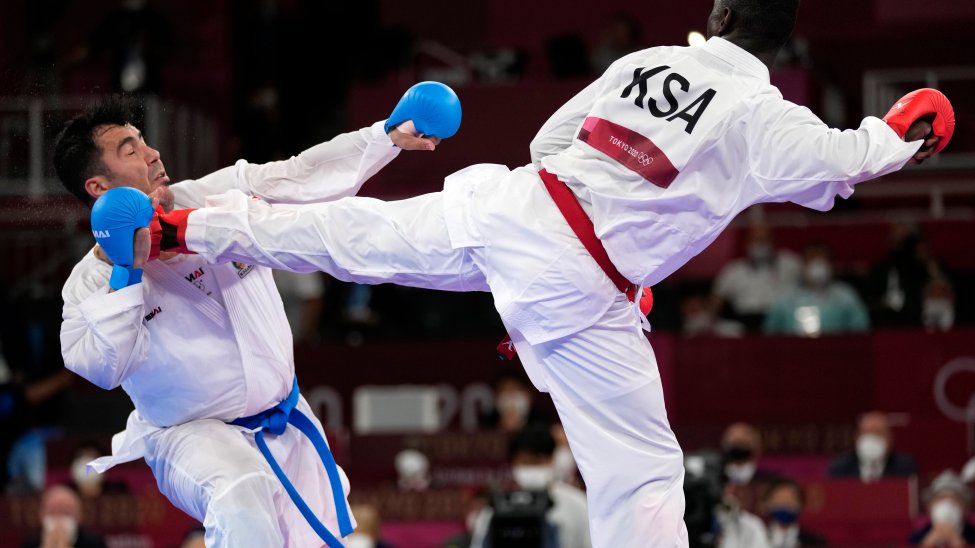 Iran's Sajad Ganjzadeh won the Olympic gold medal in men's over-75 kilogram karate afte his opponent Saudi Tareg Hamedi was given a disqualification penalty for kicking Ganjzadeh hard in the upper body or head.
Hamedi, who left the mat in tears, still won Saudi Arabia's second-ever silver medal, but missed out on its first gold.
Ahmed El-Gendy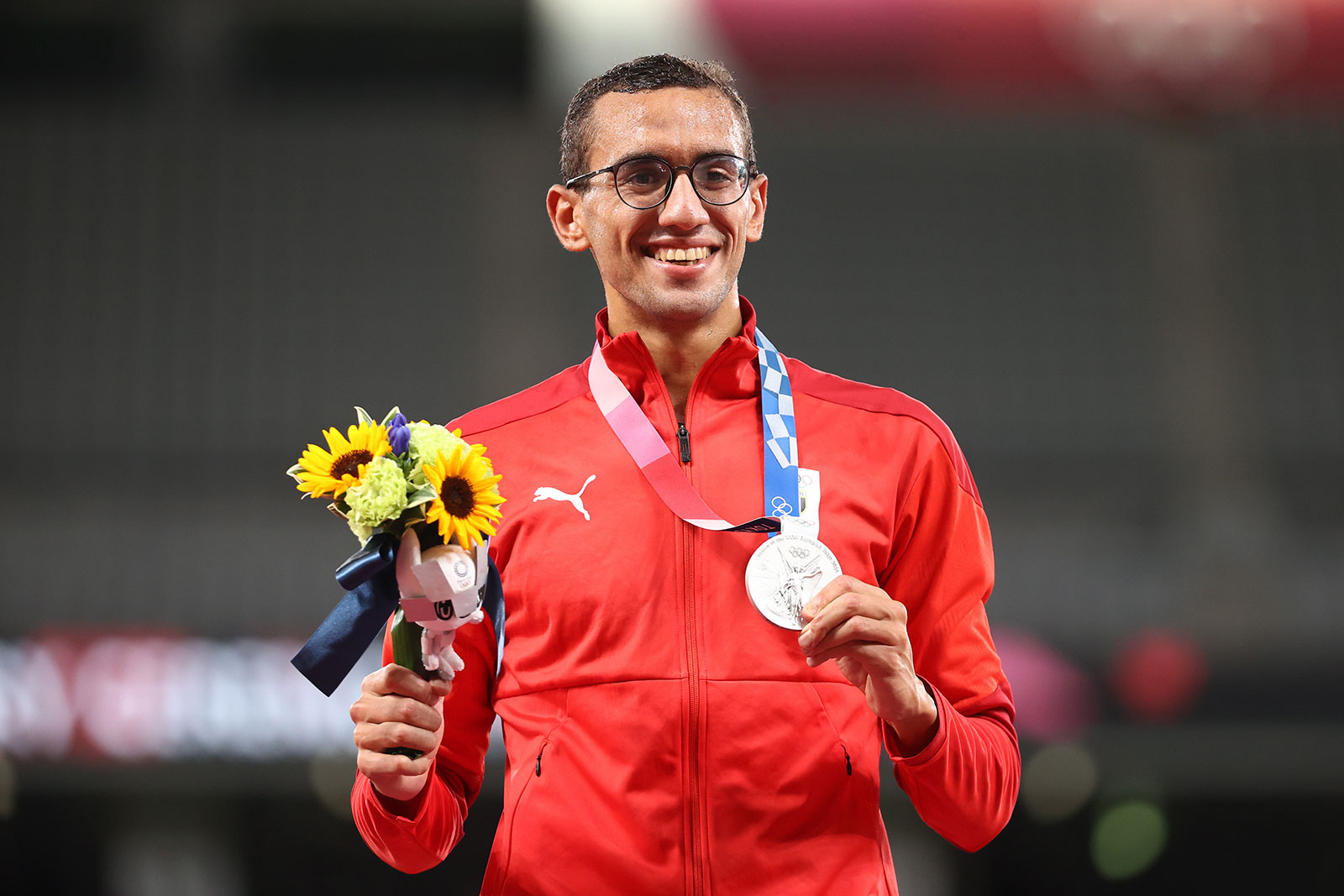 Egypt's Ahmed Elgendy won silver in the Tokyo 2020 men's Modern Pentathlon individual competition on Saturday. He also competed and won gold at the 2018 Summer Youth Olympics.
Mohammed Ahmed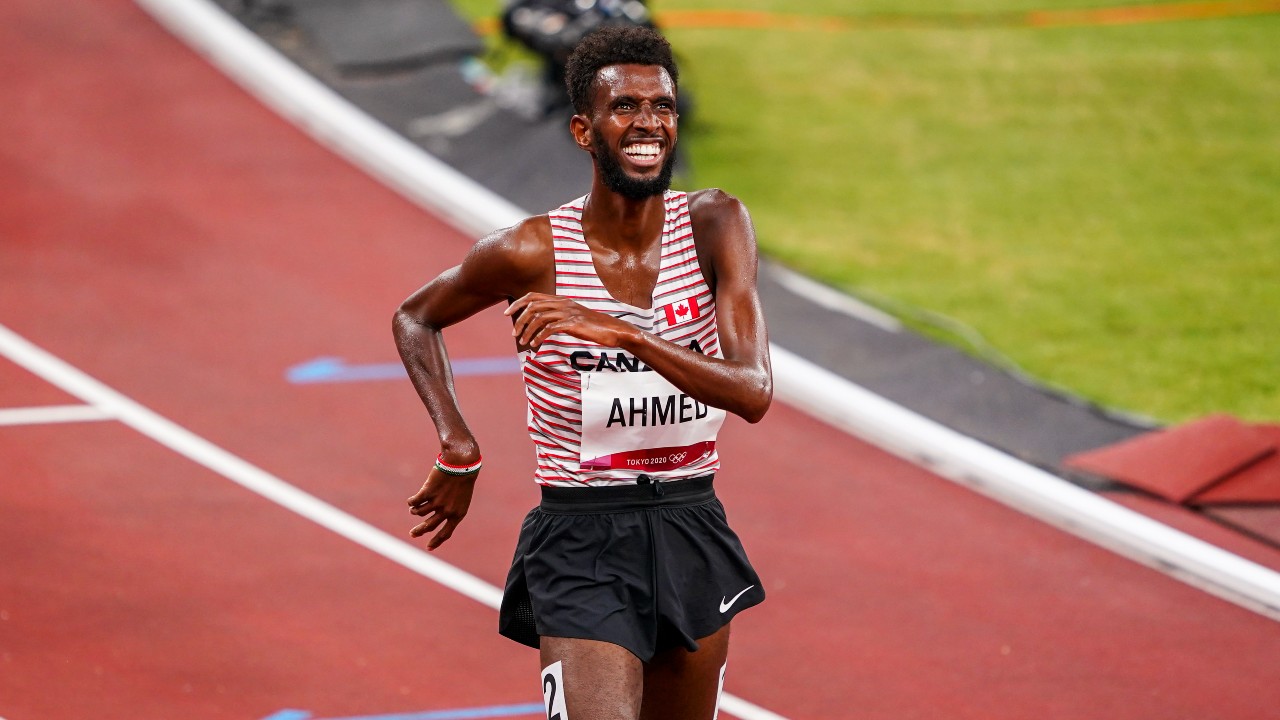 Mohammed Ahmed of Canada surged into second place to get the silver medal in 12:58.61 in men's 5000 meter race. Ahmed was born in Mogadishu, Somalia and moved to St. Catharines, Ontario in Canada at the age of 11.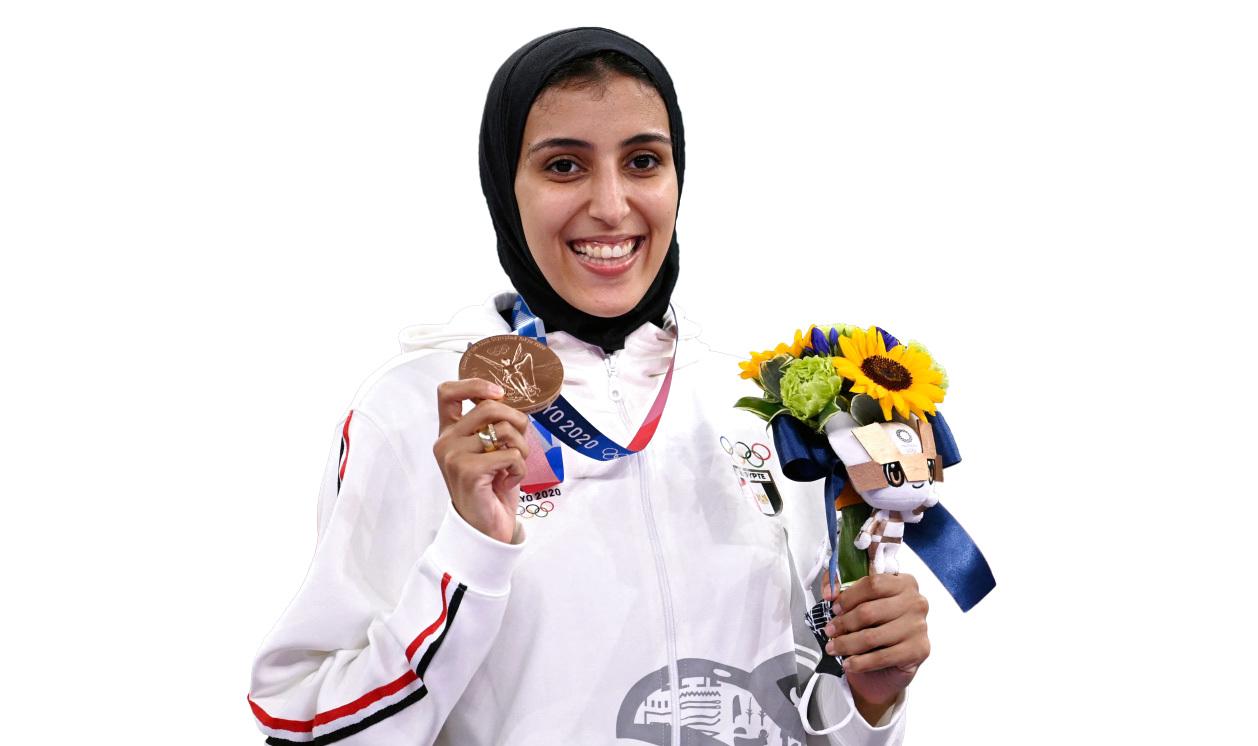 Giana Farouk
Egypt's Giana Farouk won a bronze medal at the Tokyo 2020 Olympics in the women's karate kumite -61kg event.
Cherif Younousse and Ahmed Tijan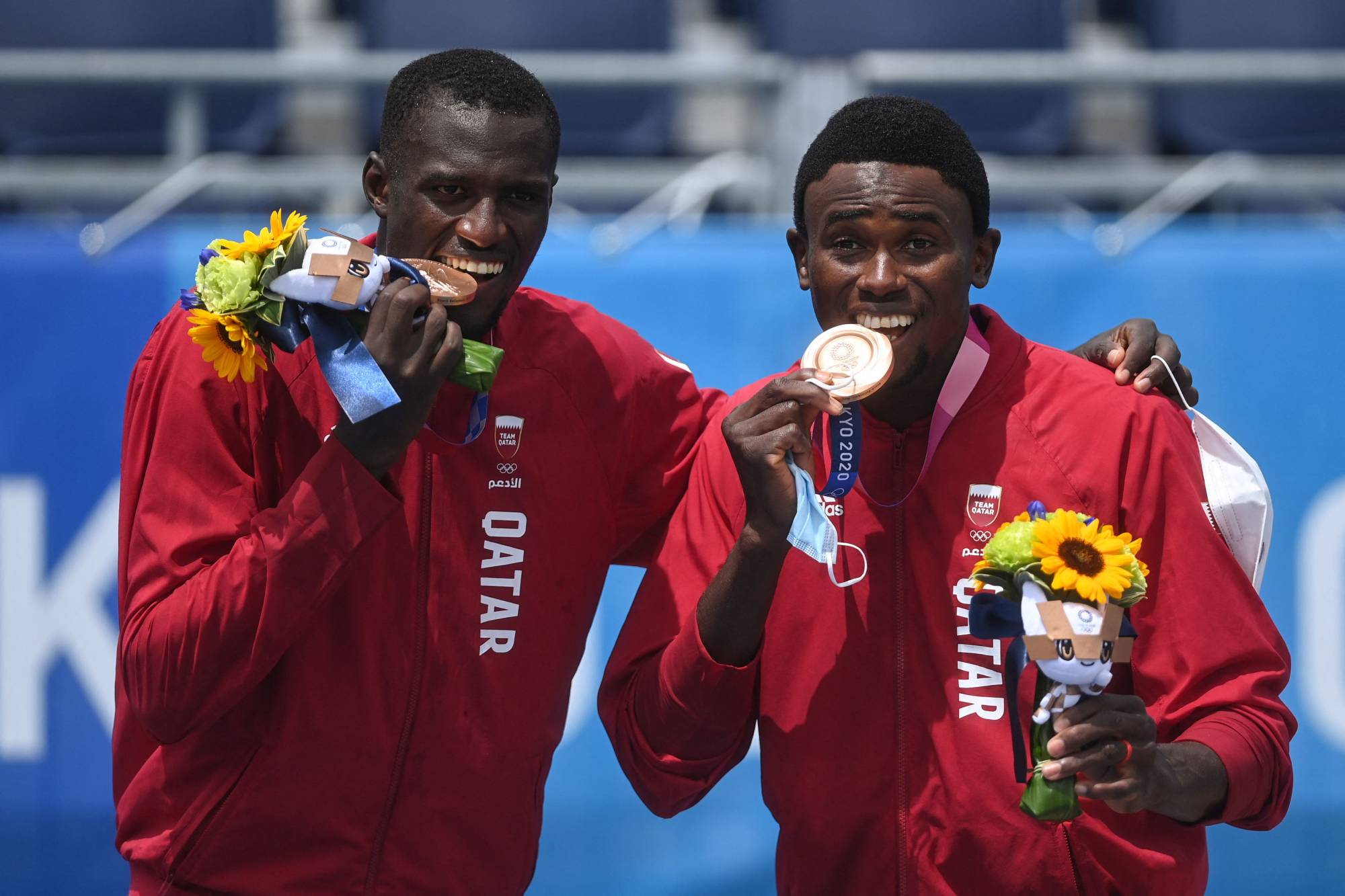 Qatar's Cherif Younousse and Ahmed Tijan won the bronze medal on Saturday in the men's beach volleyball in Tokyo, defeating Latvia's Martins Plavins and Edgars Tocs.
Jumping high while relentlessly blocking the opponents' spikes through the two sets, they won 21-12 21-18.
Hassan Yazdani
Iran's Hassan Yazdani lost the final to America's David Taylor 4-3 on Thursday night and claimed the silver medal in the freestyle 86-kilogram class.
Imam Khataev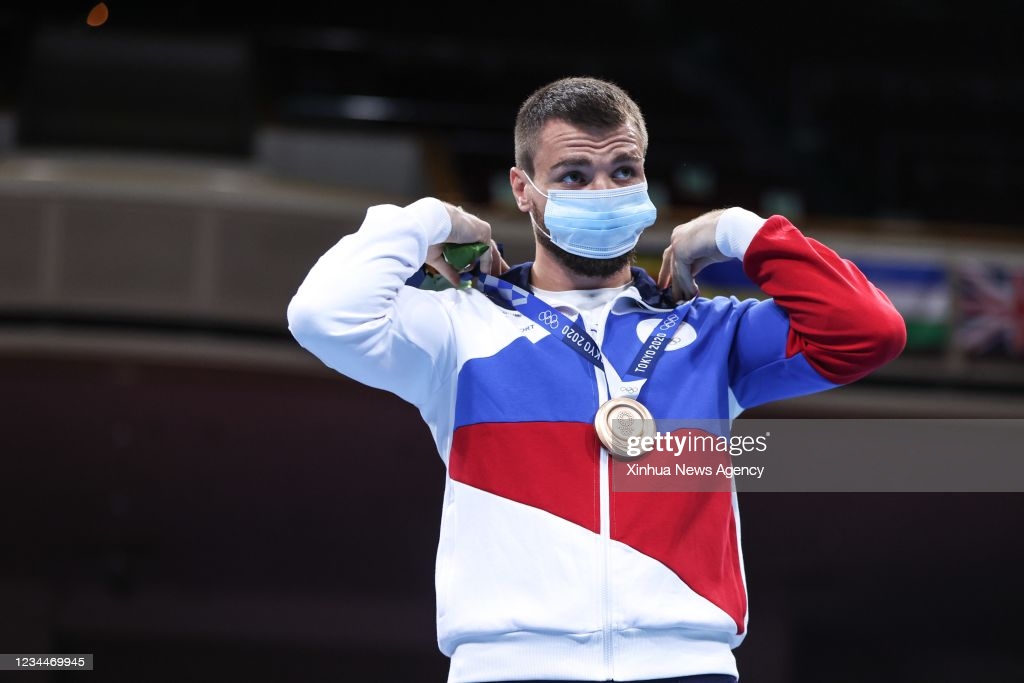 Russian athlete Imam Khataev won bronze medal in the men's light-heavyweight boxing after losing the semi-final.
Taybe Mustafa Yusein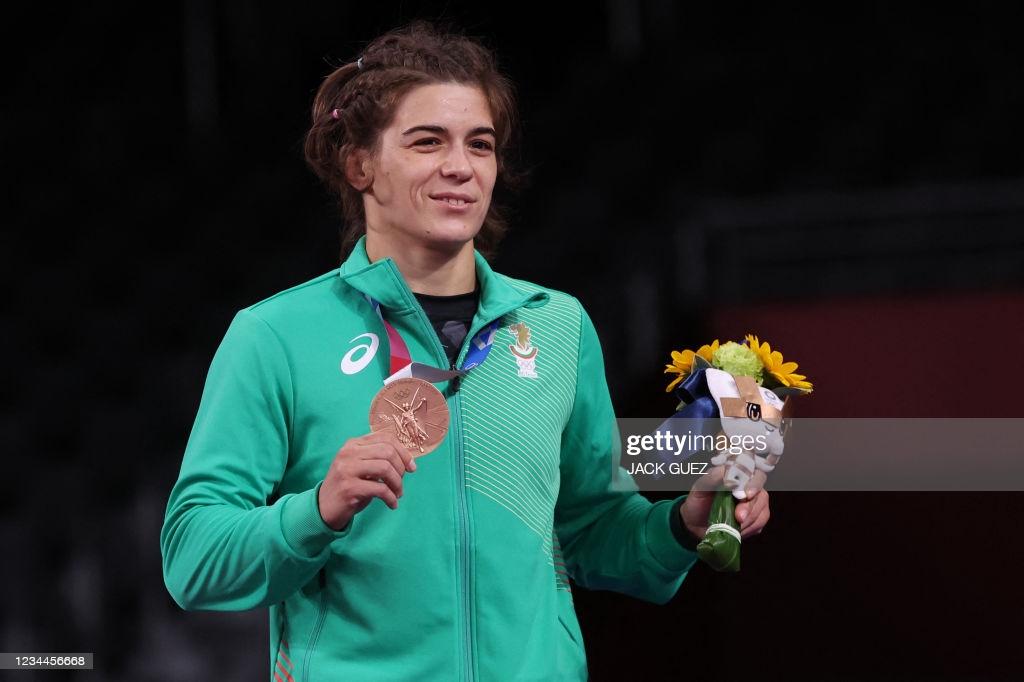 In women's freestyle wrestling 62kg bronze medal competitions, Bulgaria's Taybe Mustafa Yusein beat the Russian Olympic Committee's Liubov Ovcharova 10-0 in a match that lasted 56 seconds.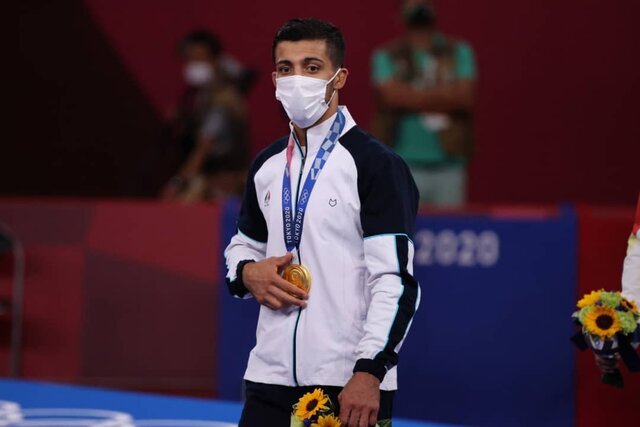 Mohammad Reza Geraei
Iran's Mohammad Reza Geraei beat Ukraine's Parviz Nasibov 9-1 to win gold in the men's Greco-Roman 67-kilogram class.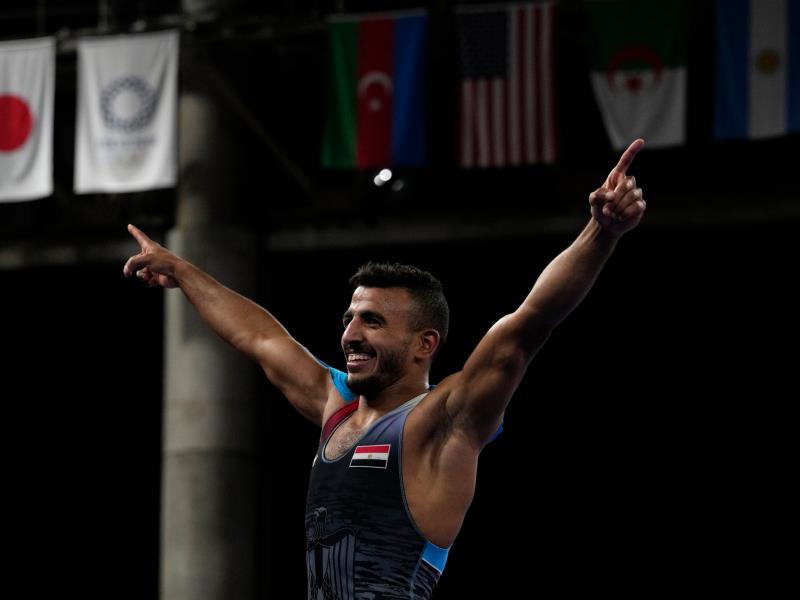 Mohamed Ibrahim Elsayed
Egypt's Mohamed Ibrahim Elsayed defeated Russian Olympic Committee's Artem Surkov in the men's Greco-Roman 67-kilogram bronze medal match.