Women of all faiths and colors from across the world will don hijab for a day on February 1st to celebrate the 11th edition of #WorldHijabDay and show support for Muslim women.
Marking the annual event, the World Hijab Day Organization will be hosting a virtual World Hijab Day Conference.
The event, hosted on the organization's Facebook, Twitter and website, will run from 8:30 AM-1:00 PM EST on Wednesday, February 1.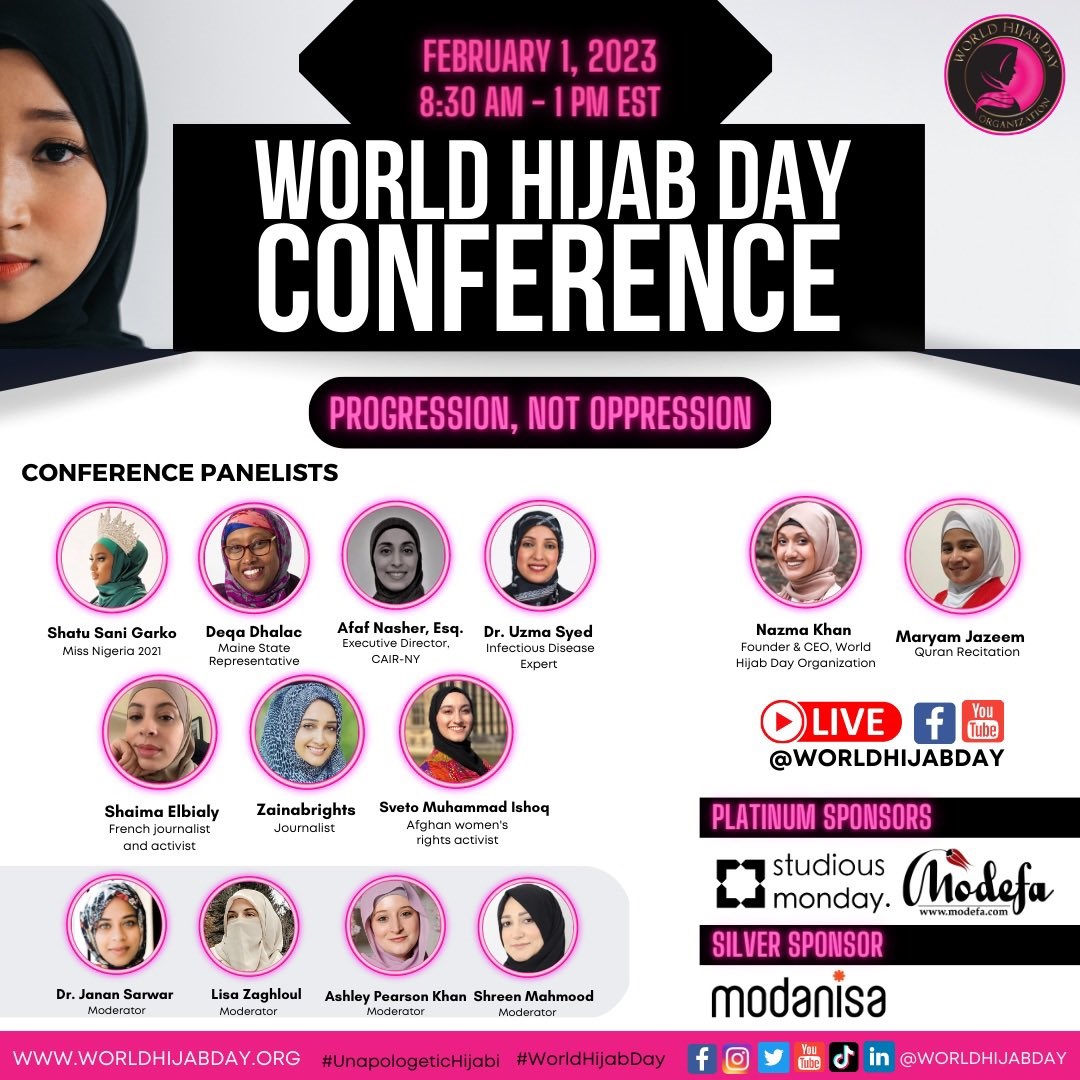 Starting the ceremony with Qur'an recitation, the opening statement will be given by Nazma Khan, the founder & CEO of World Hijab Day organization.
Topics discussed include, 'Being an Unapologetic Hijabi', 'Progression, Not Oppression', 'Hijabophobia in Public Space and Labor Market', and 'Media and Hijab'.
Islam sees hijab as an obligatory code of dress, not a religious symbol displaying one's affiliations.
Coming each year on February 1, the World Hijab Day is marked across over tens of countries.
The event, a brainchild of New York-based Nazma Khan, aims at fostering religious tolerance and understanding by inviting non-Hijabi Muslims and non-Muslims to experience hijab for one day.
Progression, Not Oppression
The WHD 2023 campaign tagline is "Progression, Not Oppression" and its official hashtag is #UnapologeticHijabi.
Many women have already shared their photos wearing hijab and supporting Muslim women.
WHD is also marked by different events across the world.
Women at St. Peters Episcopal Church in Arkansas, USA, celebrated #WorldHijabDay 2023 by trying on the hijab on last Sunday. Thank you ladies for your support! ♥️ pic.twitter.com/QzRLEkQtfP

— World HijabDay (@WorldHijabDay) January 31, 2023
Tomorrow, the #UMB Intercultural Center will host a luncheon for all Muslim women at UMB. Celebrating #WorldHijabDay!

There's still time to register, https://t.co/RrXFHXbz1r#worldhijabday #hijab #muslim #Diversity pic.twitter.com/Q4P6vsM1Bn

— University of Maryland School of Social Work (@mdsocialwork) January 31, 2023
Today our Social Justice class learned about the hijab from Ahmadiyya Muslim Women's Association of Airdrie. Appreciate their time, knowledge and message of "Love for All, Hate for None".#WorldHijabDay #wearechargers #rvsed pic.twitter.com/EZmBZvJVC3

— Bert Church High (@BCHSChargers) February 1, 2023
The Armed Forces of the Philippines invites all women to wear and experience Hijab for a day in commemoration of the World Hijab Day.#WorldHijabDay#AFPyoucanTRUST pic.twitter.com/olNEBt5Tbz

— Armed Forces of the Philippines (@TeamAFP) February 1, 2023
Wednesday 1st February marks #WorldHijabDay.

Students will be able to come along to the main hall in Senior School at lunchtime and try out hijab styles, with the help of DICE Team hijab specialists! pic.twitter.com/pG0xfoqPQc

— Oldham Hulme Grammar School (@OldhamHulme) January 30, 2023