NEW YORK – Founded by Nazma Khan in 2013, World Hijab Day has become an annual observance to increase positive identities for Muslim women around the world.
Women in over 140 countries take to social media to highlight the diversity of the dynamic women donning the religious scarf and accomplishing phenomenal things.
Though the age requirement for wearing hijab is puberty, younger Muslim girls may also wear headscarves, which may make them vulnerable to bullying in school as well as challenge their self-esteem.
According to the ACLU Fact Sheet, in addition to adults, "Young Muslim women and girls are also exposed to discrimination in schools, with instances of teachers removing their hijabs, causing trauma."
There is a growing number of children's books by Muslim authors promoting healthy identities for young girls wearing hijab. Muslim Authors Halimah DeOliveira, Jamilah Thompkins-Bigelow, and Khadijah Abdulhaqq shared their motivation for writing books centering young Muslim hijabis.
Hamilah DeOliveira
"Jennah's First Hijab was written as an empowering tool for teachers and parents could use to empower and educate the youth on the reasons why a Muslim girl observes hijab and wherein the Quran, they can find the Ayats on hijab," explained Halimah DeOlivera.
"With 53% of our youth feeling like Islam holds them back from fitting in the world I wanted to empower them through the power of choice to embrace their uniqueness. I also found that knowledge reduces bullying which can later manifest as Islamophobia."
DeOlivera' book, Jennah's First Hijab highlights reasons why Muslim girls may cover as well as cultural diversity in the observance.
Jamillah Thompkins-Bigelow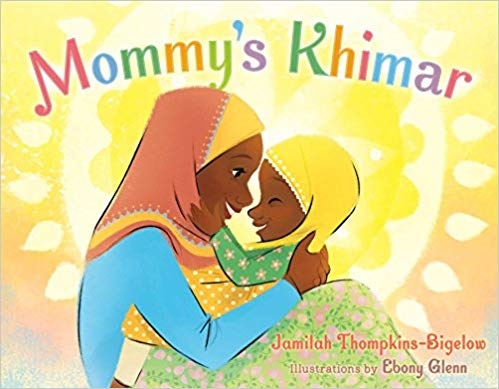 "I wanted to represent Muslim children because they are rarely in children's books and I wanted to represent a Muslim child who is unmistakably Black," said Jamillah Thompkins-Bigelow, author of the book Mommy's Khimar, a story about a young girl who "spends a busy day wrapped up in her mother's colorful headscarf."
"I [also] wanted to tell a different story about hijab and Muslim girls. When it comes to hijab and Muslim girls and women, there always seems to be a narrative that is either about oppression or people responding to disprove the oppression narrative. I hate that Muslim girls and women and hijab–which I think is a beautiful expression of faith–are often relegated to this conversation. So, I chose to write a book that ignored that conversation and hopefully, started other ones."
Khadijah Abdulhaqq
I wanted to write something beneficial for the Muslim community that would serve as a continuous charity long after I'm gone," said Khadijah Abdulhaqq.
Secondly, I wrote the book because Muslim girls needed the empowerment. Many girls were and continue to struggle with wearing hijab because of bullying, and I wanted to help them fortify their love for hijab.
Several years ago, there were instances of hijabs being violently removed from the heads of woman and girls throughout the US and across the world. The voices of the women and girls were not being heard. I was compelled to be the voice for the voiceless.
Abdulhaqq's book features a Muslim girl bullied in school.
Main Messages
All the authors shared the main messages of their books.
"I would like the hijab-wearing reader to appreciate the importance and beauty in their covered identity," said DeOliveira.
Teachers and parents to use knowledge and the power of choice instead of fear tactics to guide youth as they encounter and embrace their religious identity.
For the Non-Hijabi or Non-Muslim, I would like them to walk away with a deeper and more accurate depiction of what Hijab is."
"My book doesn't really have a message, and I think that's kind of the point," explains Thompkins-Bigelow.
It represents a Black Muslim girl just enjoying being who she is without having to teach or prove something.
Black Muslim girls need the space to do that as well–to just be happy kids, happy in their own skin and khimars.
"I want girls to read the book and feel like "I matter" and "I am proud to not only be a Muslim but also I am proud to be a hijabi wearing Muslim," said Abdulhaqq.