Open doors usually reflect a welcoming heart and mind.
With the hope of building bridges with the local community, the local mosque in Brantford, southwestern Ontario, Canada, has opened its doors, offering neighbors a mosque tour and a conversation on Islam.
"It's not just about people not knowing about Islam. It's also about Muslims learning about their neighbors," Abu Noman Tarek, the mosque's imam, told Brantford Expositor.
"It's a dialogue," he added.
📚 Read Also: Islamic History Month Canada: Sharing & Healing
The Brantford Mosque opened its doors for the ninth annual open house event on Saturday as part of the Islamic Heritage Month.
Tarek confirmed that mosque doors are open all through the year to welcome any visitor. Yet, many people feel hesitant to visit and ask questions.
"That's what makes the open house so important."
Canada annually celebrates Islamic History Month in the whole month of October, and the focus this year is on sharing and healing from anti-indigenous racism and Islamophobia.
October was designated Islamic Heritage month by Parliament in 2007 to highlight the significant contributions of Muslim people in Canada.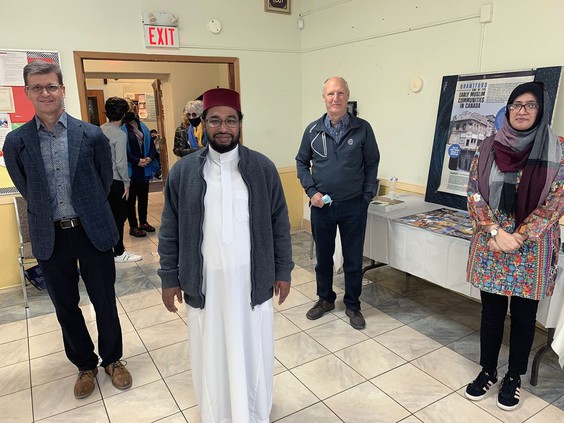 Countering Islamophobia
The annual Islamic History Month provides a time to focus on celebrating and educating the Muslim and non-Muslim community on the rich history, heritage and culture of Canadian Muslims and Muslims around the world.
Recalling the tragic murder of the Afzaal family, Tarek said it was "important to have conversations to address misconceptions some may have about Islam on a regular basis."
"Islam is portrayed as something very foreign but we feel just as much Canadian as we do Muslim," he said. "It's something that goes comprehensively together."
Carrying Islam message of tolerance, peace, love and co-existence, Tarek said the open house is a chance for people from "all backgrounds, faith, race, gender and culture" to meet, share food and get to know one another.
Muslims are the fastest-growing religious community in Canada, according to the country's statistical agency, Statistics Canada.
Historically, Canada's Muslim population increased by 82 percent over the past decade – from about 579,000 in 2001 to more than 1 million in 2011.
Muslims represent 3.2 percent of Canada's total population.