INDIANA – Richard "Mac" McKinney, the Ball State senior and retired Marine sergeant, is the president of the Islamic Center of Muncie, Indiana, and he's making efforts to "educate and inform" people about the true Islam.
This was not the case eight years ago. At that time, young McKinney says he used to hate Islam so much that he wanted to blow up a local mosque.
"A lot of people can't believe it at first, or they're just really surprised altogether when they hear me talk about this," McKinney, 49, told USA TODAY College on Thursday, March 9.
"I used to have a lot of hatred [towards Islam], but it just took getting to know more about it and actually understanding what it was about for me."
Serving for long years in the Middle East, the retired Marine sergeant spent most of his time "on the ground."
"I have seen things I will never discuss with anyone," McKinney said.
"I didn't hate Islam then, but many of the things I saw were a reason why I felt the way I did later on."
Coming home, he wanted to make a statement as a self-proclaimed nationalist. Destroying a mosque was part of his thoughts.
"I don't think I could have hated Muslims much more, I mean I just really had a true hatred," McKinney said.
"Nobody knew about what I was planning to do, though. I wanted to do this on my own – I had the place scoped out and everything. I didn't even care if I got caught, I just expected that would be part of what happened anyway."
Change of Heart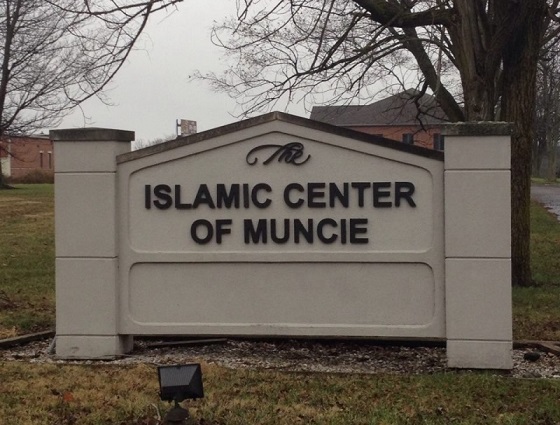 Planning the act, he said his wife was shocked when she found out the plans. He was later investigated by the FBI but was never charged.
"If I would have ended up in prison with a needle in my arm, that was going to be fine for me," McKinney said.
"I thought that by blowing the mosque up, I would be doing something good for my country … I was messed up then."
He had a change of heart when his then second-grade daughter came home from school and talked about seeing a fellow student's mother wearing a niqab when picking up her son.
"I absolutely went off – I snapped – I could not have been more angry," he said. "But what really got me, what really made me step back and look at myself, was when I said 'those people' – "I don't want my daughter around those people.'"
After seeing his daughter confused and upset, McKinney said he started having second thoughts.
"Kids aren't born with prejudice or racism or hatred. They're literally color blind, in a sense," McKinney said.
"But it's when parents get ahold of them that they start to turn and grow up to think they same ways we do. I couldn't have that, that's my daughter. So I wanted to find a way to face this hatred a better way."
Seeking Answers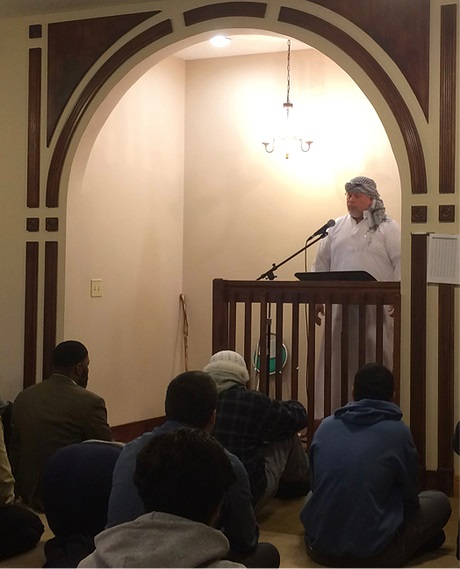 Seeking answers about the faith, McKinney went to a local Islamic Center where he was "immediately welcomed."
"At first I would be sitting [in the mosque] and I could feel myself getting really hot and nervous when I realized I was the only non-Muslim in the room. I always looked back at where the door was," he said.
"But after a while, I started spending hours and hours in there, and things just made sense to me. I knew I wanted to take my Shahada – I wanted to become a Muslim."
So McKinney did just that.
A short while later, he was named the president of Ball State's Muslim Student Association (MSA). In 2014, he was voted in as the president of the Islamic Center.
Known as Omar-Sayeed Ibn-Mac, he leads a group prayer each week and gives sermons.
"I met [McKinney] last year and got more involved after hearing about Richard," said Saleem Abufares, the current MSA president and a senior at Ball State.
"He is a very inspiring person and Muslim that has greatly strengthened the community and Muslim Association at Ball State."
Abufares said McKinney frequently shares his story with fellow students, as well as in his leadership role at the Islamic Center.
"He's influenced me to work my hardest in what I do today, and he's taught us a lot about being an inspirational friend and Muslim," Abufares said.
Inspiration
As his tenure as president of the Islamic Center comes to an end later this year, McKinney is still working on his mission to make the Muslim community more visible and correct misconceptions about his faith.
"Islam is not a hateful or violent religion, and I think a lot of the misconceptions happen because we confuse the different cultures with the religion," he said.
"Just like Christianity, Islam is perfect, but not all the people who practice the religions are."
He now studies social work at Ball State, and after attending graduate school, he "wants to help people" through his work.
His work was bearing fruits after his fellow Ball State student Rachel Haines said she started to think about Islam "in a different way", after hearing McKinney speak.
"I didn't know much about the specifics of Islam or Muslims, but after hearing [McKinney] speak at a panel event, I actually got curious," Haines said.
"I'm a practicing Christian, but I don't think we spend enough time trying to get to know and understand others, especially from different religions."
Having no plans to convert to Islam, Haines hopes to learn more.
"I know I've been guilty of prejudice in the past, but it wasn't because I was hateful," Haines said.
"I just didn't know much about Islam, and I think that's where it's going to start for me – just learning more and being comfortable talking about what I don't know, what scares me, what's true – all of that."
Making his job more tough, the current political climate made his consider doing "whatever he has to" to protect those around him.
"I'll do whatever I have to so [the Islamic Center] and the people there are protected," McKinney said.
"I'm going to stand up for my community no matter what. If that means I'm [at the center] all day and night standing guard, that's what I'm going to do. I'm not going to let anything happen to them – these are my brothers and sisters – and that means something to me."
For more inspiring journeys to Islam, you can check: