HOUSTON – The bazaar, as they say, was bustling.
With about 500 vendors showcasing everything from wudu-compliant nail polish to vegan soap to halal beach vacations and, of course, racks and racks of modest women's wear, the bazaar at the 55th annual national convention Islamic Society of North America (ISNA) was abuzz with excitement.
Haya Ismail, a student from the University of New Mexico attending the Houston, Texas, ISNA convention for the first time, said she was especially attracted to the diverse product selection the bazaar offered.
"It's amazing and it really draws you in," she told AboutIslam.net. "I've gone in there every day."
Ismail said she was already familiar with many of the vendors populating the bazaar as she follows several of them on social media.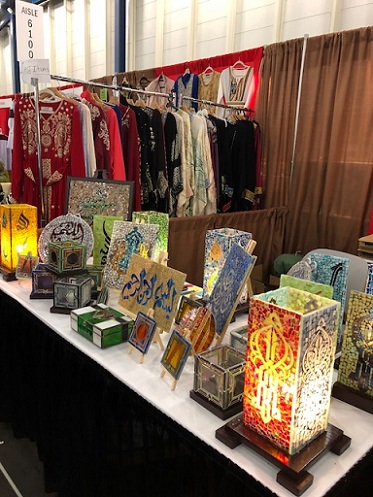 "I saw so many influential Instagrammers and it was so exciting to meet them. It was also so much easier to be able to talk to them and purchase their products in person rather than buy them online." she said, adding, "It's also really nice to support fellow Muslims."
Ismail said she will return home with several new hijabs, food, and jewelry and with the intention to return to an ISNA convention.
"Being around so many Muslims and listening to the lectures was so amazing it makes me want to come back every year," she said.
On-site vendors said they were happy with the Houston convention's turnout and reported steady customer traffic for the duration of the four-day event.
Health Products
Pharmacist Samia Sohail and her husband Dr. Akif Syed own Deen Nutrition, a halal nutrition and wellness company based out of Northern Virginia. They sell a line of vitamins for children, adults and pregnant women as well as supplements and protein powders.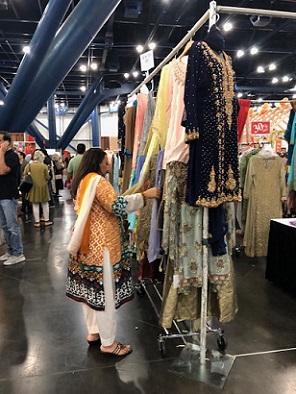 Sohail said all of their products are plant-based. She said it's important not only to provide vegetarian vitamins and wellness products to Muslims but to support all of their wellness efforts.
"Everyone is way more health-conscious these days, so (with our products) we're trying to help the ummah with a holistic approach to their health."
Health products were prevalent at the 2018 bazaar. In addition to Deen Nutrition, a company called Soap Ethics was on hand to showcase and sell its wide selection of all-natural, handmade vegan soaps, balms, and lotions.
Asma Khan is the founder and CEO of Soap Ethics, which is based in Chicago. She said there is a large and growing movement of people who are very careful about what they put into their body and with eating as healthfully as possible, however not everyone is aware of what they put on their skin. That's where her venture, Soap Ethics, comes in.
"I'm all about raising awareness for people to be smart about what they put on their skin because so many people don't realize that what you put on your body, you're topically absorbing in," she said, adding that many commercial soaps are made with ingredients which may contain pork.
To counter this problem for concerned Muslims, all of Khan's products are vegan and aimed at helping Muslims make better choices in skin care.
"Sometimes when you know better you do better," she said.
Even Khan's lip balms are made of plant-based candelilla wax instead of beeswax. What's more, each of her products is named after a virtue like faith, justice or gratitude, hence her company's name, Soap Ethics.
"As for my lip balms (which are named Modesty, Courage, and Honesty), I tell people that these are things you put on your lips, so speak with modestly, speak with courage and speak with honesty," Khan said.
Convention-goers could also browse and pick up a large assortment of Islamic reading materials, including fiction, educational materials, children's books and faith-centered instruction. There were also several vendors selling Islamic-inspired home products, `Eid decorations, artwork, and furniture.
At ISNA: US Muslims Learn How to Work Against Racism, Bigotry