Dear Ahmaud Arbery,
I can't sleep, so I'll write this one for you. It's hard to say your name at this point, as fragmented memories of your beautiful black body lay across the concrete ground of the Georgia streets.
I can't sleep, so I'll say a prayer for you. I can hear the faint sound of your name being whispered in my ear. A-h-m-a-u-d A-r-b-e-r-y is the name that I avoid like a plague, as its acknowledgement is too sharp, too painful, and too hard to decipher.
Bismillah, I force myself to say and acknowledge your name: Ahmaud Arbery.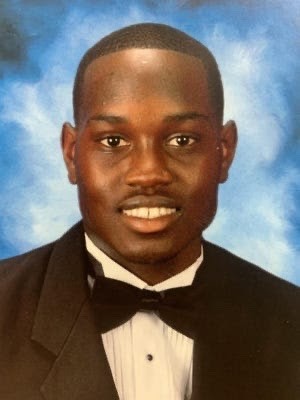 His Story
According to CNN, Ahmaud Arbery was a 25-year-old athlete, who was jogging in a neighborhood outside Brunswick, Georgia on February 23 when two white men chased him down and shot him.
According to a Glynn County Police report, Gregory McMichael later told officers that he thought Arbery looked like a person suspected in a series of recent break-ins in the area.
A video, which clearly contradicts the stories of McMichael and his son, showed the last moments of Arbery's life. It has sparked outrage among criminal justice advocates across the country.
Muslims around the world are heartbroken. They are searching for logical answers to help understand why these gross atrocities continue to be committed against black people in this country.
In an effort to find peace and clarity, Muslims around the country share their reflections about this atrocity with AboutIslam.net.
Perspectives from the Muslim Community
"I hate that we never get justice for our own. It's painful to constantly watch black people die for nothing," Inshirah Jihad said.
"The fact that our men have to leave the house being vigilant that they are always prey; that they are being hunted and can be taken down while doing the most mundane activities takes an emotional and psychological toll not only on them, but on us as a people. Only by the Grace of Allah (SWT) have we survived the PTSD caused by the horrors of slavery, Jim Crow, racism, and oppression," Mumina Ali said.
"This video of the lynching of Ahmaud Arbery is one the most horrific things I've ever seen." Imam Omar Sulaiman stated in an Instagram post.
"Ahmaud was a 25-year-old athlete. He's someone's son. He was hunted down while jogging by a father/son duo in Georgia. He was unarmed and shot dead. The father and son have not been arrested. We will not forget. We will stay paying attention," Linda Sarsour said in an Instagram post.
"It took me a lot to finally watch the video of the brutal murder of Ahmaud Arbery. I hate watching things like this because I don't want it to seep into my heart and mind that the murder and abuse of Black people is normal and start to accept it as that," Dawud Abdul-Alim told AboutIslam.net.
"I am at a loss of words and feel inadequate to respond. I don't know how to fight against this or to demand justice in brother Ahmaud's and others cases. I am appalled and cannot imagine what our African American mothers feel on a daily basis when their sons go out for anything— school, recreation, to earn a halal living… anything," Shaza Khan shared with AboutIslam.net
Our Faith
During times of hardship and strife, we are blessed with the ability to retreat into the Qur'an to develop a sense of perspicuity and peace. The Qur'an addresses justice over 24 times in 22 verses.
Allah says in the Qur'an: "O you who believe! Stand out firmly for justice, as witnesses to Allah, even if it be against yourselves, your parents, and your relatives, or whether it is against the rich or the poor…" (Qur'an 4:135)
A touching excerpt from Amir Sulaiman's poem, "We Must Win" states,
"They've killed us so many times. We have died so many deaths. We have died for everyone. We have died for everything. We have died for nothing. We are done with death. We are done with death. We will not die another day. We are the true and living, and we must win," shared by Jaasmeen Hamed.