Another innocent American Muslim who suffers mental health issues has been killed in Tarrant county jail, Alabama, after claimed confrontation with the security guards.
In a post on Facebook, Imam Omar Suleiman wrote about Abdullahi Mohamed, mourning him as an innocent man who lost his life in prison.
Mohamed, a Somali immigrant and naturalized citizen, had trauma and mental health issues relating to his experiences as a refugee. He was arrested after he checked himself out of the hospital against the advice of physicians.
📚 Read Also: How Should New Muslims Deal with Racism?
The 40-year-old Muslim was later put in jail after law enforcement was called to bring him back to the hospital.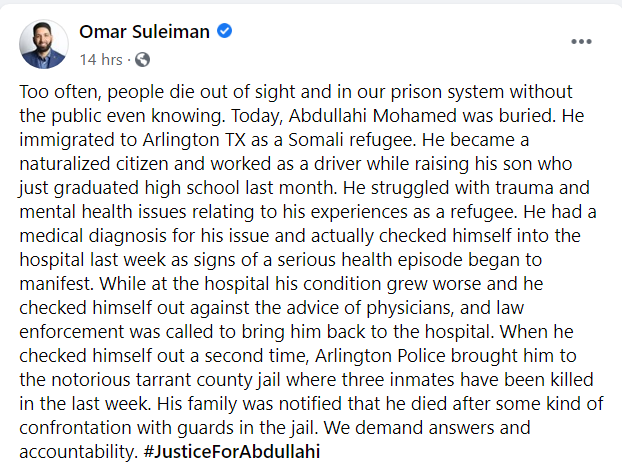 "Too often, people die out of sight and in our prison system without the public even knowing. Today, Abdullahi Mohamed was buried. He immigrated to Arlington TX as a Somali refugee and became a naturalized citizen and worked as a driver while raising his son who just graduated high school last month," imam Suleiman wrote on Facebook.
"He struggled with trauma and mental health issues relating to his experiences as a refugee.
Sueliman added, "He had a medical diagnosis for his issue and actually checked himself into the hospital last week as signs of a serious health episode began to manifest.
"While at the hospital his condition grew worse and he checked himself out against the advice of physicians. Law enforcement was called to bring him back to the hospital.
"When he checked himself out a second time, Arlington Police brought him to the notorious Tarrant county jail where three inmates have been killed in the last week. His family was notified that he died after some kind of confrontation with guards in the jail. We demand answers and accountability. #JusticeForAbdullahi"
Demanding Justice
State officials said they are investigating Mohamed's death at the Tarrant County Jail on Thursday.
This is the third death of a detainee at the jail within one week.
"Clearly, the very system that is supposed to protect vulnerable individuals fails gradually causing their demise," one wrote on comments.
"Inna lilahi wa inna ilahi rajioon, may Allah Grant him to jannah. There is not enough justice in this world nowadays," another added.
America has been boiling over the past weeks after George Floyd was killed by a Minnesota police officer.
The killing of George Floyd sparked high profile demonstrations against racism across the United States and the world.
Days later, Mouhamed Cisse, a 18-year-old high school student with exceptional talents as a cellist and drummer, was tragically shot and killed on a West Philadelphia street.
Earlier in February, Ahmaud Arbery, a 25-year-old athlete, was shot and killed by two white men chased him down.