It was the beginning of March, and Nurin Abdulwassy Ghazzawi, an ambitious medical student from Augusta University, completed her first campaign of forty pap smears, breast exams, and cervical cancer awareness classes to local Peruvian women in Cusco, Peru.
Nurin and a cohort of medical students were sent to Peru to study abroad and provide medical services to the local people of Peru.
However, things abruptly changed when Peru decided to close their borders and give international travelers less than 24 hours to evacuate the country amid a mandatory COVID-19 quarantine.
According to a Facebook post by Nuri Ghazzawi, the group of students wasn't provided with adequate notice to evacuate the country and when they went to the United States embassy for assistance, they were faced with a note posted on the door.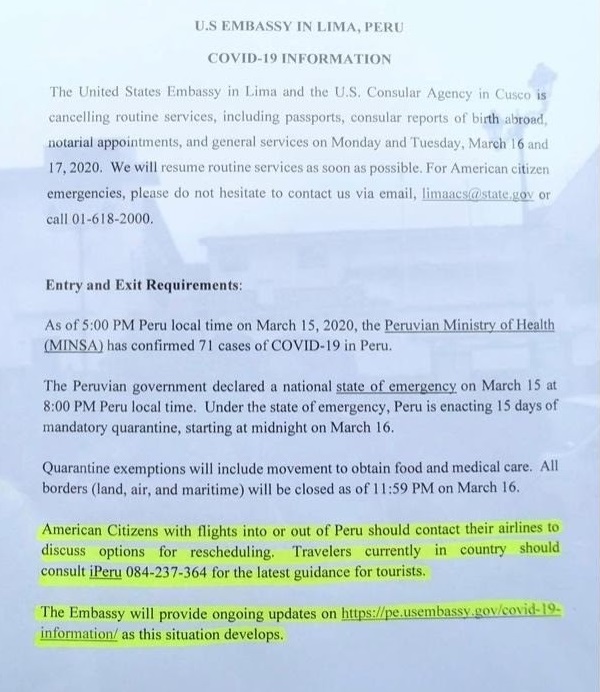 "We want to reiterate that we tried to book tickets before the 24-hour notice and tickets were not available. To add to that, our fellow students had tickets for Monday (before the closure of borders) but their flights were canceled," Nuri Ghazzawi posted in a desperate Facebook post.
"We were not late to get out but instead the option was not available due to the limited time constraints given. Which is why we resorted to going to the embassy here. Please continue to share and tag federal government officials and the White House to raise awareness to safely bring home ALL American citizens stranded here in Peru. Thank you all so much we are grateful for all your efforts to bring us home," she added.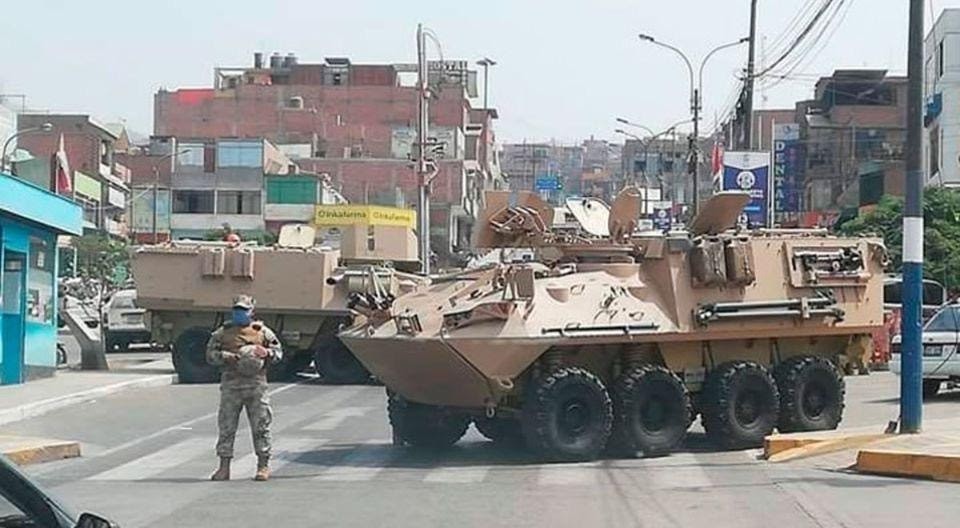 Quarantine
On March 15th, Peruvian President Martín Vizcarra made a national announcement, declaring a 15-day quarantine effective from March 16, which immediately put imminent restrictions on travel between provinces, and travel in and out of the country.
Due to heavy restrictions, including curfews, military presence, and online permission forms to leave the house, residents are being subjected to harassment and a lack of resources provided by the government.
According to La Republica, which is a Spanish news publication, a woman who was seen taking out the trash at night was cornered by a dozen police cars and motorcycles, and arrested for breaking curfew.
In addition to curfews and harsh penalties for being outdoors, food and medical supplies prices have skyrocketed across the country. There is a looming fear of resources eventually being depleted, as foreign currency exchange banks have been shut down.
According to an article posted by The Dallas Magazine, "For some of those stranded, there are fears of dwindling food supplies and possible civil unrest, although the Peruvian Army is controlling the streets. Food prices in the city have skyrocketed since the lockdown began, and a local couple paid about $100 for a bag of fruits and vegetables."
Pray for Relief
Matters took a drastic turn for the worse when the Peruvian government announced on Saturday, March 21, 2020, their plan to give foreign governments until midnight to retrieve their citizens, as they planned to close their borders indefinitely.
As midnight approached, the local American Muslim community sat on edge and awaited news, yet no update arrived for Nuri and her classmates.
"No updates. We are emotionally exhausted and we will evaluate what we can do tomorrow. Thank you again for everything. Good night and stay safe," were the words posted on Nuri's Instagram story shortly after midnight.
Although the story of Nuri and all of the Americans stranded in Peru is disturbing, we must remain steadfast in our faith in remembrance in Allah SWT. Nuri Ghazzawi posted a powerful message of seeking prayer during these times of trial on her most recent Instagram story.
"The only thing bringing us comfort right now is Salah. Make duaa for us."
In times like these, it's our sense of community that will help us through. We must pray and advocate for the safe return of our sister Nurin and the many others stranded in countries around the world. Let's remember the words of Prophet Muhammad (SAW):