LONDON – World renowned boxing legend Amir Khan joined hands with the British Islamic charity Penny Appeal at the Atrium in East London on Saturday, May 12, for a pre-Ramadan fundraiser namely titled "Back to Business."
Moosa Saghir, London FR & Partnerships for Penny Appeal, said of this pre-Ramadan event, "We are very proud that Amir Khan and the Amir Khan Foundation are supporting the building of an orphanage complex in Pakistan."
The collaborative project will include a community center, a school, a clinic, and a number of homes for orphans to live in, in the town of Sohawa, located in the Punjab district of Pakistan.
Speaking of the 100+ guests in attendance, Moosa added, "We are ourselves privileged, blessed with the means that Allah has given us, and we want to make sure that in the month of Ramadan we start helping those who are in need, all across the UK as well as overseas."
"At the moment we work in 30 countries that are in one crisis or another. But today this event is about Amir Khan, people enjoying the food, coming together, raising funds to help the kids in Pakistan."
The Wisdom of Muhammad Ali
Amir shared a few stories on the night, one of which was about meeting the world-famous boxing champion, Muhammad Ali.
"One thing about Muhammad Ali at that time was that everything that I said to him, he understood. So when I said to him that I went to do my umrah and I had a lovely time, he shook my hand. He didn't say anything, but you could see how happy he was. He acknowledged it. Everything that I was telling him, he was listening.
"It was just a shame that someone who used to speak so much, he was the best at putting fighters down, winning fights with his mouth. We have lost a great fighter, and I was honored to even shake his hand.
"I didn't know what to say, the first time I met Muhammad Ali. He was sat there on the table with me. And I was like wow, this is surreal."
Muhammad Ali's most prominent tagline was him calling out, "I am the greatest." Eager to separate himself from the rest, Muhammad sought a way for people to pay attention to him. He got the idea to use this line from a visit to a circus where there was a strongman was known as 'The Greatest.'
Later in life when he had converted to Islam, one of his biggest challenges wasn't in the ring, but at home, with his wife Belinda, a teacher, who now goes by the name of Khalilah Camacho-Ali.
She said that at a time, he was almost out of control, that he lost his humility. And in a heated discussion, she said to Muhammad, "You may call yourself the greatest, but you'll never be greater than God."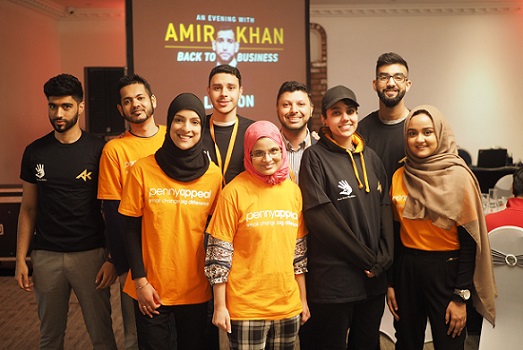 The Wisdom of Ramadan
The audience on the night included men and women from across the spectrum of professions, many of whom have excelled in their respective professional fields.
In relaying the story of meeting Muhammad Ali, Amir Khan demonstrated the importance of humility in who we are and how we should live our lives.
Ramadan, the month of fasting is not about not eating food or having something to drink. It is about self-control, recentering the soul, and balance.
Elaborating further on Ramadan, Moosa said, "Ramadan to me is not just about fasting, it is more about understanding the reason why we fast. Fasting is not just a ritual, it's not just a challenge.
"There are several reasons why we fast, but one of them is to gain empathy, a glimpse of how another person may be suffering (without food or water) so that we are grateful for what we have.
"The month of Ramadan gives us the opportunity to help those who are less fortunate. We purify our wealth. We purify our hearts. We purify our intentions. We do all of this to have a closer connection to Allah," he added.