TORONTO – The Church of the Holy Trinity hosted a lunch on Sunday for leaders and members of Masjid Toronto.
Rev. Sherman Hasselgrave, Incumbent of the Church of the Holy Trinity, joined by members of the church graciously welcomed their neighbors from the mosque.
Dr. Wael Shehab, Imam of Masjid Toronto, thanked the members of the Church for their support and friendship to the mosque and the Muslim community following the recent acts of hatred directed towards the mosque.
Muneeb Nasir, Friday Khateeb at Masjid Toronto, Mohsin Syed, Programs Coordinator of Masjid Toronto, and Dr. Adel Alhalawani from the Muslim Association of Canada, joined Imam Shehab at the friendship lunch.
In February, worshippers attending Friday prayer services at the mosque were greeted by protestors carrying banners and with loudspeakers, shouting Islamophobic slogans and calling for a ban of Islam.
After seeing pictures of the protest on social media, counter-protesters have shown up outside of the mosque on numerous occasions with posters and cards in support of Muslims.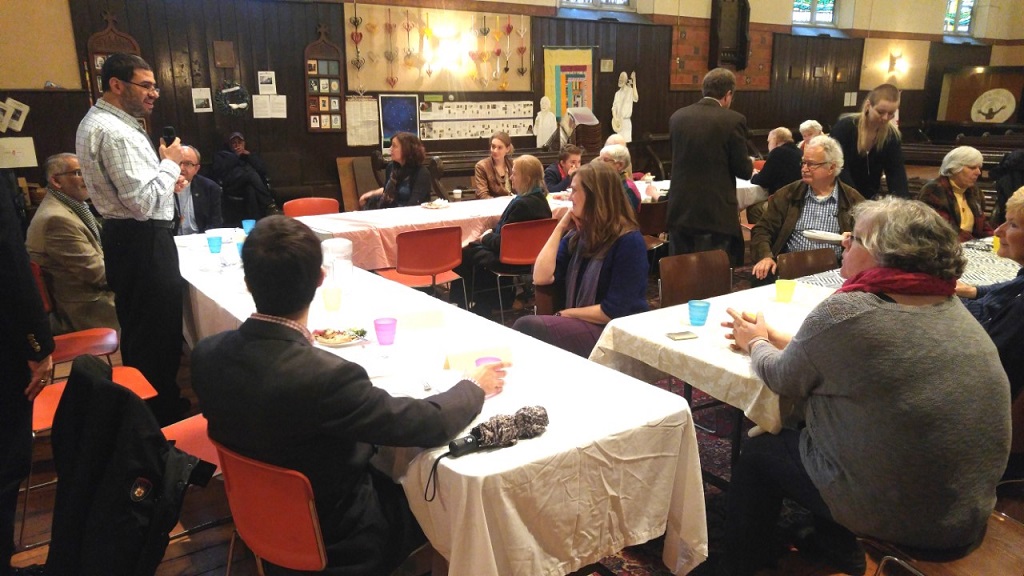 At Sunday's lunch, the Muslim Association of Canada extended an invitation to the Church of the Holy Trinity to join in this year's celebration of `Eid al-Fitr that will be held on Sunday, June 25th at the Enercare Centre at Exhibition Place in Toronto.
The grand `Eid 2017 celebration, which is themed 'Diversity Is Our Strength', has attracted over 10,000 people in the past and has become a fabric of Ontario's heritage and Toronto's multicultural mosaic.
The Church of the Holy Trinity is an Anglican church in downtown Toronto located at 10 Trinity Square.
Built in 1847, the Church of the Holy Trinity is surrounded by the Toronto Eaton Centre, a Marriott hotel and the Ted Rogers School of Management to the northwest, and the office building known as Bell Trinity Square to the southeast.
"Holy Trinity is a unique church whose community is characterized by informality, where both traditional and contemporary worship are available," states the church on its website. "It is a church of inclusivity, both in language and comprehensive lay participation."
"Holy Trinity strives to work with others in the community to uproot the systemic injustice which entraps the weakest members of our society."
Masjid Toronto is a vibrant mosque in the heart of downtown Toronto, on Dundas Street west of Bay Street, and serves a large and diverse Muslim community.
Another facility was purchased a few years ago and a satellite mosque, Masjid Toronto at Adelaide, was opened at Church and Adelaide Streets.
Every Friday, thousands of worshipers attend one of the four weekly prayer services.
The unique locations of the mosques near Ryerson University and the University of Toronto, as well as its proximity to downtown businesses, hospitals, city and provincial governments, and the bus terminal, make it a sanctuary for Muslim professionals, students and travelers alike.