Reed said the MCC founders, which include a group of doctors and other medical professionals, wanted to create a space where anyone, either Muslim or not, felt seen, important and served.
"There really wasn't a place in southeast Houston that served a wide range of communities and people and cultures so we decided to create a facility that had programs that run every day," he said.
"We want to serve the homeless, the immigrant community, people who are left in the dark in their community for one reason or another. We want to give a voice to the voiceless."
For this reason, MCC volunteer Hanan Abdelgilil is steadfast in her commitment to working with the center's leadership and bringing others with her.
A long-time volunteer with the Clear Lake Islamic Center in the area, Abdelgilil worked with Reed there before he asked her to expand her efforts to MCC when it opened.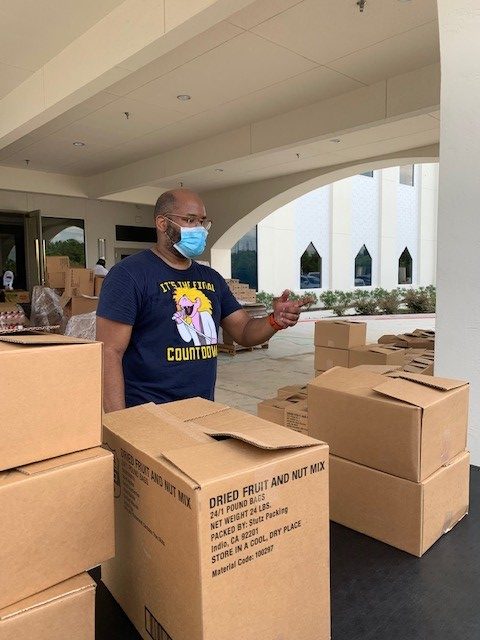 Passion to Serve
The 19-year-old biology major at University of Houston and hopeful future dentist called serving others "a passion."
"Seeing how people react when you help them and knowing you made a difference in someone's life pushes you forward," she said. "I also like knowing that now people in the community will reach out to me if they need help."
To pay for the center's operations, those in charge rely on donations and proceeds from events hosted in the MCC's Pearl Center ballroom, an event venue which, when full, can hold up to 650 people.
Of course, with COVID-19-related restrictions in place, the venue can only accommodate up to 300 people.
Financial Challenges
Reed admitted it's challenging right now to keep up necessary cash flow but said he and his fellow leadership team members haven't stopped planning for the future.
"We want to hit the ground running, we want to have enough money to purchase a mobile trailer with a kitchen so that we can go around and serve underprivileged people where they are," he said.
"We also want to restart MCC Bloom, which is (a program) geared toward women's holistic health."
Reed said other plans include starting a financial services center, job training and other resource allotments.
"We want to have a place where people can get resources to retrain or to become financially stable," he explained.
Reed and those who lead MCC know they have a challenge ahead of them. When just a few years ago they were able to raise the $2 million it took to build the MCC strictly through donations, now they know they will have to explore different avenues for funding if they want to continue to grow.
"Right now we are looking into grants we can get because everyone is tapped out and you can't get donations in the usual way," he said.
No matter how Reed and the leadership team at MCC choose to proceed, Abdelgilil said she and her corps of volunteers will be around to lend a helping hand.
"He knows when he needs something done to come to us," said Adbelgilil, who often volunteers with her brother and sister. "It's my honor for him to call on me."
To check out the MultiCultural Center's programming, go to multiculturalcenter.net. To donate, log on to multiculturalcenter.kindful.com.
Pages: 1

2