Many people have gone online to support Nazem Kadri, a Muslim hockey player who's facing Islamophobic and racist harassment online
The incident occurred after a collision with St. Louis Blues goaltender Jordan Binnington during Game 3 on Saturday.
The attacks targeting Colorado Avalanche center Kadri included violent threats and the Avalanche had an increased police presence at their game on Monday.
"Nazem Kadri's wife shares what their family has endured for the past 48 hours through the Jazzy Kadri Instagram account. These racist attacks are sickening," Mike Stephens, a writer for the Hockey News, wrote on Twitter.
📚 Read Also: American Muslims Unite Against Racism
The attacks have been condemned by the Council on American-Islamic Relations (CAIR) as unacceptable.
"The appalling racist and Islamophobic rhetorical attacks to which Mr. Kadri was subjected demonstrate the seriousness of the threat posed by anti-Muslim bigotry and racism," said CAIR National Communications Director Ibrahim Hooper in a statement.
"We urge the National Hockey League to publicly denounce the harassment and threats targeting Mr. Kadri."
Hooper referred to CAIR's latest report released last month on the civil rights of American Muslims, titled "Still Suspect: The Impact of Structural Islamophobia."
The report details more than 6,700 civil rights complaints the Washington, D.C., based group received in the past year.
📚 Read Also: There is No Place for Racism in Islam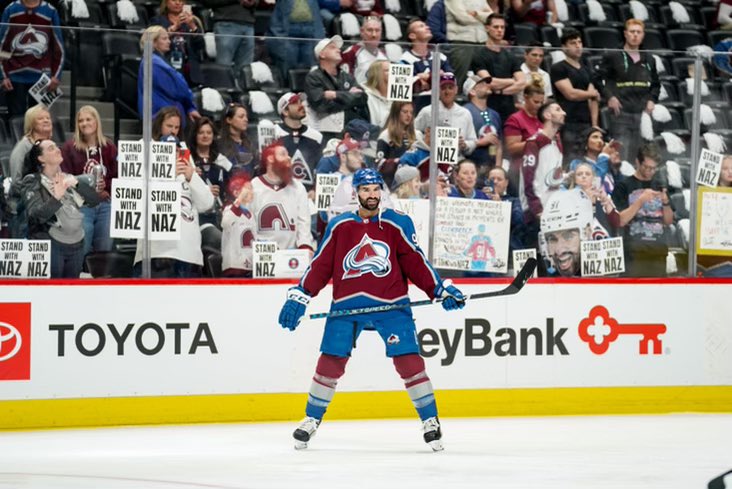 Support
While many people send vile messages against the American Muslim of Lebanese decent, many Avalanche supporters have been sharing messages of support.
#Avs fans supporting Nazem Kadri.

What a picture from @cogrizzly. pic.twitter.com/RFU3xp7ywx

— George Stoia III (@GeorgeStoia) May 25, 2022
Huge ovation for Nazem Kadri as he's shown on the big board during warm ups. He salutes the crowd.

Lots of fans here have signs expressing support for him after he received threats and racist messages on the road.

— Peter Baugh (@Peter_Baugh) May 25, 2022
Avs fan Adrienne painted a sign and printed 300 flyers that say "Stand With Naz" as fans come together to support Nazem Kadri in his return to Denver 💪

Other fans are bringing their own handmade signs as well. pic.twitter.com/smSTbRanB3

— B/R Open Ice (@BR_OpenIce) May 25, 2022
I'm working til 11pm but I'm showing my support for @43_Kadri 🤍 #StopTheHate #StandWithNaz #GoAvsGo #FindAWay pic.twitter.com/LwyAaQ8R00

— x – 𝙷𝚎𝚊𝚝𝚑𝚎𝚛 🍄 (@lvs2rdhrses) May 26, 2022