A lot of Muslims using the global messaging application, Snapchat, are aware of the modernist "SnapWas"; a portmanteau for "Snapchat and Fatwas".
The person behind this creative SnapWas is the famous American imam Suhaib Webb who replies to questions from young Muslims around the world on everything. The imam combines a love for popular culture, particularly hip-hop, with deep Islamic learning.
Webb graduated from the Muslim world's most prestigious Islamic studies learning center, Al-Azhar University in Cairo, Egypt. He's also a scholar in residence at New York University, the US.
The grandfather of the Imam, who comes from a north European ancestry, was a Christian preacher. After Webb turned 14 in 1986, he was engaged with a local gang in Oklahoma and became a local Hip-Hop DJ and producer, making records with various artists.
The young man decided to convert to Islam in 1992. He left his DJ career and studied at the University of Central Oklahoma, where he graduated with a bachelor's degree in Education.
After graduating from Al-Azhar, he moved to Santa Clara in the San Francisco Bay area, where he worked with the bay area Muslim American Society Office & Muslim Community Association.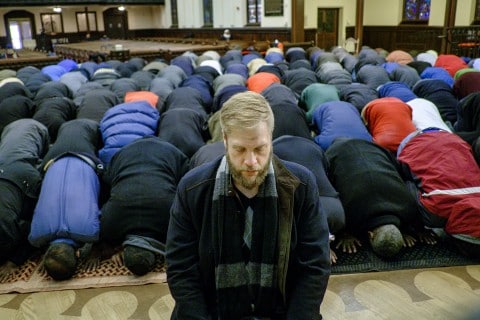 He also studied privately under a Senegalese sheikh, learning enough Islam and Arabic to become a community leader in Oklahoma City, where he was hired as imam at the Islamic Society of Greater Oklahoma City.
Webb has also held the position of the imam of the Islamic Society of Boston Cultural Center (ISBCC), the largest Islamic center in New England.
Webb is an active member of the Muslim American Society and its youth department and has been so for the last ten years. It's through the Muslim American Society's scholarship program that he was sent to Egypt to attain fluency in Arabic and focus on Islamic studies.
The American imam was named one of the 500 Most Influential Muslims in the World by the Royal Islamic Strategic Studies Centre in 2010.
Webb's website, SuhaibWebb.com, was voted the best "Blog of the Year" by the 2009 Brass Crescent Awards, and his tweets won him the vote of "Best Muslim Tweeter" of 2010.
In a trip of imams to Auschwitz in 2010, Webb condemned Holocaust-denial and anti-Semitism. He also helped in raising $20,000 for widows and children of the firefighters who died in the 9/11 Attacks.