A new study has found that religious minorities in Quebec, particularly Muslim women, feel less safe and less welcome in the social fabric of society since the adoption of the province's secularism law, commonly known as Bill 21.
The study, described as "the most extensive" research into how the law affects non-Christian Quebecers, was published Wednesday by Leger and the Association for Canadian Studies.
It found that "the hospitability of the climate in Quebec for those who identify as Muslim, Jewish and Sikh reveals negative impacts that are broad-ranging, disruptive and profound."
📚 Read Also: Hijabis in Small Towns; How Do We Guide our Daughters?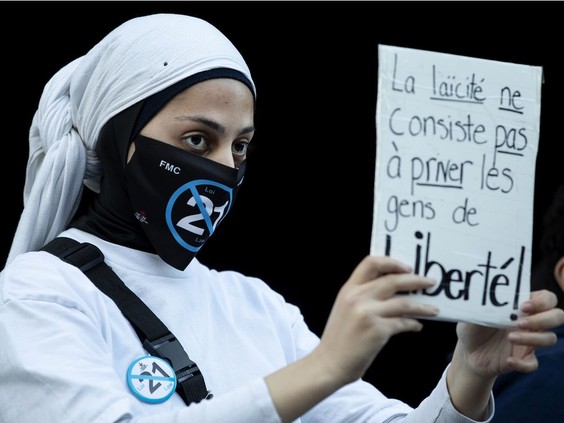 "Muslim, Jewish and Sikh respondents describe being exposed, in their daily lives, to attitudes and behaviors that directly impact their sense of acceptance and safety, civic engagement and sense of fulfilment, well-being and hope," the study authors write, Montreal Gazette reported.
"The waning of hope for the next generation is especially striking in all three communities."
The study combined a survey of Quebec as a whole from Léger and an ACS survey of religious minorities, including 632 Muslims, 165 Jews, and 56 Sikhs.
A total of 1,828 Quebecers responded to measure the perceptions and experiences of the law since it was adopted three years ago.
Controversial Bill
Quebec's Bill 21 prohibits public-sector workers from wearing symbols such as hijabs, kippahs or turbans while at work.
Passed in June 2019, Bill 21 has drawn widespread criticism as a violation of religious freedom, with civil rights and religious groups saying it would disproportionately harm Muslim women, who are already marginalized.
The bill was partially upheld by a Quebec court last year, a decision which the National Council of Canadian Muslims (NCCM) and the Canadian Civil Liberties Association (CCLA) decided to appeal.
"The testimonies of hate incidents and hate crimes were very disturbing," lead researcher Miriam Taylor from the Association for Canadian Studies (ACS), which partnered with Léger Marketing for the study, said.
"People having their hijab ripped off, being spat upon, being spoken to in a way that shows absolutely no respect, no sense of the normal civility that people show each other when they're strangers," she added.
Based on her research, Taylor said she's able to conclude that the secularism law has created a climate that welcomes these kinds of responses.
"We know that laws have a normative impact… When laws come into place, they become the norm, they normalize behavior. And negative opinions of non-Christian religious symbols are directly tied into Bill 21," Taylor said.