In another historic day for Minnesota Muslims, three Minneapolis City Council Muslim members were sworn-in on Monday, adding their names to a long list of Muslim signatures on the copy of the Qur'an used in the ceremony over the past decade.
"This one Qur'an has been used by more than a dozen Muslim elected officials," Imam Asad Zaman said. The list, which now runs two pages, includes Ilhan, state Senator Omar Fateh, Attorney General Keith Ellison, and others, Sahan Journal reported.
"Each time they take their oath of office from the Qur'an, they get to sign it," Zaman said.
📚 Read Also: Hamtramck Swears in First Muslim Mayor, All-Muslim Council
Imam Zaman started the Qur'an signature tradition when Representative Ilhan Omar was elected to Congress in 2016. At that time, he ordered the largest copy of the Qur'an he could find for her. After the ceremony, Omar signed the copy, a tradition followed by all Muslim officeholders ever since.
On Monday morning, Jeremiah Ellison of Ward 5, Jamal Osman of Ward 6, and Aisha Chughtai of Ward 10 used the ceremonial 14-by-20–inch Qur'an when they took their oath to serve on the Minneapolis City Council.
After a contentious election season in November, the swearing-in marked a historic moment for the city's Muslim community: The council has never seated this many Muslim officials.
"It's really exciting and really historic to have been elected alongside two other [Muslim] council members," Chughtai, an organizer for the Service Employees International Union, said.
"Pretty soon we're going to run out of space in this Qur'an because of how many new folks are getting elected."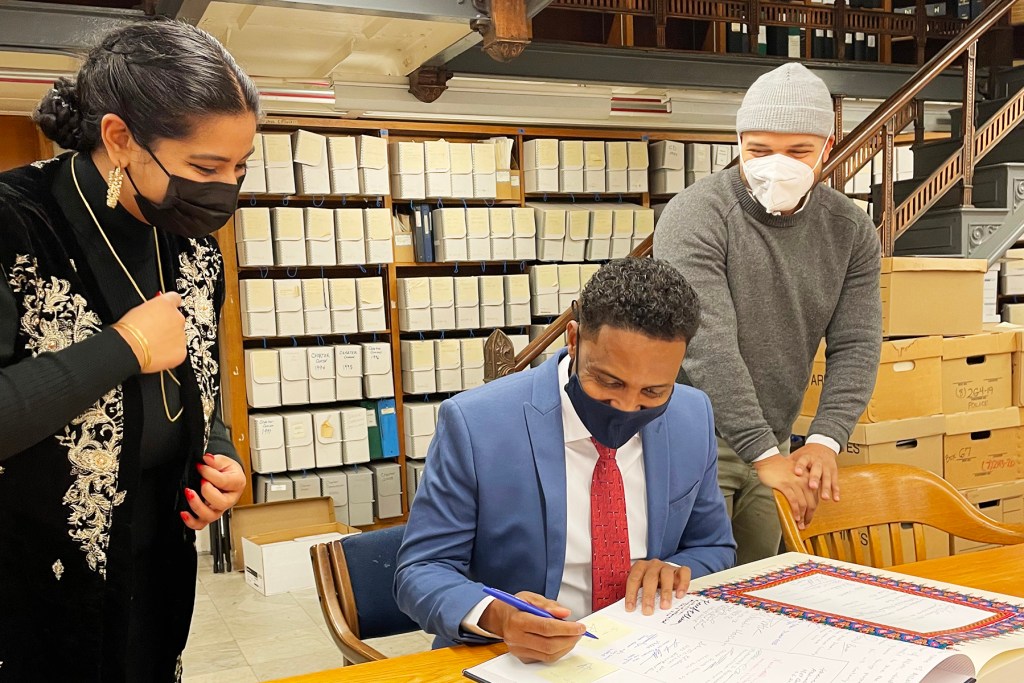 Message to Officials
Currently, Zaman keeps the ceremonial Qur'an at the Muslim American Society.
He wrote a note of advice on the page preceding the signatures, reminding the elected officials, "The leader of a people is their servant. So be careful to serve the needs of all the creation of Allah."
The Qur'an is a revelation from God, the Creator of the worlds, so He is the original author.
There is only one Qur'an which is in Arabic and many translations of the Qur'an in several languages.
There could be multiple translations by different authors in the same language such as English.
The Qur'an was revealed to Prophet Muhammad (peace be upon him) through the archangel Gabriel who used to make the Prophet memorize the Qur'an and made him revise it every year in the month of Ramadan, the fasting month.
Some Muslim officials, including Keith Ellison and Rashida Tlaib, chose to use Thomas Jefferson's personal copy of the Holy Qur'an in their ceremonial swearing-in.
Jefferson's Qur'an dates to his days in law school