We've all heard the old adage, "If at first, you don't succeed, try, try again."
That certainly proved good advice for Sana Hanif as she recently attempted – for the third time – to successfully donate blood.
Hanif finally was able to donate life-saving blood while attending the Islamic Society of North America's (ISNA) 56th annual convention in Houston, Texas.
"I've tried twice before and failed, so I'm happy this time I was able to do it," she told AboutIslam.net. "The other times I tried to give blood I had low iron levels."
Hanif was one of the thousands of Muslims in attendance at the four-day conference held Aug. 30-Sept. 2.
The opportunity to give blood was part of the ISNA Cares initiative, which helped raise awareness not only about blood donation but about bone marrow and stem cell donations as well, which are used in the treatment of blood cancers.
To make it happen, ISNA partnered with the local Gulf Coast Regional Blood Center, which was on hand to take, store and distribute the blood.
Representatives from the Gulf Coast Marrow Donor Program were also on hand for the duration of the conference, urging attendees to make a potentially life-saving donation.
Life-Saving
Zain Khan sits on ISNA's steering committee. He said the mobile blood donation center is only in its second year at ISNA, but already many more people were able to successfully donate this year as opposed to last year.
"Last year we only had 24 successful blood donations during the whole conference," said Kahn. However, mid-way through the opening day of ISNA CON 2019, already 62 people had successfully donated blood.
Khan said blood donations are always important and keeping blood banks full so they can supply hospitals is crucial when it comes to delivering proper medical care.
However, with Hurricane Dorian threatening Florida during the conference, ISNA made the commitment to send some of the blood donations to the Sunshine State in anticipation of the potentially life-threatening storm.
"Some of this blood is going to Florida," Khan said. "We have to look out for our neighbors."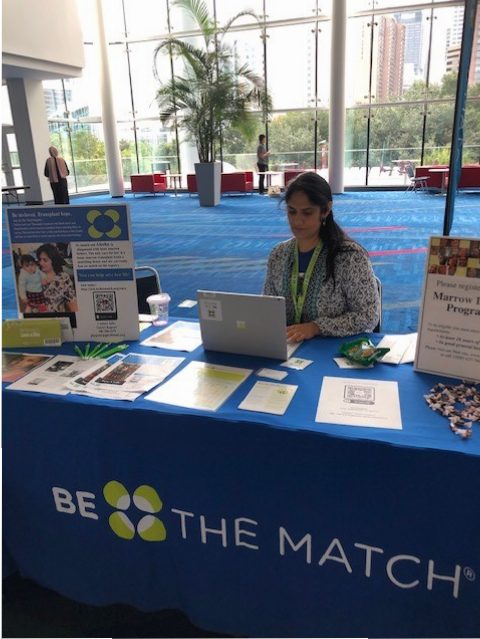 Be The Match
At ISNA Cares, Gaytri Kapoor, a community engagement representative for Gulf Coast's Be The Match program, worked in tandem with others trying to raise awareness to potential donors.
She said coming to ISNA was a no brainer as she would have an opportunity to reach out to Muslims from a wide variety of ethnic backgrounds.
"Finding enough donors for ethnically diverse groups is such a challenge," she said.
"We need as many platforms as we can, so we are here to bring awareness and to educate people about how to donate and why it's important for their community. We also educate people in colleges. It's the only way to get people to sign up to donate."
Kapoor said most people resist donating because they think it will hurt, be too intrusive to their bodies, or take too much time. However, she explained that 80 percent of successful bone marrow and blood stem cell donations can be procured simply by taking a donor's blood. She added the procedure usually only takes one to two hours.
"It's not a sacrifice, it's just a commitment of time," she said.
The ISNA Cares initiative also included free health screenings and partnership with Outreach in the Barrio, a Houston-based group which feeds the homeless and also provides those in low-income situations with clothes, furniture, and food.