A number of organizations have started to provide culturally sensitive mental-health services designed specifically for Muslims in North America.
Defying stigma attached to mental health problems, a group of Muslim women in Milwaukee will host a two-day mental health conference next month, Wisconsin Muslim Journal reported.
The event is organized by the Milwaukee Muslim Women's Coalition in partnership with the Medical College of Wisconsin and the Muslim Mental Health Consortium, and support from the Wisconsin Department of Health Services.
📚 Read Also: From Struggle to Success: Addressing Mental Health of Our Muslim Youth
The conference will take place in September, between the 18th and 19th, at the Insight Life Learning Institute.
With a minimal number of Muslim mental health professionals, the event was urged to support the growing Muslim population in Wisconsin.
As many mental health professionals lack experience working with Muslim clients and understanding their view of mental health, the conference will help them understand Muslim patients and the unintentional stereotypes and assumptions held regarding them.
According to the conference's event page, the sessions include:
The history of mental health in the Muslim community
Youth, identity and mental health
Trauma and refugee families
Mental health and domestic violence
Black Psychology and the impact of racism, mass incarceration, and police brutality
Cultural literacy
Suicide
Wellness, resilience and coping skills for all who works with vulnerable groups and individuals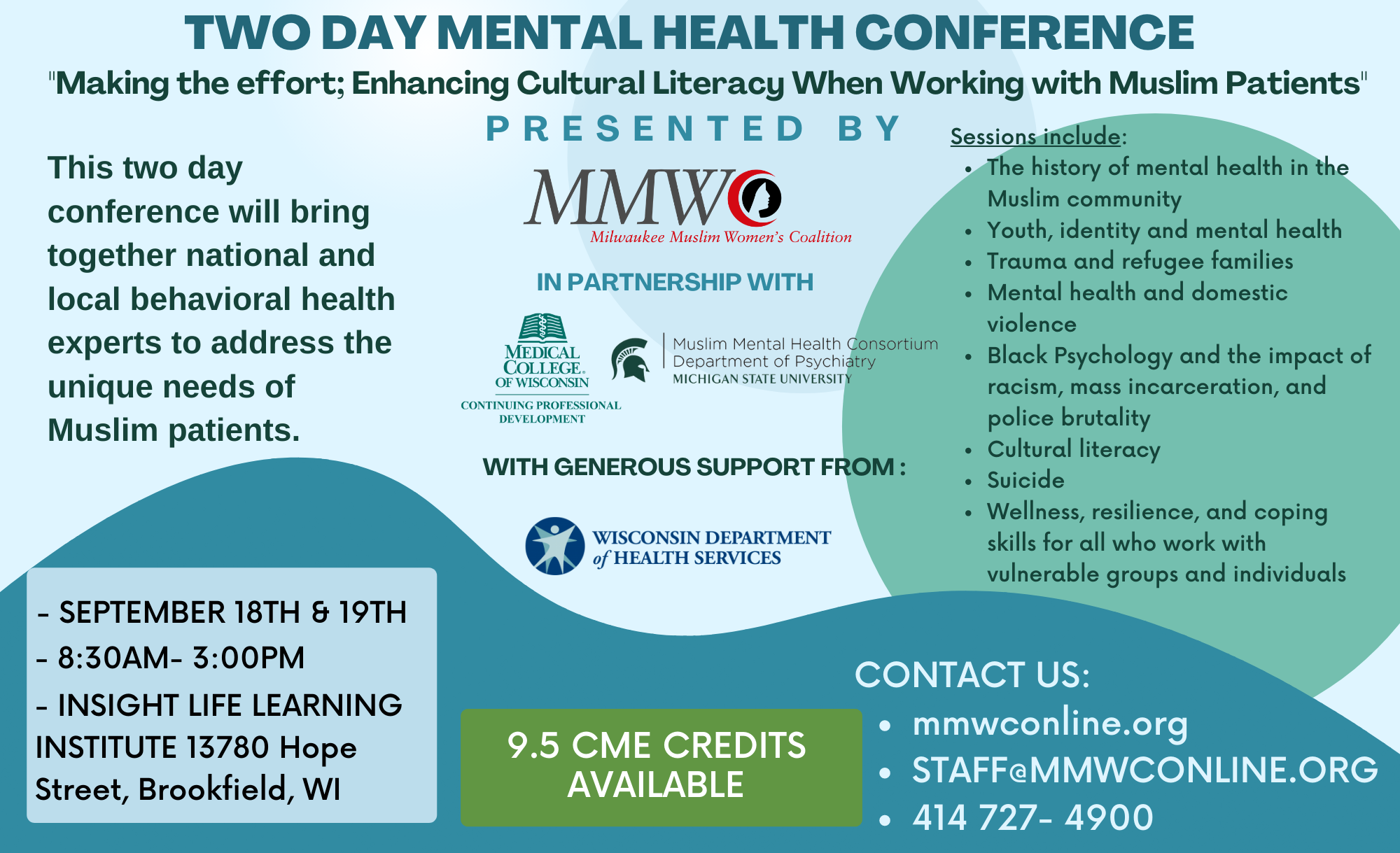 Mental Health
According to the World Health Organization (WHO), depressive disorders are the fourth leading cause of ill health and disability amongst adults worldwide.
By 2020, it is expected that mental health disorders will represent the world's largest health problem (Duckworth p.2).
All over the world, many Muslims are reluctant to seek out mental health professionals because of the stigma attached to mental illness or because they fear that a Western-trained therapist will not understand their culture or religion.
Countering stigma related to mental health problems, an Islamic center in Raleigh, North Carolina, started offering specialized service to its members in January 2018.
Earlier in 2016, a group of Ottawa Muslim mental health workers and community advocates held a conference to help those suffering in silence.