MINNESOTA – Ilhan Omar, one of the first two Muslim women elected to US Congress, began her acceptance speech Tuesday night in Minnesota with a universal Islamic greeting.
"As-salaam aleikum," the Democrat said to a crowded room of supporters during a victory party in Minneapolis, using an Islamic phrase that means "Peace be upon you," Huff Post reported.
"Wa aleikum salaam," the crowd immediately replied, which means "and upon you be peace."
After the greetings, Omar offered her gratitude to Allah.
"Alhamdulillah," Omar said three times, a phrase that translates to "all praise to God," which was met by cheers from the crowd.
History has been made after the US elected its first Muslim women to Congress, Michigan's Rashida Tlaib and Ilhan Omar of Minnesota.
After Tuesday's elections, Omar became the first Somali-American member of Congress. She is also the first refugee in the Congress and the first Somali-American.
Poignant Moment
The common Islamic phrases in Omar's speech were a poignant moment for many American Muslims, especially after an election cycle filled with Islamophobic attacks against Muslim candidates running for election.
"For any Muslim who draws on their faith for strength, these are natural phrases," Margari Hill, managing director of the Muslim Anti-Racism Collaborative, told HuffPost.
"They are everyday phrases. I see a Muslim, I give them that greeting. I often say it when I address a crowd."
Hill said that saying "Alhamdulillah" is an act of humility for Muslims. The word has also become part of the black American vernacular because of Islam's influence on hip-hop.
"We don't bat an [eye] when Christians reference their faith in victory speeches, in moments of silence, or opening prayers," Hill said.
"If we as Muslims are questioned for using phrases which are part of our daily life, then that speaks a lot to the climate anti-Muslim bigotry."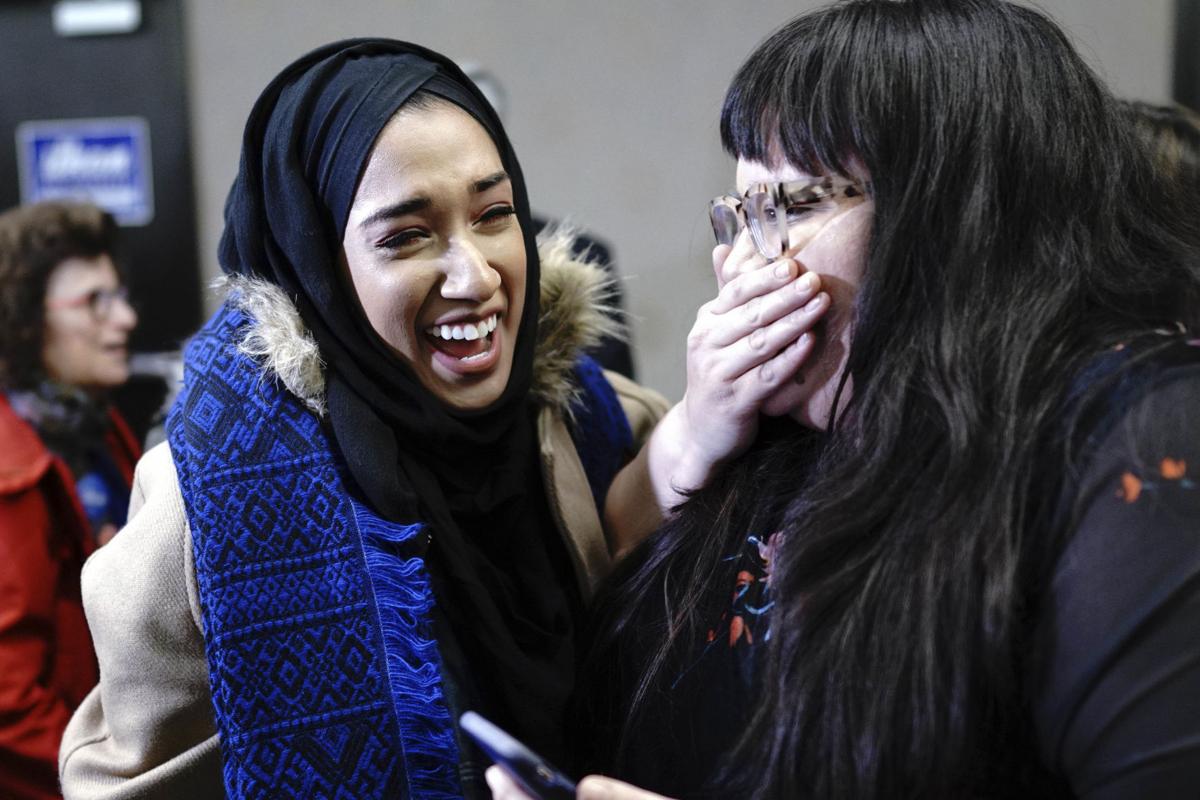 Inspiration
Hearing Omar openning her acceptance speech by wishing blessings to her supporters and thanking God is "no different than hearing other members of Congress or public figures thank God for their successes," Hoda Hawa, director of policy and advocacy at the Muslim Public Affairs Council, told HuffPost.
Omar's election is an inspiration to the younger generation, Hawa added.
"Her presence is an inspiration for young American Muslims who seek to become more politically engaged," she told HuffPost.
Slate reporter Aymann Ismail wrote in a post that he felt "transported" after hearing Omar use the Islamic phrases.
"As the child of Muslim immigrants myself, for years, every vote I cast for a national candidate felt mostly like a vote against whoever I thought was more likely to stoke hatred against Americans like me," Ismail wrote.
"In Omar, I see a congresswoman who not only sees the world the way I do, but whose presence alone will remind Congress that I too am American, and so are all American Muslims."