The Muslim photographer Sana Ullah has won 2019 Goldziher award for her photo series 'Places You'll Pray' which highlights Muslim worshippers praying in public places, GW Hatchet reported on April 15.
"The award emphasizes the value of Muslim storytelling in America, especially at a time when my religion is debated and criticized by Americans," said the alumni who graduated in 2017 with a master's degree in new media photojournalism.
Goldziher Prize is an award that recognizes excellence in coverage of Muslim Americans by American journalists.
Ullah is one of six individuals across the US to win the award, which comes with a $5,000 prize.
The talented winner further said that the prize "gives an eye into a part of Islam that a lot of people don't see, or people that aren't Muslim often times see and maybe if they do see it, they don't know."
The Start
Ullah started to take her photo series in 2015 after she and her sister stopped to pray in a dressing room.
"This moment inspired me to capture times when other Muslims take a timeout during their days to pray," she explained.
Using photograph talent to portray Muslim prayer's beauty, the American Muslim photographer initially started her project as Facebook and Instagram campaigns with over 25,000 followers.
The young Muslim published a series of photos that capture the different places US Muslims perform daily prayer, showing a wide range of Muslims praying in different places and atmospheres.
For her, the photo series gave her a hope to "build a bridge of communication about Islam" while embracing her Muslim identity.
She was "hesitant to include the project in the master's degree. But a professor encouraged the idea to give non-Muslims a view of the religion," Ullah said.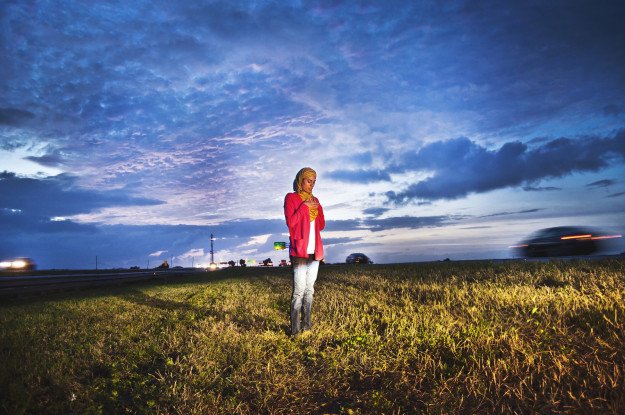 The professor said: "You have to share your story or your perspective because that's a truth. Someone else who's not Muslim or someone else that won't be able to identify won't be able to translate their images as you can."
His words encouraged Ullah to go forward with her plan he found that "the project inspired discussions in the classroom about being Muslim in America. Yes, the project is mine, but I also feel like it's everyone's."
Ullah said she "hopes the project will continue to give insight into the life of Muslim individuals in America."
The winner also expressed that "This project was inspired by encouraging people to talk about why Muslims are doing this and what is the intention behind this all, and for young Muslims to feel comfortable practicing Islam without fear."
Islam is the third largest religion in the USA after Christianity and Judaism. According to a 2017 study, it's followed by 1.1% of the population.
Muslims pray five times a day, with each prayer made of a series of postures and movements, each set of which is called a rak'ah.
The five prayer times are divided all through the day which starts with Fajr prayer at dawn.