Being Muslim and a Comedian
Tears rolled down the side of her cheek and her small hand grasped her belly in hysterical laughter, as she sat in the front row of the Grand Ballroom in Atlanta, GA. It was the weekend of the annual Southeast ICNA-MAS Conference and the entertainment segment was off to a strong start.
Thirteen-year-old Leena Cortez was one of the many youths who sat in the crowd at a show by Musa MosesTheComic Sulaiman.
His comedy was authentic, raw, and relatable to the many young Muslims in the crowd. Leena, like many others in the crowd, couldn't help but notice Musa's presence, as he stood proudly on the stage in a t-shirt that said MUSLIM.
"I never thought I would actually like a Muslim comedian, but I honestly couldn't stop laughing," Leena Cortez told AboutIslam.net.
Musa, a Philadelphia native, started his career as a comedian on the mainstream comedy circuits.
"I started in mainstream comedy cursing on stage and trying to find my voice, or the voice I thought a comedian was supposed to have. My biggest influence growing up comedy-wise was Martin Lawrence and he cursed, so I wanted to emulate my biggest inspiration," Musa told AboutIslam.net.
Inspirations
"Over time, I began to realize my voice wasn't being heard, rather the voices of all the people who inspired me. Success came fast though and soon I was touring with Kevin Hart, Sheryl Underwood, Tommy Davidson and many more. However, I was so unfulfilled because of the negative environment, which was filled with alcohol and drugs. I was the only one who didn't indulge in any of it so I stood out, and was constantly ridiculed because of it," he added.
"I finally had enough and I remember praying to Allah to allow me to be able to do what I love to do without having to compromise my integrity to do it and have my own path. It was one year later when I received a call and the Super Muslim Comedy Tour was born. I never looked back and I was soon touring and headlining all over the world to Muslim and non-Muslim audiences on my own terms and in environments that were conducive to my lifestyle and desires. It was a dream come true," Musa Sulaiman told Aboutislam.net.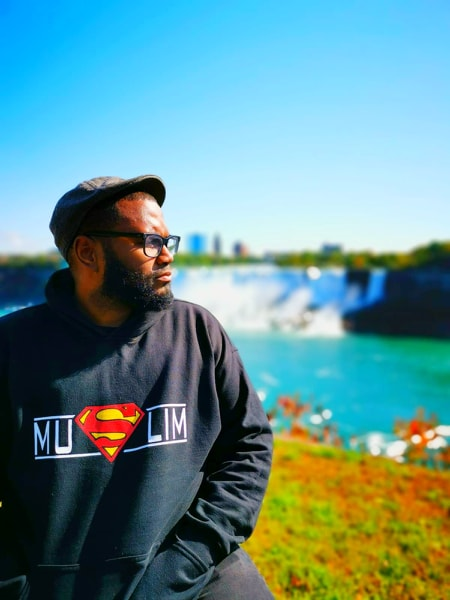 The Impact of Comedy on our Culture
According to The Slate Group, historians trace the origins of stand-up comedy to a very specific time and place: the variety, or burlesque shows, that flourished in New York City's turn-of-the-century vaudeville theaters. Stand-up comedians are performers who perform in front of a live audience.
They typically display some type of dialogue in their performances to elicit relatability and laughter. In modern times, comedy is a popular form of entertainment for Americans. This cultural trend impacts the way we interact with one another in our daily lives.
Comedy is used therapeutically for many and as a way to connect people through the power of laughter. In fact, according to research by The University of Michigan, comedy usually solves real social and political issues in this country.
Uncomfortable dialogue about polarizing topics are approached acceptingly by comedians and more easily understood by our youth.
Young Passion
Musa MosesTheComic discovered his passion for this art when he was very young. He uses his art to build bridges in the Muslim community through the universal language of laughter. This has a profound impact on the youth, as many young people are currently grappling with their identity daily and working to rectify the barriers that exist within our Muslim communities.
"I love performing for youth because so many times we've been inundated with the belief that you must work a job for thirty years before you can retire, live off pocket change, and lastly die. That's life! That is no longer a narrative this generation has to accept. I'm an example to youth that following your dreams and believing in yourself is a catalyst for success," he said.
"Innovation is rewarded but the execution is worshipped. My goal is to show youth that it's not enough to simply be creative. Everyone is creative. Execution is the thing that separates those who are successful from those that could be successful," Musa added.
Life Beyond Comedy
Musa performs his comedy all around the world. He has performed for Muslim organizations such as Penny Appeal, ICNA, CAIR, and countless other Masjids and organizations.
Musa is also a business owner, trademark owner, and is involved in several amazing projects. Lastly, he is a loving husband to his beautiful wife Sherrima and proud father of two amazing boys, Caleb and Ayyub.
"In addition to doing stand up, I own a merchandise business name "Sunnah Than Later" and own a trademarked brand "Unapologetically Muslim," which can be found on www.mosesthecomic.com.
"Additionally, I run a production company called, "Let My People Laugh" and we are full-fledged writing, development, and management company with two television pilots sold. I will do a film a TED Talk entitled "Unapologetically Muslim: Using comedy to combat racism, bigotry, and Islamophobia in America."
"It centers around my experiences as a black Muslim comedian and how I use comedy to subvert the stereotypes of Muslims in general and use comedy to have uncomfortable conversations about race. Lastly, I am developing my first feature film this year and launching a Muslim Kings of Comedy Tour with my fellow Muslim brothers and comedians, Preacher Moss and Omar Regan," MosesTheComic shared with the AboutIslam correspondent.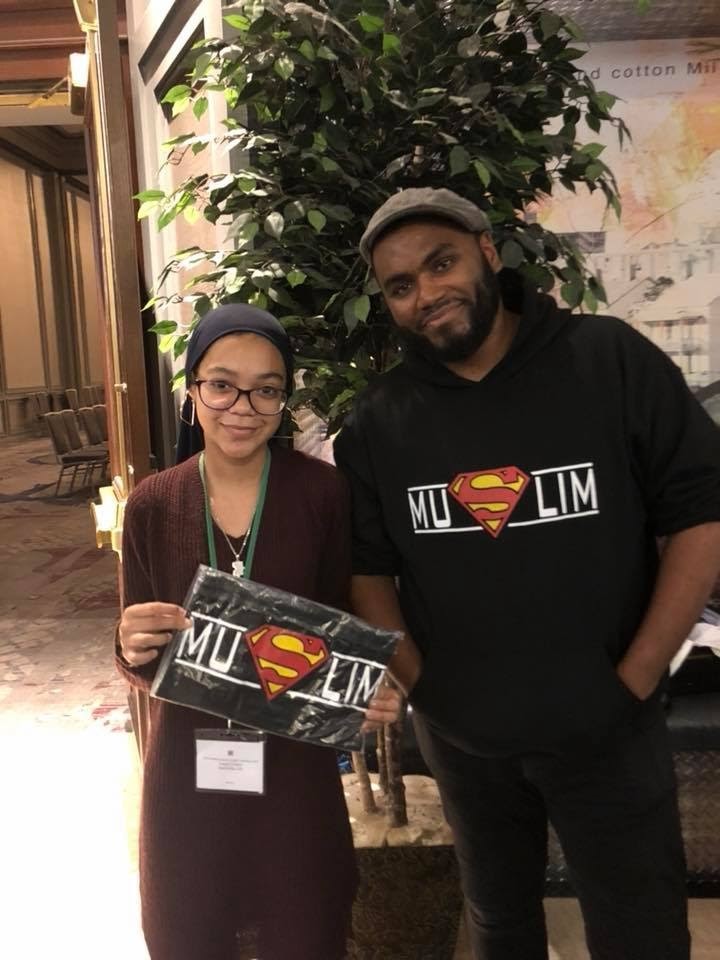 Leena sighed and smiled widely, as she recounted her first live comedy experience. She was able to laugh, ponder about Islamic issues dialogued during the performance, and even purchase a Super Muslim t-shirt after the show.
"I never thought I would feel so proud to wear a shirt that says Muslim but after watching MosesTheComic perform on stage, I think it's the coolest time to be a Muslim!" Leena told AboutIslam.net.