LONDON – Four years after reverting to Islam and marrying a Qatari businessman, Janet Jackson was spotted in London last Thursday looking content and at peace while donning a full Islamic attire and a hijab.
A heavily pregnant Jackson, 50, was seen with her husband Wissam Al Mana.
The couple "seemed very relaxed and happy", an eyewitness told E! News.
"We thank God for our blessing," Jackson told the Oct. 24 issue of People.
Expecting her first child, an insider said "She is excited to have her baby, and that's the light at the end of this tunnel."
Additionally, Janet's "husband, family and friends have been very helpful during her pregnancy."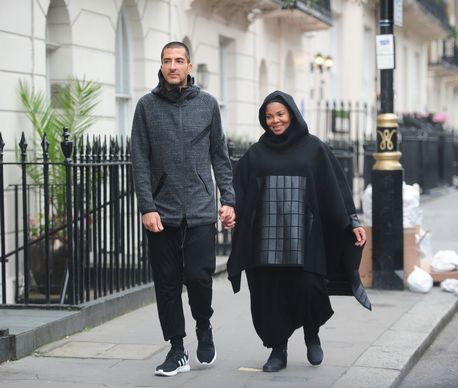 The youngest member of the Jackson family, Janet Jackson has been a pop culture icon for decades.
She has sold over 160 million records and won five Grammys for her extensive catalog of hits.
Though she reverted to Islam years ago after marrying Al Mana, this is the first time for the singer to appear in Islamic hijab.
Islam sees hijab as an obligatory code of dress, not a religious symbol displaying one's affiliations.