The scene of two little girls sitting down on the floor with their laptops in front of a fast-food restaurant to use its WiFi went viral and started a funding campaign that got the girls more than 146K until this moment.
Those aren't homeless girls looking for some time online; they are elementary school students in California whose education moved online this year.
Their mom couldn't afford internet access needed for their schooling, and it turned out that the family was on the verge of being evicted from their rented room for not being able to pay their rent.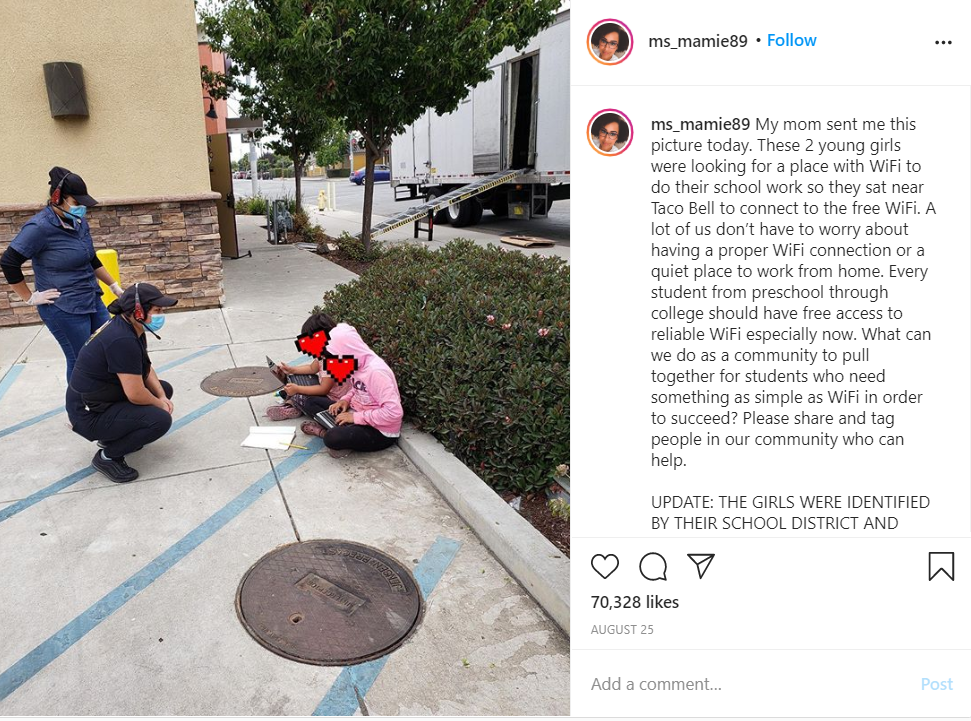 📚 Read Also: How to Prepare for Another Covid-19 School Year
When online education is mentioned, some people would think of it as being an easier and more fun experience for the K-12 and college students.
Instead, for some, it is a daily nightmare that they need to keep living for the sake of a degree.
The point is: even under COVID-19, choosing between in-person and online education is not an easy decision.
COVID-19 Striking Hard Far Beyond Health
The case of the two little girls is not uncommon. COVID-19 has been hitting the US hard since day one, with an impact that goes far beyond its health aspect. 30–40 million people in America could be at risk of eviction in the next several months, according to the US Census data.
Already 36% of renters missed July payments based on an estimate by Apartment List. When it comes to families with children, 43% of them had slight or no confidence that they could pay August rent on time, according to the last report by the US Census Bureau Household Pulse Survey issued in July. 57.4 million Americans have sought unemployment benefits since mid-March.
Amid all this economic and health chaos, the challenge of reopening schools jumps in, pushing everyone into between a rock and a hard place.
Should I as a parent send my children to school so I can go to work and risk them getting infected? Or should I rather keep them safe at home doing school online and be forced to stay home or pay for a babysitter?
At the same time, college students have similar concerns in mind between being safe and getting a better in-person university education and life?
On the governing level, the choice is even more challenging. Would a governor order schools to close and go online to keep the students and staff safe, yet risk the parent's financial wellbeing and the economy of the state to be hard hit? Or rather keep business as usual to keep the economy running and people working, yet risk a higher rate of infection?
Click to read more…
Pages:

1

2 3