Canadian Prime Minister Justin Trudeau joined hundreds of people in a march to remember the Muslim family killed in a hate-motivated attack and fight Islamophobia.
"There is no words to describe the courage of this young boy whose life has been changed forever," Trudeau said to the crowd of roughly 2,000 people at the west-end school, where Fayez late sister, Yumnah, had been a student, London Free Press reported.
"But I know that even through unimaginable loss and grief he will grow to be extraordinarily strong because of the incredible love this community, and indeed all of Canada, has for him."
📚 Read Also: Mural Display in Memory of Muslim Family Killed in London, Ontario
Salman Afzaal, 46, his 44-year-old wife, Madiha Salman, their 15-year-old daughter, Yumna, and her 74-year-old grandmother, Talat Afzaal, were killed on June 6, 2021, while out for an evening walk.
Healing Process
Visiting London's Oakridge Secondary School on Sunday, Trudeau joined people who listened to speeches before walking to the London Muslim Mosque.
"They were our friends," said Aisha Rashid, who marched with her family, CBC reported.
"The events planned today and tomorrow are helping with the healing process, because it has been a really, really difficult year for the Muslim community across the globe, but particularly in London, Ont."
Friends of Yumnah, who was in Grade 9 at the high school where people gathered Sunday, organized the march to commemorate the teen and to show solidarity.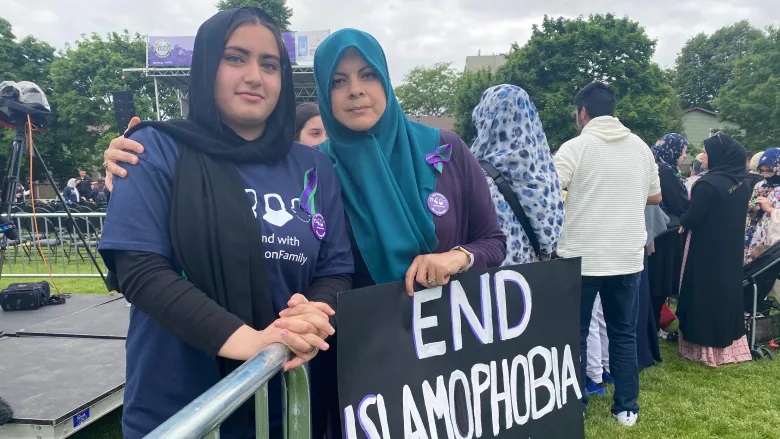 This past year, as part of their grieving processes, they formed a group called Youth Coalition Combating Islamophobia (YCCI).
"The significance of it is really reclaiming the streets and having a presence in the community and giving the rest of London the opportunity to show their solidarity again," said organizer Selma Tobah with YCCI.
"They were our friends," said Aisha Rashid, who marched with her family.
"The events planned today and tomorrow are helping with the healing process, because it has been a really, really difficult year for the Muslim community across the globe, but particularly in London, Ont."