For years, the basement of M.D. Anderson Library has served as a center for Muslim students' prayers inside the University of Houston campus.
Recently, the place has become overcrowded with Muslim students calling for a more suitable place to accommodate their congregational prayer.
"The library is the main congregational center of the campus," Malik Ben Nasr, a senior kinesiology major, told The Daily Cougar.
📚 Read Also: How Does Prayer Make the Best Change?
"For the most part, even though I am sure perhaps the Student Center was intended for that purpose. It's really not the case."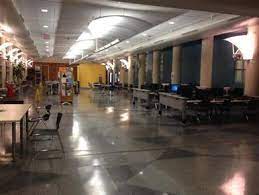 Like other Muslim students, Nasr has frequented the library basement since he was a freshman. He thinks the basement becomes overcrowded during prayer times.
"When we pray jama'ah (congregational prayer) I feel many times it is overcrowded," he said.
In addition to the problem of congestion, Muslim students highlighted that the library basement doesn't provide a dedicated place for wudu' or ablution.
"There is no dedicated place for ablution," Afeeq Hasan Abid Hussain, a senior mechanical engineering student, said.
"But for the most part, the basement is a good place for Muslims to hang out and socialize as well as worship."
Muslims pray five times a day, with each prayer made up of a series of postures and movements, each set of which is called a rak'ah.
The five prayer times are divided all through the day which starts with Fajr prayer at dawn.
📚 Read Also: Muslim Students Pray Outside to Protest Inadequate Prayer Spaces
No Prayer Buildings
Despite Muslim complaints, Chris Stipes, UH director of media relations, said the university cannot designate a building for prayers.
"The University of Houston respects freedom of religion and assembly and values the diversity of students' beliefs," Stipes said.
"As a state-funded public institution, UH cannot designate building spaces intended specifically for religious use."
He added that the university is cooperating with Muslim students to foster a welcoming environment on campus.
"Recognizing our responsibility to foster an open, welcoming environment on campus for all students, faculty and staff," Stipes said.
"UH Libraries and the Division of Student Affairs have been working with the Muslim Student Association, with the support of the Student Government Association, to identify more suitable prayer/meditation/reflection spaces on campus for MSA students, as well as other students."
Houston University students are not the first to demand an adequate prayer room.
In 2019, the Muslim students at the University of Ottawa campaigned for proper prayer rooms. They complained that the dedicated space lies in a remote area difficult for students to reach.
In the UK, an Oldham academy issued a 'wholehearted' apology in December, 2021, and installed a new Muslim prayer room after a video showing Muslim students praying outside in the cold sparked community outrage.