Though thousands of news reporters work in hundreds of TV networks across the US, it is still rare to see Hijab-wearing TV news reporters.
Ayah Galal, a morning news reporter at WFSB, a CBS affiliate in Hartford, Connecticut, is one of four reporters who keep their hijabs.
"I didn't want to compromise my faith for my profession," she told The National News.
"Growing up, there were not people who looked like me on TV," she says. "So I originally was worried about wearing hijab and getting hired."
📚 Read Also: Hijab Stories – 8 Women Speak Out on Hijab
Galal started out as a producer. Eventually, she went on air, becoming the first news reporter in Connecticut to wear a hijab on screen.
"There was a lot of positive feedback," she continues. "It's especially great to get the messages of support from the Muslim community. So many are just thrilled to see someone who looks like them on the air."
Though Galal is the first hijabi TV reporter in Connecticut, it is Tahera Rahman who holds the record as the first hijabi reporter in the US.
"Growing up, I know that I never saw anybody wear the hijab as I watched the news," Rahman, who is currently a reporter at KXAN, an NBC affiliate in Austin, Texas, said.
"I'm glad to see there are changes, but there's definitely a long way to go."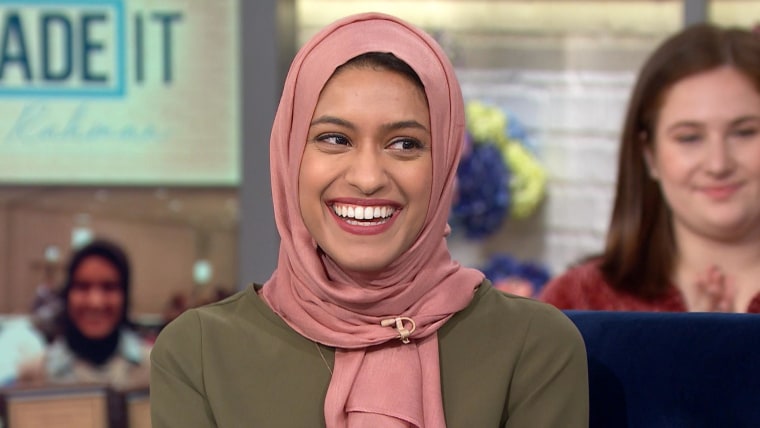 Connecting Together
In order to discuss their unique experiences, Rahman and Galal regularly exchange messages in a WhatsApp group called Hijabi Reporter Crew. Ubah Ali, an on-air multimedia journalist in Milwaukee, Wisconsin, joined their group.
"We use it if we just want to vent or if we have a question about how to handle certain negative comments," Rahman says of the group.
"We also help push one another, and exchange Ramadan greetings, things like that."
Galal and Rahman hope their presence on air will no longer be news in the coming years.
"Eventually this shouldn't be exciting or new," Rahman says. "Instead of seeing a hijab-wearing TV reporter, maybe it'll just be a reporter who happens to wear the hijab."
📚 Read Also: Normalizing Hijab in Western Culture- Is It Really Happening?
Galal and Rahman success is part of a great story being written by Muslim women on TV.
In January 2016, Noor Tagouri became the first-ever hijabi anchor on commercial television in America.
Ginella Massa, a news reporter for CityNews in Toronto, anchored her first newscast in Canada in November 2016, becoming the first hijabi Muslim to achieve this significant milestone.
Rowaida Abdelaziz is another hijabi reporter who works for HuffPost. She spearheads coverage of Islamophobia and reports on social justice issues in the Muslim community.
Media is not the only field for Muslim women to show success.
Stories of inspiring Muslim women striving to make the world a better place have been making headlines recently in all fields including politics, activism, charity, and sport.
Check this link for more inspiring stories.