HOUSTON – Hakeem Olajuwon earned his place in the Basketball Hall of Fame for his unique quickness and defensive skill. But what all Houstonians remember about Olajuwon is his charm, a charm that earned him the nickname 'The Dream'.
Olajuwon became a model to Muslims and Non-Muslims alike. He became an inspiration for others not to give excuses in their workplace. His story is one that is shared around Houston to inspire people to this day.
He is considered a Houston icon and one of city's most beloved athletes. Olajuwon played for 20 consecutive seasons in Houston, first collegiately for the University of Houston Cougars and then professionally with the Houston Rockets.
The Nigerian-American former professional basketball player had a glorious career between 1984 and 2002. He played at the center position in the National Basketball Association (NBA) in USA for Houston Rockets and Toronto Raptors.
He led the Rockets to back-to-back NBA championships in 1994 and 1995. In 2008, he was inducted into the Basketball Hall of Fame, and in 2016, he got inducted into the FIBA Hall of Fame.
Listed as 2.13 meters tall, Olajuwon is considered one of the greatest centers ever to play the game. He was nicknamed "The Dream" during his basketball career due to his ability to dunk so effortlessly that his college coach said it "looked like a dream."
From Lagos to Houston
Born in Lagos, the most populous city in the Muslim West African country of Nigeria, Olajuwon traveled to play for the University of Houston in the US.
In Nigeria, he would fast during the holy month of Ramadan with his neighbors as a form of competition, even when they were too young to fast. That competitive nature proved dividends for him in the future.
"Even at home I was practicing maybe at Ramadan, maybe every once and a while I followed my dad to the mosque to pray," Olajuwon said.
"But those Islamic principles are part of my culture. The respect, the honesty, all those qualities. So that was with me, but I wasn't going to the mosque (because I didn't know) where the mosque to pray was in the US."
Olajuwon combined with the 2.24 m Ralph Sampson to form a duo dubbed the "Twin Towers". The two led the Rockets to the 1986 NBA Finals. He became the only player in NBA history to win the NBA MVP, Defensive Player of the Year, and Finals MVP awards in the same season.
In 1996, Olajuwon was a member of the Olympic gold-medal-winning USA national team and was selected as one of the 50 Greatest Players in NBA History. He ended his career as the league's all-time leader in blocks with 3,830 blockings and is one of four NBA players to record a quadruple-double.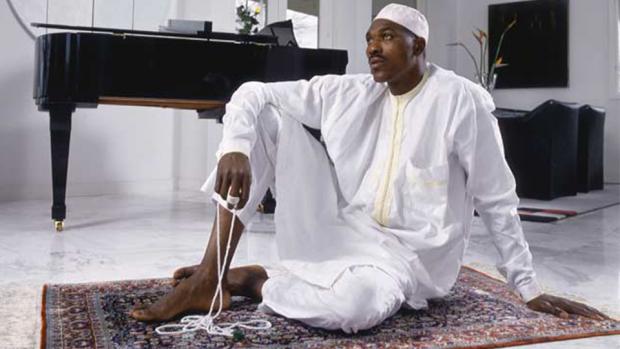 Revival Away from Motherland
After his arrival in the US, during the first college years, a man approached Olajuwon and inquired why he wasn't at the mosque if he was a Muslim. Upon saying that he didn't know there was a mosque, the man took Olajuwon five minutes from The Summit to Eastside on Richmond, Houston's first mosque.
What Olajuwon found was a multicultural group of people all together in prayer. Black Americans, White Americans, Indians, and Pakistanis, all coming together when they hear Adhan, the call to prayer.
For Olajuwon, this was the first time he had heard the call to Prayer in the US since years.
"When I went to the mosque and heard that call, the goosebumps," Olajuwon said.

"Emotionally I was crying, because it gave me so many goosebumps, it reminded me of my background, my inner soul. The joy and the comfort that I can come every Friday now for my Friday prayer, and I can come any other day. It's like you discover the jewel, a diamond, that you lost and find again."
Islamic Development
In Olajuwon's college career and early years in the NBA, he was often undisciplined, talking back to officials, getting in minor fights with other players and amassing technical fouls.
Later, Olajuwon became a more devout Muslim; he recalls, "I studied the Qur'an every day. At home, at the mosque…I would read it in airplanes, before games and after them. I was soaking up the faith and learning new meanings each time I turned a page. I didn't dabble in the faith, I gave myself over to it."
What made Olajuwon stand out was how he balanced being a devout Muslim with the career of a top-level NBA athlete. He became an ambassador of Islam to Houston, helping create a positive image of Muslim people throughout his career. To this day Olajuwon has remained a strong figure in the Islamic community and has been instrumental in its growth.
Ramadan coincided with the playing seasons of Olajuwon throughout his career. While fasting during this month; which means abstaining from food and drink during daylight hours for about an entire month, Olajuwon was still recognized as one of the league's elite centers.
Olajuwon was noted as sometimes playing better during Ramadan, and in 1995 he was named NBA Player of the Month in February, even though Ramadan began on February 1 of that year.
Olajuwon has had great success in the Houston real estate market, with his estimated profits exceeding $100 million. In parallel with Islamic Shari`ah, he buys in cash-only purchases, as it is against Islamic law to pay interest.
Olajuwon splits his time between Jordan, where he moved with his family to pursue Islamic studies, and his ranch near Houston.
Benefiting Others
Having experienced the rejuvenation that his faith brought him, Olajuwon's next step in life was helping others practice their faith and learn more about it.
Olajuwon purchased Houston National Bank in 1994 and after eight years of renovations reopened it as the Islamic Da'wah Center.
The goal of the center is to advance and educate people about Islam, its culture and people.