If you find yourself navigating a divorce during this pandemic, here are a few tips to get through it:
Immediately increase your spiritual practices
When the reality and pain of a significant loss hits the pit of your stomach, it is important to retreat into your spiritual practices and develop a strong relationship with Allah. This is the time to reconnect with Allah in solitude and to release stress by speaking to Allah and asking Him for help. Allah commands us:
"O you who believe seek help through patience and prayer. Indeed, Allah is with those who are patient." [Qur'an: Chapter 2, Verse 153]
Allow yourself to grieve
Although we may feel guilty for indulging in our pain, it is important to allow the natural grief process to occur. This may involve staying in the bed longer than normal, allowing yourself to cry, and spending time to feel every emotion.
It is essential to be mindful of maintaining a state of gratefulness to Allah throughout your grieving process. Many psychologists recommend maintaining a gratitude journal during the grieving balance to help balance your negative thoughts.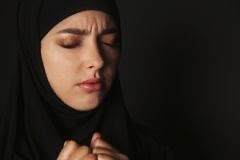 "If you are grateful, I will surely increase you [in favor]." [Qur'an: Chapter 4, Verse 7]
Identify a positive support or friend group fast
One of the easiest emotions to succumb to during a time of grief and divorce is isolation and fear. It is critical to align yourself with positive people who remind you of Allah. Isolation can be beneficial for a short span of time, as you process what happened, but it can be detrimental to your faith for long periods of time.
"Although my heart is broken, I am committed to my relationship with Allah. My faith keeps me moving forward and committed to seeking a better day. I trust that this quarantine will end and I can work towards developing a better life. I am grateful for the resources I've been able to identify, such as tele-health counseling sessions and a virtual life coach," Sarah V told AboutIslam.net.

Editor's Note: Names have been changed and the images included are not of the people involved.
Pages: 1

2