Work Too
And did I mention I work from home? Yep, for nearly 15 years I've been a home-based writer, which looks a bit different these days. Thanks to our new school-time normal, that means answering endless questions, learning new computer-based learning platforms to keep track of my kids' work and making sure they're completing it on their own.
All this as I struggle to fit in interviews, meet editors' deadlines, complete my mid-day workouts – which have now morphed into late-night workouts – and prepare dinner.
In fact, during the writing of this piece, I can't even begin to count the number of times I've been summoned to attend to any one of my little's one's seemingly endless needs, which of course are only multiplied now that she's attempting to learn to add and subtract via a screen while stationed at our dining room table.
I won't lie, for me the distractions are many and my schedule has been turned topsy turvy. As a result, I've had to readjust my priorities while attempting to balance my children's day-time learning needs with my work responsibilities. It's proving tough, not to mention worrying about how all of this is affecting my kids.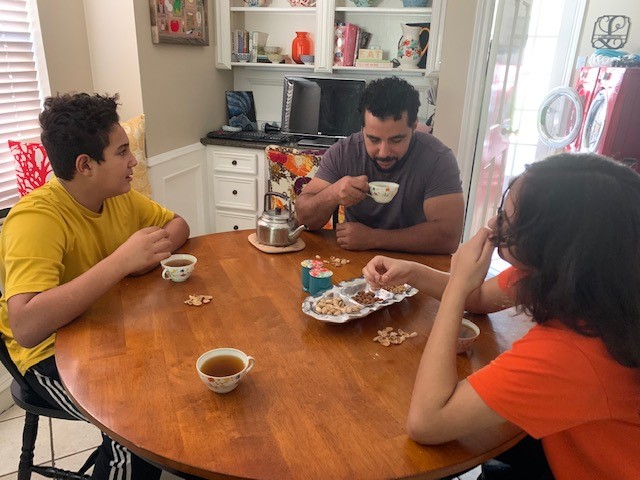 Parents' Tough Ride
For any of my millions of fellow virtual-learning parents around the county and indeed around the world, I'm sure nothing I'm saying is surprising.
I imagine you nodding your head in relatable agreement as you think about all the new tasks, responsibilities, and worries you've taken on since committing to schooling your child at home in the hopes of protecting ourselves from this dastardly virus. It's been a wild ride, and I'm not too proud to admit I'm ready to get off.
But this is where we are now, so I'm trying to focus on the positive. I need to notice my older children working diligently at their online assignments and taking responsibility for logging into classes on time without my constant reminders.
I need to see my youngest laughing with her other online friends while cutting out sight words she's already learned. And I need to see my son focusing hard in band class while working to master finger placements as his teacher demonstrates through a computer screen.
I need my kids to meet these challenges so I can know they're adjusting and thriving in a new environment as they cope with the hand they've been dealt this year. I need to know that I can rework my schedule and expectations of what their schooling will be this year.
And I need to know that I can keep my cool when the distractions seem endless and the arguments borne from too much time together inevitably happen. I need to know we'll make it through this and come out the other side better for it. Here's to making it happen one Zoom class at a time!
Pages: 1

2