TORONTO – Toronto's Muslims celebrated `Eid al-Adha on Friday, September 1, with a colorful display of the community's diversity and compassion to the city's special needs population at Woodbine Park.
"Our theme for our `Eid celebrations is 'diversity is our strength,'" said Akram Abdelrahman of the Muslim Association of Canada, Toronto chapter, which organized the large `Eid gathering.
"The multicultural essence of Islam is reflected in this `Eid festival and the makeup of Canadian society. It is an opportunity for the wider community to observe and celebrate `Eid with us."
`Eid Al-Adha, or "Feast of Sacrifice", is one of the two most important Islamic celebrations, together with `Eid Al-Fitr.
It begins with special prayers to mark the day, Muslims then offer unhiyah, a ritual that commemorates the great act of sacrifice Prophet Ibrahim and his son Isma`eel were willing to make for the sake of Allah.
Festivities and merriment then start with visits to friends and relatives.
Traditionally, everyone wears new clothes for `Eid, and the children look forward to gifts and the traditional `ediya (cash).
`Eid Al-Adha marks the end of annual hajj.
In an impressive display of unity, Muslims of all ethnicities dressed in traditional clothing flocked to the large open-air celebration at Woodbine Park to offer the prayers and take part in an all-day festival.
The 18th annual fundraiser for Epilepsy Toronto and BuskerFest 2017, the largest street-performers festival in North America, partnered with the Muslim Association of Canada (MAC) to host the large `Eid celebration in the GTA.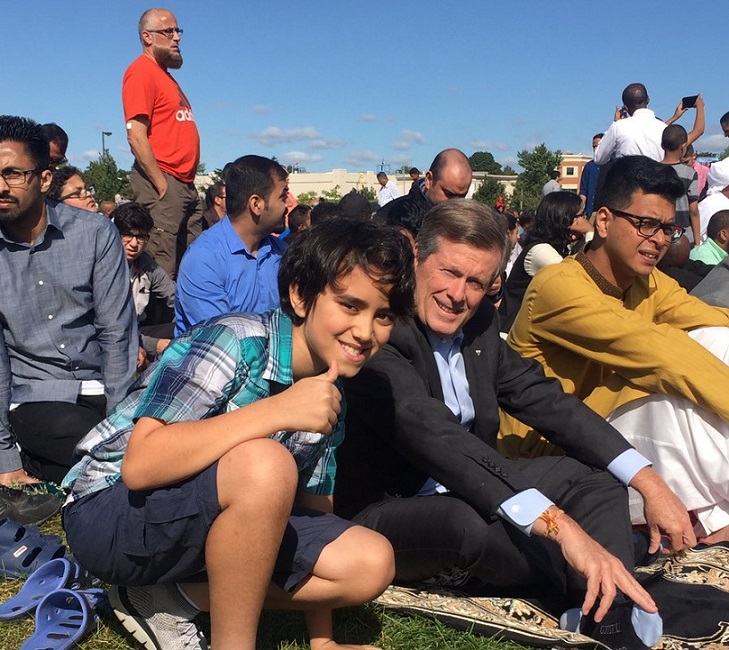 Celebrate Diversity
In his sermon, well-known Canadian Imam, Dr. Abdullah Hakim Quick, who is an international speaker, da'wah worker and historian, called on the gathering to recognize and celebrate the community's diversity.
"This is one of the special days of Allah in which He has gathered us together in purity and peace – all nations, colors, languages, and cultures," said Dr. Abdullah Hakim.
"Prophet Ibrahim was an Ummah or nation unto himself," added Dr. Abdullah Hakim. "He was a role model for all nations and the founder of 'Ummah Consciousness'."
"'Ummah consciousness' enables us to identify with all of the nations including the creatures of the earth and the environment," he noted. "This enables us to be more aware of the great dangers that we face as a human race and as inhabitants on this planet."
Dr. Abdullah Hakim in his eloquent and highly motivating address advised the audience to show respect for all people.
"O you who believe, we are not here by chance but by Divine design," he said. "The First Nations populated these lands over 10, 000 years ago – it was called Kanata, the village, where all can make a home."
"Now it is 'Canada' and we are blessed to come from many nations and be welcomed here to make it a home," added Dr. Abdullah Hakim. "Respect to the Indigenous people and respect to all those who hold up the rights of all of the citizens of Canada."
The city's mayor, John Tory, attended the `Eid prayers at Woodbine Park.
"I want to extend my best wishes to the Muslim community of Toronto during Eid al-Adha," said Mayor Tory in his greetings.
"I want to take this opportunity to thank the Muslim community of Toronto for their hard work and contribution in making this city a great place to live in – diversity in our city is our greatest strength."