After catastrophic flooding and storms, teams from a leading Islamic charity have been on the ground in British Columbia, making sure no one is left without support.
"Please keep the people of BC in your prayers. We're devastated to learn about the flooding and storms over British Columbia that have left our brothers and sisters displaced, unhoused and trapped without access to food and safety supplies," said Islamic Relief in an online post.
📚 Read Also: Be Grateful for Your Countless Blessings
"Our teams in BC are loading up vehicles with urgent supplies, and working with community organizations to increase the impact and reach of your donations. We are providing emergency relief to communities affected by the devastating flooding and mudslides in Abbotsford, British Columbia.
"They will be providing essential food items, hygiene supplies, and other essential items. You can help provide urgent food, hygiene kits and essential supplies to evacuees. Anything you can give will make a difference!"
The Islamic Relief Canada urged people to donate to B.C. flood relief at: https://www.islamicreliefcanada.org/…/bc-floods…/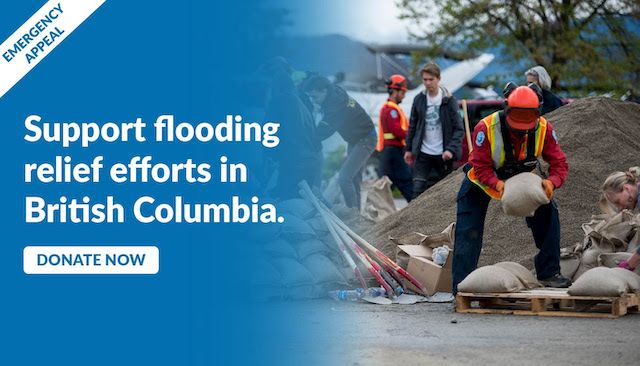 Devastation
Severe rainfall has caused mudslides and debris flow in British Columbia, resulting in the closure of many highways, streets, and schools in British Columbia's interior and southern regions.
Due to the widespread mudslides and broken infrastructure, Vancouver is left disconnected from the rest of British Columbia, and the province has declared a state of emergency.
Thousands of evacuees remain in more than 20 evacuation centers across the province. All four highways that connect the Lower Mainland with the rest of the province have been closed by landslides and flooding that released a month's worth of rain over two days.
The Canadian Red Cross has also launched the British Columbia Floods and Extreme Weather Appeal.
Canadians can donate to help people and communities who have been impacted by the disaster at:https://bit.ly/32dq8Bp
The BC Muslim Association is also encouraging its members to donate to their BC Flood Disaster Relief Appeal at https://www.paypal.com/donate/