As the UK heads to election polls tomorrow (Thursday, Dec 12), British Muslims are divided on whether faith should be considered the number one factor influencing their votes or not.
Faith "will play a massive role" in this election, Bilal Malik, a 24-year-old Muslim, told BBC.
Malik said he can't vote for the Conservatives because of their alleged issues with Islamophobia.
"Even within the Tories, there've been complaints in the past by legitimate Muslim voices, like Sayeeda Warsi. But the response to that has been so dismissive," he added.
Malik added that the Conservatives have failed Muslims after pledging to have an independent inquiry into Islamophobia, a promise that has never been materialized.
"It's that lack of willingness to take responsibility on Islamophobia that causes distrust of the Conservatives on the part of Muslims."
"It's never been so bad," Bilal says.
He also accused Conservative politicians of encouraging Islamophobia with their controversial comments, on the top of whom comes PM Boris Johnson.
"The lack of consequences for comments he's made speaks volumes. And because of the power he now holds in office, there is legitimacy in whatever he says."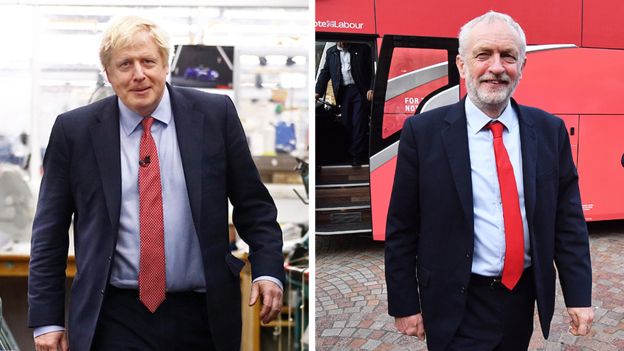 Faith & Politics
Unlike Malik, Aaminah Saleem, 18, is another British Muslim who plans to vote tomorrow, but she is voting for the Conservative party.
As a member of the Conservative party, she says it's been "a struggle to put aside my feelings", but "religion and politics are separate right now".
"It's not hard for me to vote Conservative but at the back of my mind there are moral issues."
"I'm trying to set them aside and focus on my local candidate; I'm sort of separating the national party from my local one."
The University of Birmingham student told Newsbeat: "I know we have a problem [with Islamophobia]. I think our two main parties have discrimination issues and the election has highlighted what a serious problem it is."
"Both policies and my faith are very important, but for me, if I was to vote for Labour there would be moral problems as well."
Other Concerns
For Nichola Taylor, a British Muslim living in Canada, upcoming elections is all about humanity and the rights of the working class.
"The Tories have never been nor ever will be for the working class. The Tories only look after their own, i.e. the rich," she told AboutIslam.net.
"Voting for them is endorsing this mentality. And I can never do that. I have humanity. I have compassion. I am working class and proud."
Tarek Ezzat, a British Muslim currently residing in Walsall, West Midlands, believes Muslims will be voting Labour.
"I think most Muslims here will vote Labour. Not because of faith but because Labour under Mr. Corbyn are closer to Muslim issues," he told AboutIslam.
The 2019 United Kingdom general election is scheduled to be held on Thursday 12 December 2019.
Recent research and data have shown that the Muslim electorate can swing the capital's Kensington and Putney seats, along with 29 others across the UK.