WARSAW – About a dozen windows have been shattered at the Muslim Cultural Center in Warsaw, leaving Muslims worried about the rise of far-right threats to their safety and religious rights.
"We receive threats all the time by e-mail, on social media and also by telephone," Centre coordinator Ahmad Alattal told Agence France Presse (AFP) on Tuesday.
This isn't the first time such vandalism has taken place at the Islamic center. Around a month ago, a glass bottle was broken against a window on the front door," Alattal said.
"The only response we have received from the Polish authorities was from the Senate Chancellor saying that it understood our fear but that our worries were unfounded," he added.
In Sunday's attack, a dozen windows were shattered overnight at the Muslim center, which opened in 2015 and includes a mosque, a meeting center, a shop and a restaurant.
"We didn't find any writing on the building and for now the case is being treated as property damage," said police spokesperson Edyta Wisowska.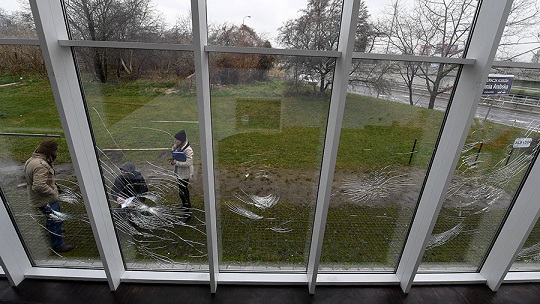 No one was hurt physically, though Muslims were left fearful for their safety.
Alattal said anti-Muslim hate speech has been on the rise in Poland in recent years, especially since the start of Europe's migrant crisis.
Imam Youssef Chadid, a leader within Poland's Muslim community, blamed the attack on a "not very friendly" atmosphere in the country toward Muslims and Islam.
"I am 100 percent sure this was a racist, anti-Muslim attack," Chadid said, according to The Associated Press.
According to AP, there are about 22,000 Muslims living in Warsaw. About 500 people come to pray regularly in the center's mosque, one of the two mosques in the city, the leaders said.
Acts of hatred and xenophobia are being reported more frequently in Poland since the Law and Justice party came to power two years ago. The government promotes Catholicism and refuses to take in non-Christian refugees as part of an EU relocation plan, citing security concerns.
European Union leaders and human rights groups have expressed concerns about the growth of far-right and nationalist movements in Poland.
Earlier this month, a march organized by far-right groups attracted 60,000 people. Some banners at the march contained racist and xenophobic slogans, calling for "pure blood, clear mind" and claiming that "Europe will be white or uninhabited."