LONDON – Hussain Manawer, who is set to become the first British Muslim to travel in space, received an honorary fellowship from King's College London to raise awareness about mental health, Ilford Recorder reported on July 31.
"I am very grateful to King's College London for recognizing my work, this is a big deal I can't lie," the 27-year-old Ilford poet expressed after he was bestowed with the award from the social science and public policy faculty during a Barbican ceremony.
The fellowship came after he had launched the UK's largest mental health youth festival in partnership with Twitter called #HussainsHouseLive.
Recently, Manawer has also set the Guinness World Record for The World's Largest Mental Health Lesson.
"I put my heart and soul into everything I do because the journey of my own mental health has been an adventurous one. I just don't want anyone to ever feel alone," he said.
The Muslim man joins the exceptional list of King's Fellows, which includes Archbishop Desmond Tutu, Lord Attenborough, Lord Hall of Birkenhead and comedian Jo Brand.
A spokesman from King's College London said Manawer has reached diverse audience with his work, from "presidents, princesses, professors and prisoners".
He has shared a staged with Oscar winning actress Cher, pop-star Ellie Goulding and leaders such as Justin Trudeau, Kofi Anan and Meghan Markle, Duchess of Sussex "Hussain has used social media platforms as well as educational institutes to spread his work, within the field of mental health," the spokesman said.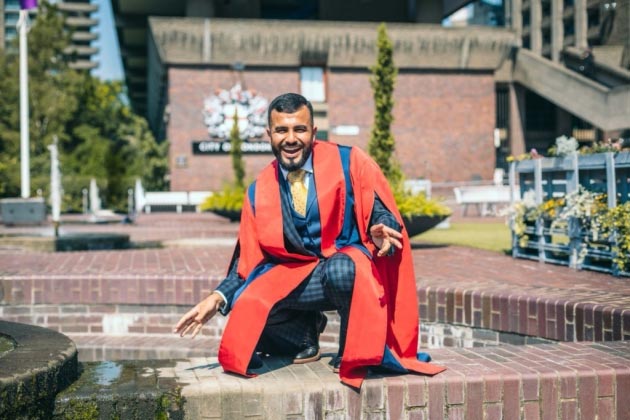 "He has galvanized a huge magnitude of followers from across the world as he openly speaks and performs on topics such as bereavement and grief, whilst unpacking their relationships with depression and anxiety, along with tackling new age social pressures and cultural stigma."
Samaritans CEO Ruth Sutherland said: "Hussain is a true advocate for mental health and we love working with him and supporting his drive to get people to talk about their mental health."
"He is a passionate, inspiring and talented young man who really deserves this prestigious award. His poetry and creative word, drives important and positive messages around mental health, that will empower anyone who is going through a tough time," he concluded.
Islam is the second largest religion in UK , according to the national census which, in 2011, rated the UK Muslim population at 2,786,635 which meant 4.4% of the total population.
London has the greatest population of Muslims in the country. Moreover, in 2011 it was reported that UK has as many as 100,000 Muslim converts, which makes it the fastest growing religion in UK.
Between 2001 and 2009 the Muslim population increased almost ten times faster than the non-Muslim population.