Same as every year, thousands gathered Wednesday at Small Heath Park to mark the `Eid Al-Adha festivities.
`Eid Al-Adha, or "Feast of Sacrifice", marks the end of the hajj season and is one of the two most important Islamic celebrations, together with `Eid Al-Fitr.
"It's been a lovely day like it always is for Eid. I led the prayer today and delivered the sermon. It was about reminding people why we congregate, about service to the creator and his creation in aid and helping and being good friends and neighbors to each other," imam Mustafa Hussein, from Green Lane Mosque, who led today's prayer, told Birmingham Mail.
"I chose my topic to remind everyone that today is about spreading as much love, peace and happiness as possible. Birmingham is very special, I'm always surprised at just how much of a melting pot it really is.
"It's not just about coming from different places, it's about coming together and really understanding we are all in this together and really elevating each other."
Organizers Green Lane Masjid and Community Centre had to hold two prayers to accommodate the large numbers that came to the park.
"Eid is all about family and coming together in places like – it's such a beautiful way to start the day," the Ahmed family said.
"There's a real sense of community here. The Muslims community in Birmingham is so diverse which is fantastic. People celebrate Eid in all sorts of ways – it's all about doing whatever makes your family happy.
"We're hosting an Eid party later which is very exciting because it's one of the few times we get to all see each other as a family. Everyone takes a day off and comes together to celebrate."
Thousands in Manchester
Celebrating `Eid Al-Adha, more than 20,000 people gathered for `Eid prayer at The Park at Platt Fields in Manchester to perform prayer and celebrate the Muslim holiday.
For Adam Mazen, 24, an Egyptian who is currently studying in Wales, the most important part of `Eid prayer is the sense of Muslim unity it brings every year.
📚 Read Also: All About Eid Al-Adha 1443/2022 (Special Collection)
"The most important aspect for myself is that over 20 nationalities from every society come together and are completely equal to each other – there is no difference between ethnicity or background, it is the individual," he told the Manchester Evening News.
"After praying we will sit and eat with everybody, and you can see all the people wearing their traditional clothes from Pakistan, Africa, Egypt and more."
Hani Ahmad, from Saudi Arabia, said: "We greet others through the words 'Eid Mubarak', which means have a blessed day or 'have a lovely day'. After prayers, we share traditional dishes and drinks, using the time to be grateful and blessed for all we have.
"We're grateful for the council for helping this come together, giving us an open space so we can all pray with one another."
Councillor Rabnawaz Akbar said: "It's a really important festival. It's a day to celebrate and visit families and friends.
"One element of the Eid is prayers in the mosque, and due to the capacity, a prayer schedule takes place throughout the morning where people attend at different times, and people might miss out – but in Platt Fields Park all families can come into this open space and pray together and access the stalls, and a great fun fair for the children to enjoy.
"It started off with about 4,000 people six years ago, but today was probably the largest celebration with over 20,000 people attending. I've met people from Greater Manchester, London, Scotland and even Sweden. We are the largest outdoor Eid gathering in the North.
"We're up there now in terms of a destination for people who want to celebrate Eid."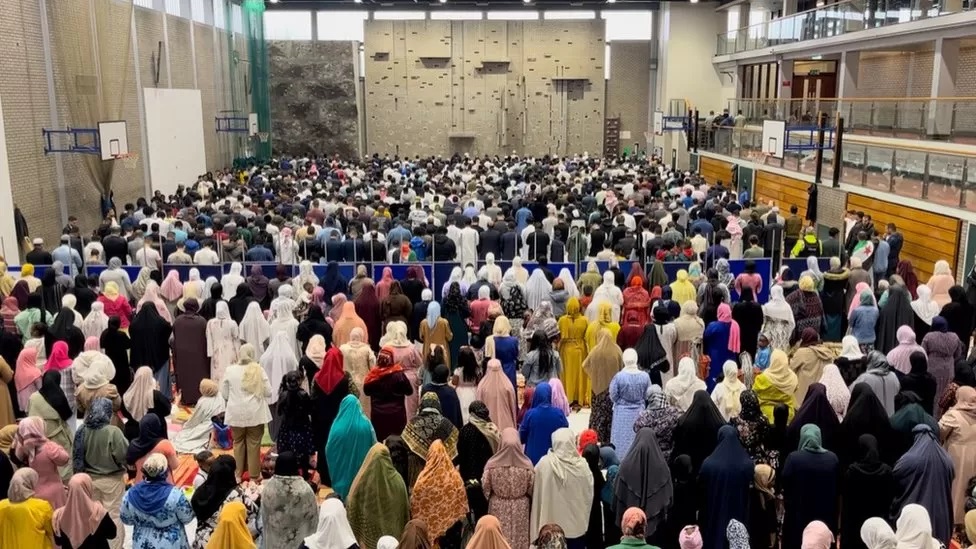 Irish Muslims Too
Thousands of Irish Muslims have also gathered in Belfast to celebrate `Eid Al-Adha, The BBC reported.
Prayers were to take place in Botanic Gardens, but rain forced the event to be moved to a nearby sports center.
Haneen, a dentist and PhD student originally from Jordan, said it was a huge day for the Muslim community all around the world.
"It's a religious festival but it brings people together socially," she said.
"You might get to know new people – in our home we invited everyone from the Muslim centre.
"Even non-Muslims, we tell them: 'Come, eat some meat'."
The huge prayer, attended by more than 20 thousand Muslims, surprised Sufjan and Iman, specialist nursing students from Morocco and Dubai, saying the Muslim community in Northern Ireland was much bigger than they were expecting.
"We're in a different country so we try to do Eid in a different way," Sufjan said.
"The whole idea is devotion to God and sacrifice, but at the same time we're connecting with friends, with family – we try to use this time to be together."