A 73-year-old Muslim woman has joined a group of other women learning to ride a bike, a sport helping them improve health, build confidence, and tackle stereotypes at the time of COVID-19.
"My heart was in it. I have had a passion for cycling in my childhood. I used to go on my brother's bike in Pakistan. So I thought I would complete my dream of riding a bike," Razia Begum, who started classes just three weeks ago at Ward End Park, told Birmingham Mail.
"I used to walk in the park all the time through the pandemic and see women riding bikes. I don't like sitting at home so I decided I want to learn to ride a bike too."
📚 Read Also: Peterborough Muslim Women Launch First Female Cycling Group
Begum, along with others, are learning thanks to The Saheli Hub.
Based in Balsall Heath, the Saheli Hub has delivered women's cycling lessons to more than 2,000 women for over 10 years.
"We wanted to give women and girls, especially women from ethnic minorities a chance to take part in physical activity and sport – there was a stereotype that ethnic minority women didn't like sport," Naseem Akhtar, who set up the organization in 1999, said.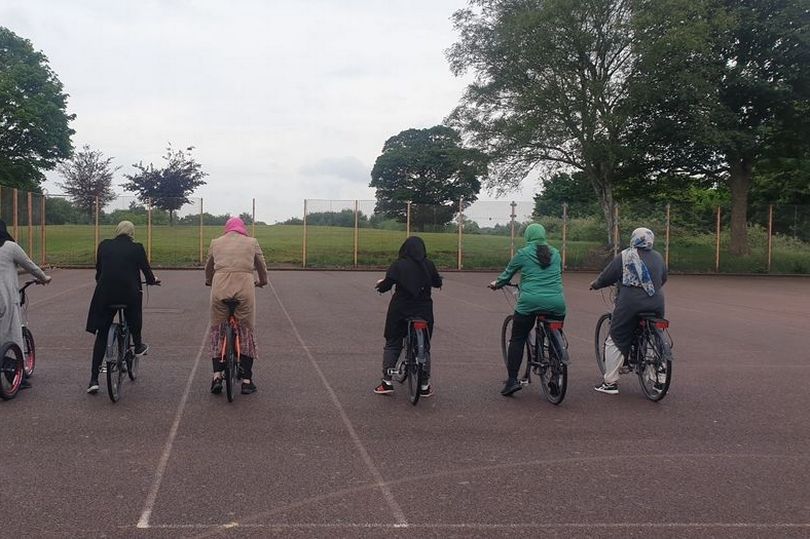 Empowering Women
Shaafia Bi has been a cycling instructor for over 12 years and is a cycling coordinator at Saheli Hub.
"Going back eight years, when I was running a cycling club, I had women in the hijab riding down Stratford Road and it was jaw dropping for some men. It's a change that has come about over several years." Shaafia said.
"The women are from different backgrounds such as having health issues, going through domestic violence or lack of social interaction or loneliness – especially during the pandemic."
A growing number of Muslim women have been taking part in different sports recently, in a celebration of diversity.
According to Sport England, only 18 percent of Muslim women take part in sports, compared to 30 percent of the total female population.
Six years ago, the figures were as low as 12 percent – indicating a rise in Muslim women taking up sport and fitness.
Muslims' approach to sports is often determined by religious, cultural, and ethnic factors.
In general, Islam promotes good health and fitness and encourages both men and women to engage in physical activity to maintain healthy lifestyles.