French cosmetic retailer, Sephora, released an ad featuring hijabi Muslim footballers.
Far-right groups accused the ad of promoting "the Islamization of France."
Some have praised the company for its message of inclusion and representation.
An ad featuring hijabi Muslim footballers by a French cosmetic retailer has drawn mixed reactions with far-right groups accusing it of promoting "the Islamization of France", and others praising its inclusive message.
The Sephora promotional video includes interviews with members of Les Hijabeuses, a group of Muslim women advocating for the right to wear hijab on the pitch.
"These women are all about surpassing yourself, team spirit, fighting spirit, and inclusion. We followed them, from their beauty routine to the football pitch," reads the caption of the video in French, Middle East Eye reported.
📚 Read Also: FIFA Celebrates First Hijabi Player, Referee at Women's World Cup
Protesting the ad, some social media users and right-wing politicians called for a boycott of the retailer.
"Sephora is promoting the hijab, even though it is banned in sport. What a disgrace!" wrote Nicolas Dupont-Aignan, a deputy in the National Assembly of France, on Twitter.
Here we go again. French politicians are calling for a boycott of Sephora France for their advertisement featuring Les Hijabeuses ( who I think are super cool ) a french football team of Muslim women founded in 2020. As usual these racists use the excuse of "protecting France". https://t.co/RVfDkAAisd

— LOUIS (@LouisPisano) September 12, 2023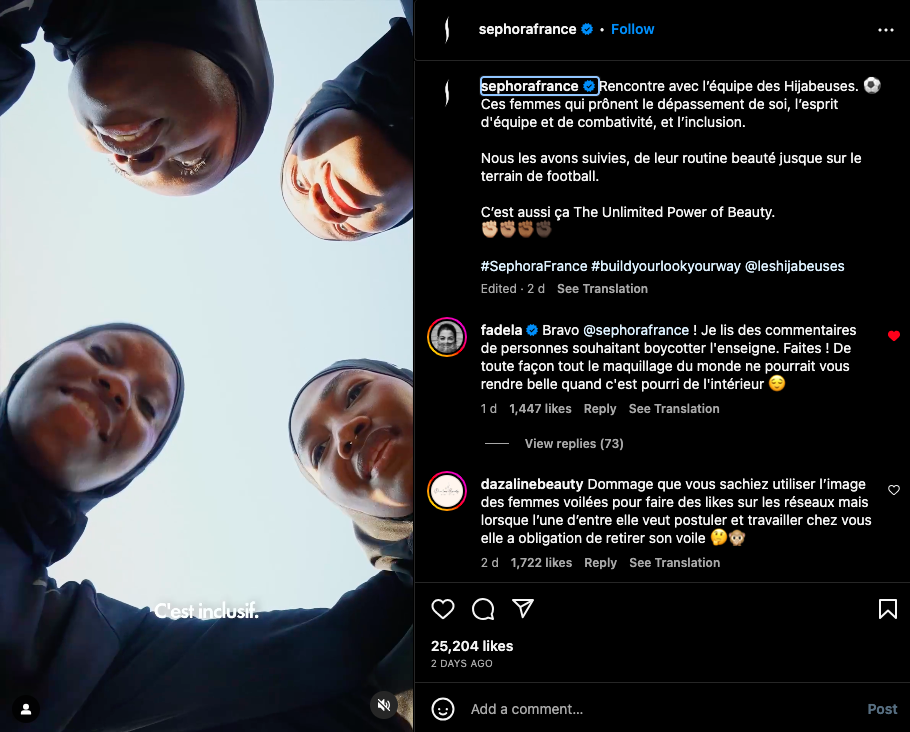 📚 Read Also: This Video for Hijabi Footballers' Goal Goes Viral
Inclusion
However, many users praised the company for its message of inclusion and representation.
"Congratulations @sephorafrance for your inspiring journey, and bravo to @leshijabeuses for raising awareness of Muslim women, especially in the current French context. We want more videos like this ✊," said the advocacy group, Collective for Countering Islamophobia in Europe.
Formed in May 2020, the Paris-based Hijabeuses has more than 100 members who play football together, connect with other teams across France, and put on training sessions to encourage other young hijab-wearing women to get into football.
Islam sees hijab as an obligatory code of dress, not a religious symbol displaying one's affiliations.
What Muslim women choose to wear is a controversial topic in France. In 2004, it banned hijab in public schools, and in 2010, it became the first European nation to ban burqa, which covers a woman's face.