As Makkah now re-opens for pilgrimage, AboutIslam speaks to a British Pakistani, Saad Sultan, who lives in Jeddah, on his experience of Umrah he performed a few days ago.
1. When was your first Umrah, and how was this post COVID Umrah different?
I performed my first Umrah in 2018's Ramadan. Like everyone else, I did not know what to expect and there was an overwhelming feeling. Because it was Ramadan' 17th, the Haram was full to its capacity. However, crowd management had been always the feat of Harmain Sharefain's management. Since 1st Umrah, I have performed Umrah at least dozen times.
Interestingly, when I booked my Umrah post COVID, I was overcome by the same feeling as of first time, mainly because it had been almost 10 months and I did not know what is going to happen. Makkah had been a hot spot during COVID early days, still has relatively higher number of infections. With mixed feelings of being in a place of gathering and worship and conscience choice, all my hopes were pinned down to authority's management.
📚 Read Also: International Pilgrims Return to Makkah for Umrah
We were asked to report an hour before the allotted time at a designated parking where we had to show our e-permit and buses transported us into Haram.
We were directed to King Abdul Aziz Gate, just in front of Makkah Clock Tower. And there was it, Ka`bah, the house of Allah, basking in all its glory. I found the experience intriguingly very safe and spiritually satisfying.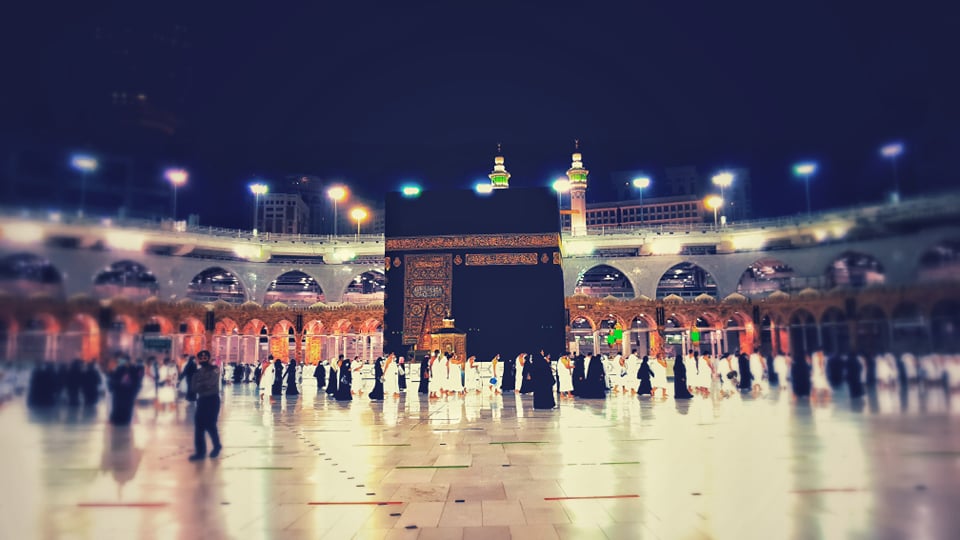 All arrangements were done considering the Islam's view of sanctity and importance of a human life. Due to Saudi Arabia's amassed experience of managing SARS and MERS Virus during 2009 to 2013 Hajj seasons, every aspect of Umrah was taken care of very well.
2. Was it busy? How do they manage crowd control?
I have performed the Umrah during the 2nd phase which allowed 15000 pilgrims every day. For the crowd management, communication was done through the official application that explains what type of SOP's will be observed during the rituals. Secondly, the transport was running half capacity to and from Haram. As soon as we reached Haram, volunteers asked us to follow the red lines on the floor towards the Mataaf which is courtyard of Ka`bah.
At every instance, volunteers were making sure that everyone is following the lines. As soon we reached the court yard, we were asked to follow the lines around Ka`bah which gradually receded inwards reaching the 7th line in front of Station of Ibrahim.
Even during the Tawaf or circling of Ka`bah, volunteers were there guiding the pilgrims to stay on course. After completing Tawwaf, everyone was given 10 to 15mins to perform Sunnah with social distancing. For Saié at Safa and Marwa, the same formula was implemented. In our slot of time, around 2 to 3 thousand people performed Umrah.
3. Have they removed the water dispensers for Zamzam? What's the process for getting some water?
Yes, water dispensers were removed, but instead mobile coolers were arranged, dispensing bottled Zamzam to pilgrims, in addition to mobile coolers also presenting Zamzam in disposable glasses.
4. Are you aware of any enhanced sanitation in the mosque, be it around the Ka`bah or when going between Safa and Marwa?
After every time slot, the haram is sanitized completely. So, lets say after every 2 hours and 30 mins, before the advent of next group whole mosque and Safa Marwa are sanitized thoroughly. This is in line with SOP's devised to conditional Umrah before the normal resumption in January 2021.
5. Did you go with your family or with a friend, and how did they find the experience?
I was with my friend, however children under 18 are not allowed to perform Umrah.
6. What is the process to apply to go on Umrah?
Umrah has to be booked through Etmarna application launched by the government, which could only be registered through Ministry of Health application called Tawakalna. Tawakalna was launched during COVID 19 as a digital health platform for medical services. Etmarna allows to book appointment for Praying in the Grand Mosque, Praying in the Noble Rawdah Rasool and Prophet's Mosque visit. All are connected to manage the crowd and does not allow second appointment before 14 days for inclusiveness.
7. Is there anything you think the authorities can do to improve the experience more?
Before the resumption of Umrah, there were apprehensions in terms of crowd management, but the way Saudi government has managed the aspects of Umrah is commendable.
8. Are shewarmas still a thing? What is dining in Makkah like nowadays?
Shawarma is still a thing but outside the ambit of Haram. You can go to roadside cafes, however, only take away is allowed.