BARCELONA – A group of Italian Muslim protesters gathered on Barcelona's Las Ramblas on Saturday, August 19, condemning the terrorist attack and stressing it has nothing to do with true Islam.
"We are also victims because we are hurt by what happened, but secondly, we are also hurt because people are generalizing, they are looking negatively at us, are insulting us in the streets," Aziz Cetuani Farcho, a Moroccan woman living in Catalonia, told Euro News.
On Thursday, a van hit pedestrians strolling in the Las Ramblas avenue, killing 13 people and injuring some 130 others.
Hours later, a car was driven into a crowd in the coastal town of Cambrils.
The group held their demonstration near the site of a memorial to the Barcelona van attack victims.
About 100 members of Barcelona's Muslim community, many of them tearful, gathered on Las Ramblas on Saturday to demonstrate against the twin attacks in Spain.
"They are not Muslims, they are terrorists" and "Islam is peace," they shouted.
"It could have happened to me too," said Abdel Karim, a Moroccan man living in Catalonia.
"I am Muslim, I am a person who does not harm anybody. I pay my taxes and thanks to this country I can get what I want. I am not a violent person. I feel so sorry for what happened to these people who are people just like me."
Catalonia is home to about a quarter of Spain's 1.9 million Muslims — and it is also a center of jihadism, according to Agence France Press.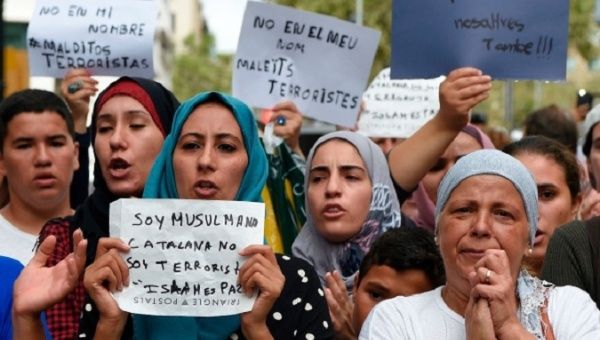 Fearing Backlash
Being spared from the islamophobia that has swept parts of Europe, Spanish Muslims fear backlash after Thursday's attacks.
Catalan's Moroccan community is particularly concerned after it was revealed that four of the main suspects, including Abouyaaqoub, had roots in Morocco.
"There is a lot of fear, people don't go out. Very few people come to pray. Normally we are about 40 people, last night we weren't even 15 and this morning 10," Raja Miah, an imam at a smallmosque in the city, who moved to Barcelona nine years ago from Bangladesh, told Vanguard.
Marzouk Rouj, a 39-year-old Moroccan construction worker who went to the demonstration with his daughter, said the bloodshed left him "shattered".
"I have lived more years here than in my (own) country. My children go to school here and I don't want people to look at them negatively because of some barbarians," Rouj, who moved to Spain from Nador in northern Morocco when he was just 16, told AFP.
Several Muslims left flowers at an impromptu shrine on Las Ramblas.
"In the end Muslims are the main victims, for the deaths as well as for the social pressure," said Xantal Genovart, vice president of the Association of Catalan Muslim women.