In the spirit of community, mutual respect and harmony, London played host for an `Eid celebration in Trafalgar Square on Saturday, June 8.
This was organized by the Mayor of London, Sadiq Khan, as one of many annual celebrations recognizing the diverse communities of London.
Speaking on stage, the Mayor said, "There are people… looking at London, looking at Trafalgar Square with envy. Why? Because here in London we don't just tolerate difference, we respect it, we embrace it, and as we are showing today, we celebrate it."
Actor and humanitarian Abdullah Afzal joined journalist and presenter Myriam Francois-Cerrah as they co-hosted the program. "London is?" Myriam asked the audience. "London is?", she asked again to the sound of a murmur. And by the third time, she asked, "London is?", the crowd erupted with "Open!"
Indeed, the theme led by the Mayor's office is that the city of London is open to the world, to faith, to people, to cultures, and to diversity.
Trafalgar Square, the heart of the city, continues to celebrate the festivals of different religions.
Where are you really from?
Taking to the stage to rapturous applause, actor and rapper Riz Ahmed, who goes by the name Riz MC. He took the opportunity to greet all in attendance with some spoken word poetry, addressing a subject many of us are asked. Sometimes innocently, sometimes not.
"You, have they ever asked you where you are from?

Nah, where are you really from?

The question seems simple

But the answers kind of long

I could tell them Wembley

But I don't think that's what they want.

I don't want to say more

Because anything that I say is wrong…"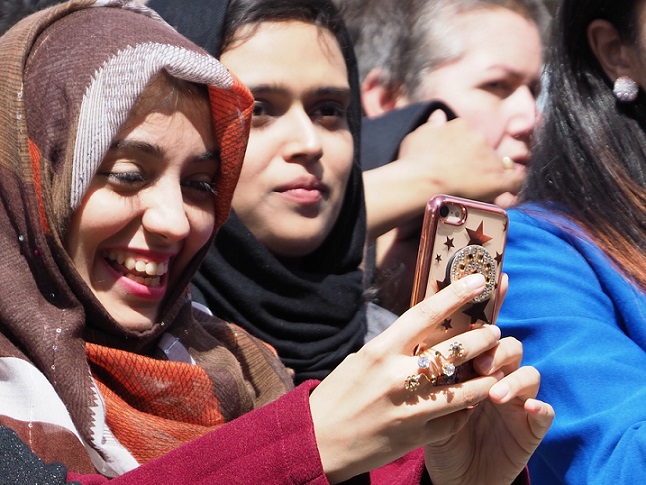 All too often, non-white Brits are asked where we you from. Replying, London, or Surrey, or Manchester, or elsewhere leads to blank faces, as while we may have been born in these areas, the questioner is actually asking where your forefathers came from.
Enquiring about a person's heritage is absolutely fine, and in this world of mass migration across borders enabled by the ease of modern travel, it is a pleasure to share our diverse paths. But sometimes it is the way the question is asked which can be unpleasant.
Indeed, for the next two minutes, Riz spoke with grace, twisting and turning the dynamics of origin, heritage, identity, all under the umbrella of respect. It was an unexpected treat to hear.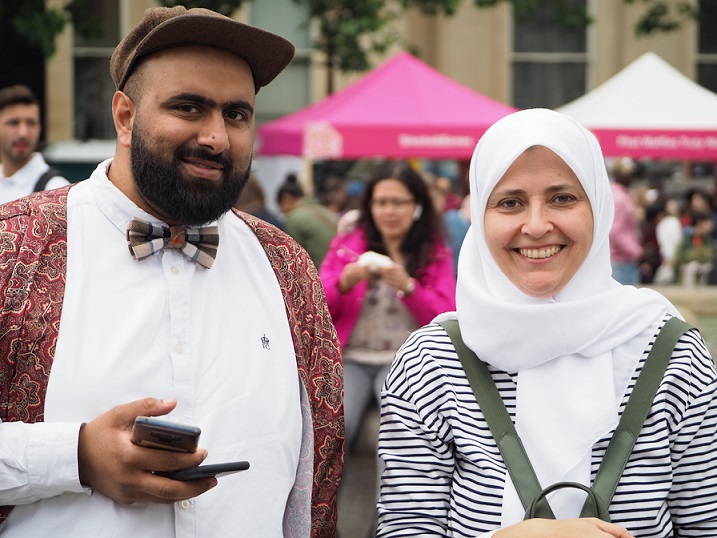 Refugees are just people
The founder of Darjeeling Express, a restaurant in London run primarily by women where all of the chefs are over 50, Asma Khan, spoke about her passion for supporting refugees, which in our time today, are predominantly from Syria.
"I was just so humbled by these women and I told them this. They remind me of the bamboos that grow in my backyard in India: they bend with the wind but they do not break," she said.
With those words, both Myriam and Abdullah on stage nodded their heads in agreement, as did the audience realizing the profound wisdom of the analogy. Asma continued,
"In these refugees, I saw resilience, pride, a sense of honor for who they were. They're not what people say. They're not a scourge, they're not a wave of people trying to live off people. This is not their choice. They never created the war, they didn't create famine, they didn't create conflict. They are the victims."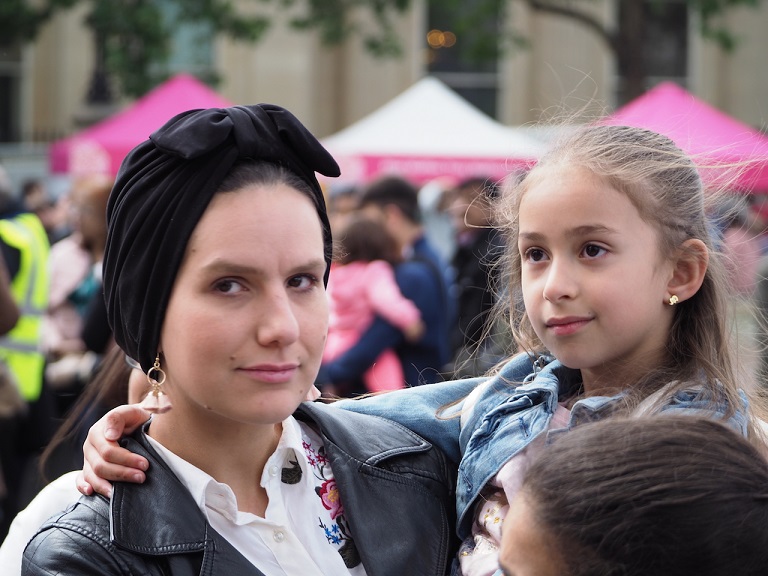 The Message of Identity
Taking to the stage, sadly without a basketball, Asma Elbadawi, the lady who petitioned FIBA to lift the hijab ban on women in professional basketball, shared a wonderful poem on identity,
"…I tried to find sisters in friends
But my friends already have sisters.
I tried to find comfort in my bedroom
But the more I am there the more the walls draw closer…"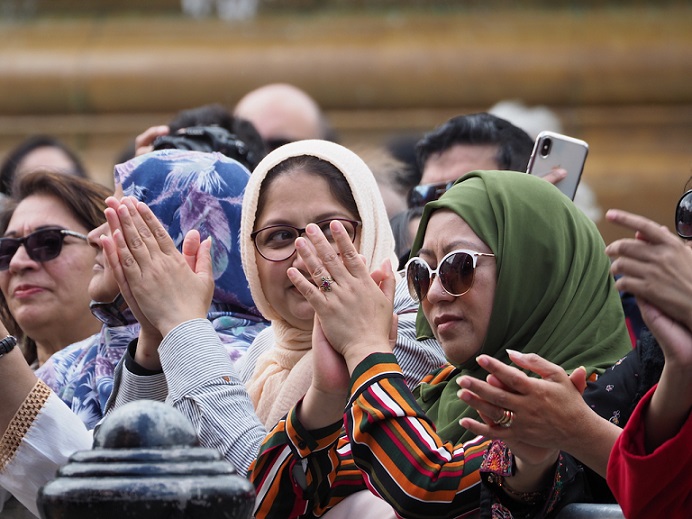 Asma's poem addressed the struggles and challenges faced by men and women both in living everyday life, seeking purpose, finding ease, enjoying good company: many of the struggles that people face every single day.
Music and entertainment on the day included Chand Ali Khan who with his group performed traditional south Asian Qawali songs. There were dancers from Indonesia, the Lila Bhawa dance group, performing traditional movements. The Ismaili Community Ensemble had a choir sing with a band.
There was a modern West African band. Children from two Muslim schools Al-Sadiq and Al-Zahra gathered and entertained the audience. And the Damascus Band performed in support of Refugee Week.
`Eid in the square was like another day in London, where people of all faiths came together to share in the joy and celebration of one community demonstrating that London is indeed open.