Hundreds of people joined MPs and government representatives in Finsbury Park Mosque and Muslim Welfare House street iftar hosted by Islamic Relief.
In the first gathering since the onset of the pandemic, Muslims broke their fast upon sunset, preceded by inspirational talks from key speakers including Jeremy Corbyn MP, Emily Thornberry MP, Rabbi Herschel Gluck, Dr. Joanne Grenfell the Bishop of Stepney and Tufail Hussain the Director of Islamic Relief UK amongst others.
📚 Read Also: Last Days of Ramadan: 8 Tips to Increase Motivation
"It is wonderful to come together with Finsbury Park Mosque and Muslim Welfare House to celebrate this year's street iftar," said Tufail Hussain, Director of Islamic Relief UK, Islamic Relief reported.
Alongside @fpmosque—we hosted around 1,500 people in breaking fast together for #Ramadan. 🙏

People from all faiths, neighbours, councillors, faith and community leaders, and local MPs @jeremycorbyn & @emilythornberry came together. ✨

Thank you to all who attended & supported! pic.twitter.com/VhgYhHxKxh

— Islamic Relief UK (@IslamicReliefUK) April 20, 2022
"This celebration of communities coming together to mark Ramadan is always special. It is particularly inspiring to see faith and non-faith communities being brought together in the spirit of unity by these important institutions in Finsbury Park.
"Breaking bread with our friends and neighbors is one of the best ways to get to know one another and Islamic Relief UK are so pleased to support this important initiative."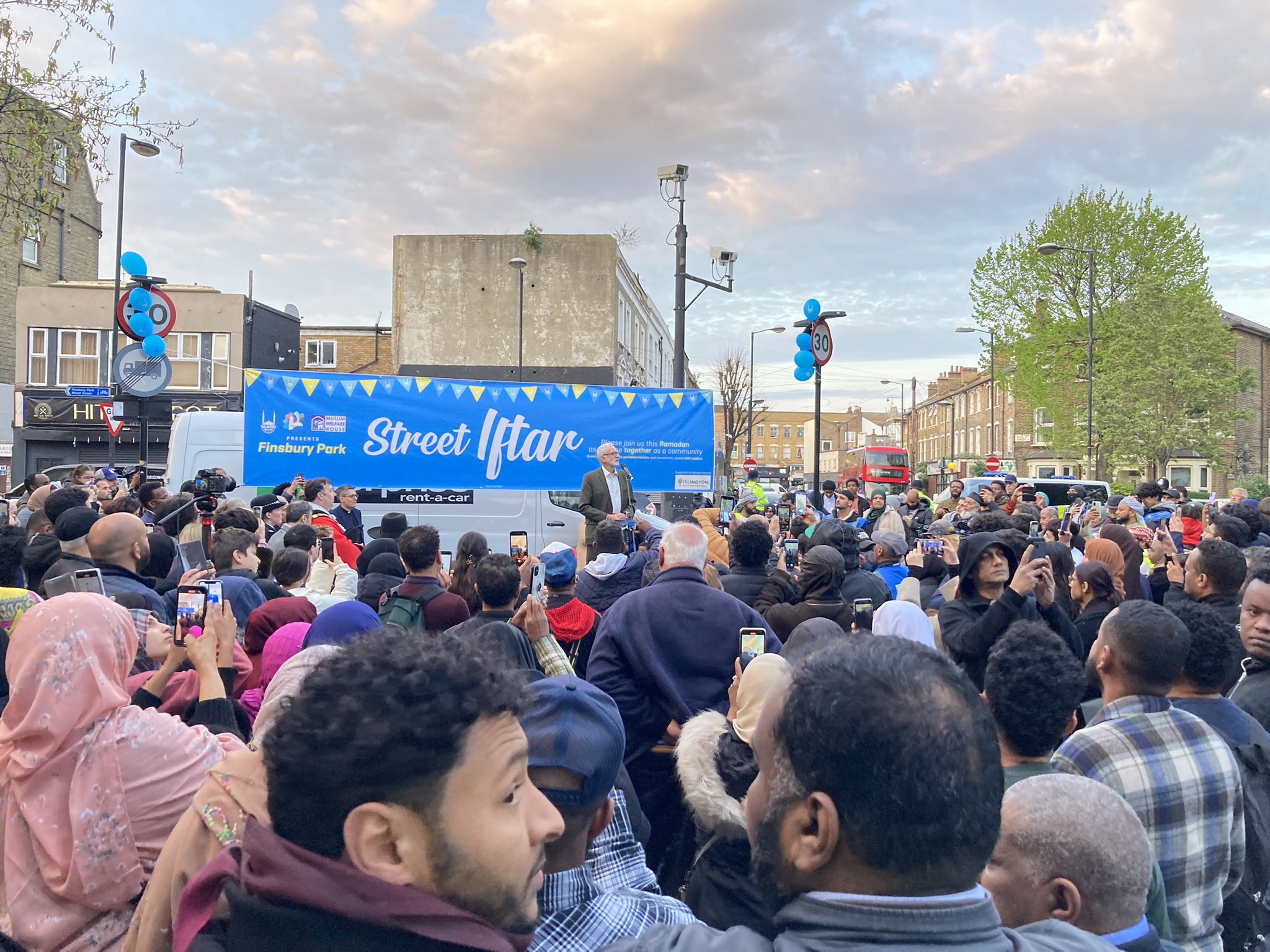 Important Gathering
The Street Iftar Party was first organized in June 2017, days after British-born terrorist Darren Osborne hired a van and drove it into a group of Muslims who had just finished their prayers at Finsbury Park mosque.
Osborne, who had vowed to 'kill all Muslims,' murdered one man, Makram Ali, a 51-year-old grandfather, while injuring twelve others.
"The Finsbury Park street iftar, hosted by Finsbury Park Mosque, marks a significant time for the Muslim community in my constituency and across the country, as well as those around the world," Jeremy Corbyn MP told attendants.
"The holy month of Ramadan is a time of harmony, reflection, growth and helping those most in need, and I look forward to once again joining this wonderful occasion and renewing our commitment to bringing about a world of peace and justice."
To date, Islamic Relief UK, Finsbury Park Mosque and The Muslim Welfare House have respectively served the local community in various projects including food distributions, fundraising activities and youth services to support individuals through the rising cost of living and impacts of the pandemic.
"We are delighted to be sharing our Iftar/meal with our neighbors and communities this Ramadan again after a long lockdown," Toufik Kacim, CEO of Muslim Welfare House said.
"Let us celebrate our spirit of joy and happiness with faith and non-faith communities in this precious moment of Ramadan 2022."