A hospital has become first in the UK to give female Muslim doctors and medical staff disposal hijabs to wear to avoid germs being passed to patients.
"I'd been using [the same headscarf] all-day which obviously wasn't clean and ideal," Farah Roslan, a junior doctor who came up with the hijab's design, told BBC Radio Derby.
"I didn't feel comfortable taking it off and I was pulled out from the theatre, respectfully, due to infection control."
Malaysian-born Roslan said she looked for her home country for ideas before creating a design and testing fabrics.
"I am so happy my vision has become a reality and that these headscarves are now available for all of the staff. I'm really happy and looking forward to seeing if we can endorse this nationally."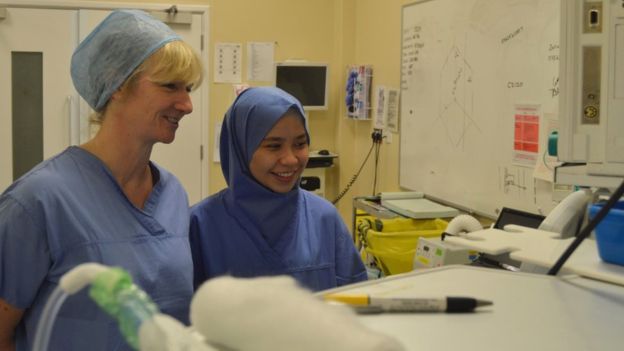 The University Hospitals of Derby and Burton NHS Trust are now the first in Britain to start using her creation.
Islam sees hijab as an obligatory code of dress, not a religious symbol displaying one's affiliations.
The estimates of 2009 suggested a total of about 2.4 million Muslims over all the UK. According to the Pew Forum, the number of Muslims in Britain could now be around 3 million.
The Islamic Medical Association estimates that about 10,000 Muslim doctors and nurses practice in the UK.