LONDON – One of the leaders advocating for greater visibility and mainstreaming of the Halal Economy, Abdalhamid Evans, has passed away to waves of sadness and grief expressed by the Muslim community.
Embracing Islam at the age of 26 in 1978, he was a skilled leatherworker, poet, and musician.
Abdalhamid touched the lives of many, encouraging creative expression amongst Muslims, and as early as 2004, through Imarat Consultants and Halal Focus, he brought together various organizations to identify, qualify, improve, and deliver 'halal' to the Muslim and non-Muslim demographic.
"The whole Halal world is lamenting the loss of him. And the all the messages give me joy. He so wanted to teach, because he did not want to carry the burden of not giving his knowledge," Salma Evans, speaking at the loss of her husband.
"Little did he know he was giving it with every conversation he had, and everyone acknowledges that. He takes not burden with him," she added.
There are very few personalities who have worked so passionately in the 'halal' space that people have shared their sadness of his death.
"His passing is a really big loss to the community, he has done a lot over the years, especially in the Halal sector," said Paul Salahuddin Armstrong, co-director of the Association of British Muslims.
Dr. Imran Kausar, CEO of Haloodies shared in the shock, "The world seems a darker place since Abdalhamid left us. No doubt wherever he is, he is spreading his Noor."
Paul Northup, the Creative Director of Greenbelt, also added, "Wow. So sad at this news. He brought SO much soul and insight to us at Greenbelt. Peace be with all those who mourn his passing. As we will."
Bilal Hassam, Production Executive at BritishMuslimTV expressed his dismay, "Just shocked. One of the finest gentlemen I've ever met and was honored to call a friend and mentor, Abdalhamid Evans has returned to His Maker. A role model in every sense, he is a great loss to our Ummah."
Similar messages of shock and sadness were shared by British Muslims.
Dr. Raheel Shaban, co-founder of the Muslim Lifestyle Expo:
"Immensely sad when the news came. I first reached out to AH Evans to be the first ever speaker at the inaugural Muslim Lifestyle Expo 2015. My first phone call lasted over 1 hour. What sticks the most is his joyful enthusiasm, his excitement, and his willingness to impart with knowledge and wisdom. When he's talking to you, in his well-spoken and animated style, he made you feel special and unique. Articulate, well mannered, diplomatic, charming, knowledgeable, not enough can be said about this gentleman. I can't think of anyone else with a better grasp an overview of the macroeconomic landscape of the Muslim/halal economy, and he is admired and respected for it. Combine his domain knowledge with his charisma, and you have yourself a phenomenal orator. It's always been our honor and privilege to have him speak at every single one of our MLE events.
"His passing away has impacted the entire Muslim Lifestyle Expo team, and we send out our heartfelt condolences to Salama Evans, his loved ones, and pray that Allah (swt) grants him the upper echelons of Jannah. Ameen."
Abdul-Rehman Malik, Program Manager, Radical Middle Way, said:
"This morning I am thinking of unfinished conversations. The conversations I think I will always get back to. The kind of conversations which contain so many delicious possibilities that they cannot be captured in one sitting, over one cup of coffee. These are conversations which endure and, with every iteration, expand. Then life happens and days turn to months, and you promise yourself that you'll pick up the threads of those unfinished conversations. I convince myself that I'll have time to do that soon. Very soon, I tell myself. Until there is no time at all.
Yesterday, my friend and older brother Abdalhamid Evans began his journey back to God. May God grant him mercy, love, light and a generous embrace. I had the honor of knowing Abdalhamid and his wife and partner in life and work Salama for over 12 years. It was a friendship which sparked and sparkled immediately. Theirs was a remarkable story. Of a life spent on a spiritual path that was in equal parts liberating and torturous. He was a traveling dervish, finding adventure, opportunity, suhba, and work in far-flung corners of the world and yet when you spoke to him, I never got the impression he wasn't at home. Home was where God put him.
Over the past few years, we talked a lot about music, poetry, culture and his beloved blues (he heard the call to Allah in the blues). We had the privilege of traveling together to explore the frontiers of Muslim culture with our friend Asad Ali Jafri and others. He produced and shared with me his CD of folk songs. He wrote a book of poetry. He was ever in the moment. Taking in the best of the energies around him. Affirming them for others. Allowing himself to be electrified by new ideas. He was a youthful soul. A joy to be with. Full of lightness and gentle wisdom. He said he was learning from you, but it wasn't true. You were learning from him in ways you only realized later"
Navid Akhtar, CEO at Alchemiya Media: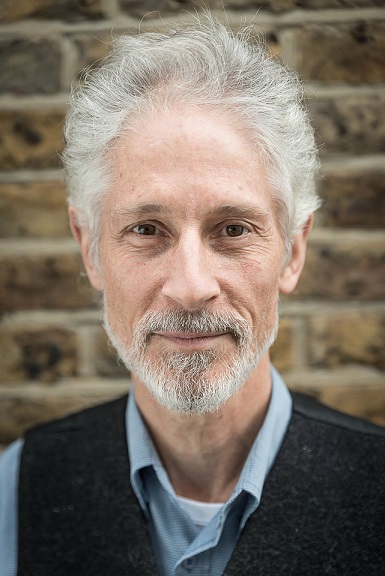 "He was a visionary in the very concept of a 'Halal economy' and realized early on the potential and value of an ethical economic alternative. His motivation was spiritual and not monetary. He cared about the rights of everything and I first heard the 'Farm to Fork' concept from him. All of his work was about pleasing Allah and to work for the restoration of balance and the 'Common Good'. It was a natural progression of his hippie years, to be someone who challenged the status quo of big corporate behavior. But he was no protestor, he delivered concrete alternatives and solutions, and had the ability to throw himself into big ideas, and then go work out the details.
"When I met him, he was working in KL and had helped the development of The Halal Journal, which was the leading magazine about the Halal Economy. At Alchemiya he helped nurture the idea into existence, and we still have so much to achieve, that we planned for. The most important idea being that 'Food and video content' are the same. We have to examine the quality and message of what we are watching and there is a damaging impact on the whole of the Muslim community when we consume so many negative stories, war, injustice, Islamophobia, day after day with no break. The end result is an exaggerated sense of victimhood, and despair, which leads to more anger, and more hatred. We have to find a way to break this cycle and restore our faith in Allah's mercy and beauty.
"He was very proud of the work he did for the American Halal Association, as he was of all the different groups and projects that he contributed to. We at Alchemiya are blessed to have so much of his time and input and are committed to completing the dream he shared with us in offering a media channel that creates Peace in the world and shares the beauty of Islam."
Masud Khan, Editorial Content Executive at Alchemiya Media:
"A generous spirit, infectious enthusiasm and a love for spirituality are just some of the many things that come to mind about my friend, the late Abdalhamid David Evans. His passions included music, he was a very good self-taught guitarist, a singer-songwriter; creativity, he was a very skilled leather worker and had an eye for the aesthetic; business and excellence, he ran a successful Halal industry blog called Halal Focus and was an advocate for businesses that were halal and ethical. When called upon he always made himself available for others, his expertise and understanding of the global halal markets was unparalleled and spoke at many conferences around the world and he spoke eloquently and with authority. He knew everything about the burgeoning halal markets and the latest halal business trends.
"But my experience of Abdalhamid was more of him as a friend rather than a business person or an expert on anything other than being an expert on the human condition. He was an expert human being. I knew him for 6 years and got to know him during the course of my involvement with Alchemiya.com for whom he was the Chief Operating Officer. In the course of our interactions, we often spoke about life, music, Sufism, philosophy, creativity, and purpose. This was a man who was totally at ease with himself and others, no airs or graces, just humility, and generosity. Softly spoken, humble, a sublime intensity when he spoke, a wonderful sense of humor and a twinkle in his eye, he was just lovely, no other way to say it. One of those rare people you meet and fall in love with instantly. May his coming life be one of eternal bliss and in the company of those dear and near to Allah.
"In our last email exchange he said this:
"When your essence runs out, you die. Sobering. As I surrendered to it all, many things became clear to me, and while I remain a conundrum to the doctors at the hospital (I had a head to groin CT scan last week, and have more goodies in store there), I find that I am increasingly clear about what this is all about, and that Allah, in no uncertain terms, is trying to get my attention.
Too much to put in an email, and most of it is not ready even for discussion. I am incubating. We pray for a good hatchling that will eventually take wing and find an up draught!"