LONDON – Adopting the leadership of the Conservative Party as Prime Minister after Brexit, something she campaigned against, Theresa May called for an election, something she said she would not do, in an effort to solidify her 'Brexit means Brexit' position, expecting sweeping support to give her a mandate to do as she pleases, which none of us know as she neither outlined her Brexit negotiating position, nor provided a costed budget.
Instead Brits wake up to a Hung Parliament, that is where no single party has gained the 326 MPs to have won outright. This has led to calls for Theresa May to resign, coming from all quarters, demonstrating that her campaign slogan of being 'Strong and stable' is anything but.
While her criticism of the opposition Labour party as being a 'Coalition of chaos' may come to bite her, as the only way the Conservative party can overcome the Hung Parliament and take leadership is to form a coalition, and given how far to the right their politics have swung, it truly will be chaotic.
The results are particularly embarrassing given how so much of the mainstream media demonised the opposition, as Assed Baig, a journalist for Channel 4 said, "Let's be clear. Jeremy Corbyn has defied everybody. The British people were told that he was unelectable." Indeed, the response from British Muslims has been a mixture of humble pie to jubilation. Here is what some of them had to say: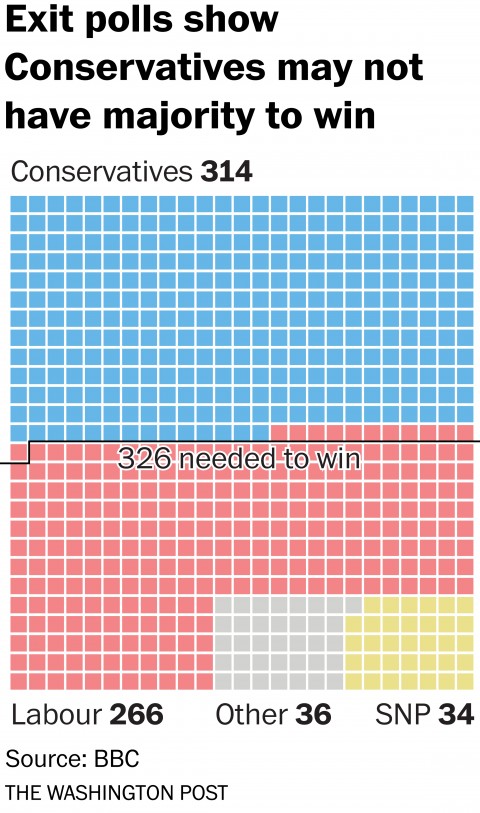 "A new hope…"
Khalid S.
"Bet Theresa is kicking herself for calling for this election. Flopped it love. Just take the back exit and call it a day! Lost more than gained. Only by a smidge are the conservatives ahead. What a tremendous result for Labour. Gwan (go on) Corbyn. Be he's lighting up (a cigar) and enjoying a veggie breakfast as we speak. Corbyn for PM!!"
Rahima B.
"Very interesting #Election2017 – #HungParliament – wonder how this will affect #Brexit negotiations going forward."
Ferhan K.
"Morning all!!! There is still hope!!"
Shazia K.
"Fascinating display of how 'people power' is the true counter-balance to the Machiavellian world of politics and politicians…(there is a lesson for all there). On the lighter side, I am fascinated by those candidates standing at a general election that get 2 or 3 votes!??"
Naeem T.
"I literally prayed 2 nafl (voluntary prayers) for jezza (Jeremy Corbyn)"
Homaira K.
"Working class voting for Tories, is like, Turkey voting for Christmas! – Result in my area! Labour won with a majority of c. 12k. 72% turn out. We also voted Remain! Happy Friday!"
Khurram S.
"People will say because it is a hung vote we are an undecided country, in fact it means the opposite, it means we are a country that realises things need to change, but the answer is not right wing conservatism, or a scare mongering ukip, it's not staving our public resources and then blaming immigration. It shows we know that times are uncertain and we need leaders that have warmth and passion, that want peace, not ware. We need humanity, not a blase disregard for it."
Miryam M.
"Voted with Mum. Only my second or third time ever to vote! That is two more for JC!"
Monir A.
"Not the Tory landslide result Theresa May had hoped for! Thank you GB! To all the doubters how do you like Jeremy Corbyn now? To the press, the people are being conned by our lies and spin no more!"
Bushera C.
"There is a good man who has good morals. He is just to all. And has been consistent in what he says."
Zaheer K.
"So pleased to wake up to some good news."
Amna R.
"Phew! What a night! Be ready for round 2 – there will probably be another general election pretty soon! Surely May has to go."
Sara K.
"Huge Congratulations to Labour and Momentum; whatever the result we, the Tory Party, have been humbled."
Zachary L.
"What a night!"
Suniya Q.
"GE2017 is proving more divisive than Brexit, straining friendships and other relationships with lots of intolerance being exhibited."
Shaaz M.
"Here's hoping Corbyn does a number on that spineless two face witch."
Mian H.
"Wow… I don't want to celebrate too early but I'm hoping all of our Ramadan duas are accepted."
Maheen N.
"We have officially entered bizarro world. I have my popcorn going."
Raheel S.
"It's been an astonishing night in British Politics. I'd like to congratulate Jeremy Corbyn – who ran a fantastic campaign. I'm particularly delighted by Labour's brilliant results in London and I'd like to pay tribute to all our great Labour candidates and those who worked so hard to get them elected. It could now take some time for the make up of the next government to be confirmed. City Hall will continue to operate as normal throughout this period – and as Mayor, I will continue to manage our transport and policing services."
Sadiq Khan, Mayor of London